Sisters in the news
Show me a sign
Welcome to Show me a sign, the newsletter for women discerning religious life and those who walk with them. We're glad you're here. Download our latest issue in full or enjoy these feature articles below.
Healing Hearts through faith,
Working as a staff chaplain and coordinator of Catholic ministries at Gundersen Health System in La Crosse, Wisconsin, Sister Marcia Baumert eases the suffering of many patients and their families.

It is essential to begin each new day
with prayer. Spending time with God
in prayer helps focus our hearts and direct
our minds for the many tasks of the day ...
Ask a sister: Q&A series with our Franciscan community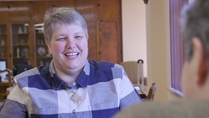 Read past issues
Spring 2018
Spring 2017
Fall 2016
Read more sister stories
Sister Katie Mitchell: "Reverse caravan" explores root causes of immigration from Honduras
Sister Julia Walsh: Giving Voice emboldens me to Live Religious Life NOW

Connect with the membership office
Contact Sister Amy at membership@fspa.org or 888-683-3772
Connect in mission
Check out our spirituality centers and cultural immersion program that may help you grow in your spiritual life. And be sure to scan our events page!
Connect through blog conversation
Follow the Show me a sign blog
Connect with sisters' stories
In the Called video series, meet several FSPA who share their discernment stories (and answer some tough questions). And listen to our Motherhouse Road Trip podcast to meet Sisters Katie and Eileen.
Connect on social media


Snapcode for FSPAsnaps