Donor Spotlight
Who are our partners in mission? Our collaborators in ministry? Our investors in the work of social justice, ecological advocacy, prayer and all we do to invite love and goodness in the world?
They are FSPA donors. We introduce you to just a few whose impact we are eternally grateful for and invite you to join them in supporting our brothers and sisters around the globe.
---
Joe and Barb Kruse: FSPA Faithful Friends
"It is linked with our desire ... to be living our lives influenced by Franciscan values," says Joe Kruse in a conversation about Faithful Friends — the FSPA monthly giving program that he and his wife, Barb, invest in. "We are able to authentically embrace those values by collaboration with the Franciscan Sisters, and that feels really good to both of us."

Why we invest in FSPA ministry
"In this changing, uncertain world, the FSPA provide stable presence and remind us that all things work for the good. Their vigilant prayer, love-based philosophy of aiding the poor and disenfranchised, healing of the environment and embracement of all in goodness and peace fit with our own aspirations and spirituality. It is a privilege and a blessing to offer financial support in perpetuating their mission."
- John and Marilyn Hempstead
FSPA Perpetual Friends and major donors


Why we are grateful for our collaborators
"John and Marilyn witness a steadfast spirit of openness and kindness that flows from their deep faith life. Their financial support of our FSPA mission strengthens our endeavors to serve others around the world regardless of status, religion, race or culture. As generous, heart-centered donors, their goodness contributes to the hope that all humans will one day realize peace and oneness in the Divine Source of Life."
- Marian Massman, FSPA



---
Collaborating with FSPA and Sister Maria for safe access to drinking water in Africa
---
Gratitude shared by a donor in Illinois
"I am so grateful to the sisters for their prayers and their work for mankind. Several years ago, I lost my job in education and could not get hired due to many years of experience. When I was ready to give up, the sisters told me to keep the faith and that God would soon send me where I was needed to serve. Shortly thereafter, I was sent to work in a Catholic school that served a population of deaf students population of deaf students, and it was a very rewarding experience. God bless the Franciscan Sisters of Perpetual Adoration.
---
The influence of Sister Rita Mae ...
Mary Frances Hester Bley is a major FSPA donor. She gives from her heart every year in a creative way that helps sustain the legacy of FSPA education and inspire gratitude for the teachers whose influence we celebrate.

I was lucky enough to work as a librarian at the Library of Congress for 28 years. After retirement I began thinking which of all my various teachers, instructors and professors had influenced me the most.

I realized with some surprise that it was Franciscan Sister of Perpetual Adoration Rita Mae Fischer, not a college professor or high school teacher but my second grade teacher from 1959 to 1960 at St. Augustine elementary school in Spokane, Washington.
I remember more about that school year than any other time of my childhood: how the room was set up, where I sat, how it smelled, the view from the windows. Mostly, though, I remember the woman in her nun's habit who led us in prayer four times each day: when school began, before and after lunch and at the end of the day.
Many adults lose memory of the exquisite sensitivity of being seven to eight years old, especially how harshness and criticism rock their brains and bodies into fearfulness and withdrawal. This looks like and mimics obedience.
There was none of that in Sister Rita Mae's class. We obeyed naturally because we were drawn to and thrived in her quiet reverence and patience. I remember no yelling, shaming or punishments. Sister Rita Mae led with calm gentleness. And although I only heard this after I retired, she was known as "an angel in a nun's habit."
I remember something otherworldly in her demeanor and the atmosphere she created in her classroom. As an adult, I've tried to define her and that time. Sister Rita Mae gave us glimpses of teaching with the greatest of love. She stepped aside a little bit and allowed God's love to flow through.
I've been corresponding with Sister Rita Mae for eight years now, which brings me much joy. I also discovered that we both became librarians!
Each month I save a little bit and contribute to FSPA on GivingTuesday to celebrate Sister Rita Mae and her birthday. My goal is to give according to her age and add a zero at the end. I direct my specific contribution to the sisters' retirement. I do so to honor the philosophy and years of love in action with the children they have taught with such devotion.
I plan to honor Sister Rita Mae and the love she instilled in me by contributing in this way every year for the rest of my life.
If you are reading this and feel as I do about your own remarkable Franciscan Sister of Perpetual Adoration, please remember them by donating, writing letters and thanking them for changing your life with their great love, patience and devotion.
---
Faithful Friend living Franciscan Values
FSPA is blessed to have Patrick McMenamy as a partner in mission. Since 1978, Patrick has been a collaborator with us through Faithful Friends, a monthly giving program that invites all to support our ministries of prayer, witness and service. He shares with us inspiration — compassion and Franciscan values — to serve.
Perspectives Update: How did you come to know FSPA?
Patrick: I was born in 1939 at St. Francis Hospital in La Crosse, Wisconsin. The first three months of my life were spent under the care of Bernita Kuennen, FSPA, who remained a lifelong friend of our family.
I attended Holy Cross School and Aquinas High School, both in La Crosse. FSPA staffed both schools so from kindergarten through 12th grade I was taught and influenced by them. Numerous sisters had a major impact on my formation; however, Sister Margaret Heil, my 7th and 8th grade teacher, influenced me the most. She became my role model, mentor and treasured friend until the day she was called home by Jesus: June 9, 2017, at the age of 96. So, you see, I was formed by Franciscans and try to live my life according to the values instilled in me by FSPA.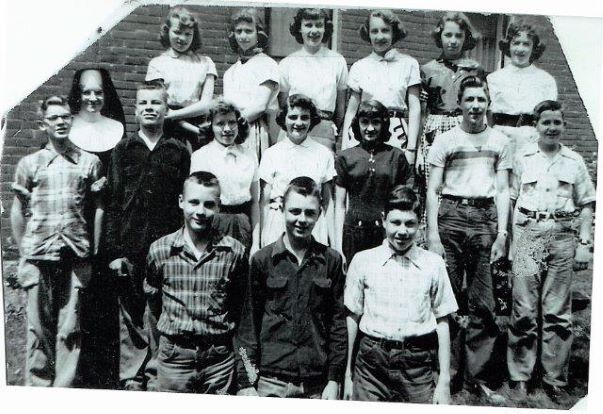 When I was 13, serving morning Mass at St. Rose Convent in La Crosse, I noticed a new postulant coming to the communion rail. Our eyes met and I felt she was looking right into my soul. I had never experienced that before. Her name was Sister Thea Bowman. She became another role model for me as I witnessed what she was and all she did. I pray to her daily and consider her a friend for all of my prayers that she's answered through her intercessions.
Perspectives Update: How have FSPA contributed to your life?
Patrick: I've had many challenges to overcome during my life and when things were confusing, I'd give Sister Margaret a call. She always helped me make the right choices.
When I was really down, I'd think of the sisters praying in the Adoration Chapel at St. Rose and draw strength, knowing that they were interceding on my behalf. The sisters taught me how to serve Mass and chiseled the Latin responses into my brain. In fact, to this day I can still recite them in Latin. I served Mass at Holy Cross, Aquinas and St. Rose from grade school through high school. I continue to serve Mass and train acolytes for our parish and grade school today.
FSPA showed me by example how to serve others. I am a Fourth Degree Knight of Columbus, serve on parish and community boards and volunteer with other organizations.
Perspectives Update:
What calls you to collaborate with us as a Faithful Friend?
Patrick: FSPA cared for my dying parents at St. Francis Hospital and their love and kindness will always be remembered through my monthly support of their work.
Outside of my family, the sisters have impacted hundreds of thousands of lives, not only by their incredible works but by the powerhouse of prayer in the Adoration Chapel. The sisters have worked diligently for social justice and helping the poor. This work, so critical in today's world, must be supported.
Perspectives Update: Do you have a message to share with the FSPA community about their ministries? Are there any in particular that you are passionate about?
Patrick: There are several ministries that are dear to my heart: justice and peace, spirituality and care of the environment. The work of the sisters in those ministries is so important, especially as society faces the current COVID-19 pandemic.