Show me a sign: Prayer Ahead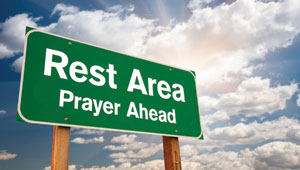 Rest Area
By Sister Rochelle Potaracke, FSPA
It is essential to begin each new day with prayer. Spending time with God in prayer helps focus our hearts and direct our minds for the many tasks of the day.
Dear Lord,
Teaching is my call, my gift. I stand before you each day asking for your support and help. May I remember that Jesus encourages us to see all children as a gift to our world.
As I begin each day, help me remember the call of the Gospel to love. May my actions, rather than my words, direct my students.
I want to teach my students the beauty of their own lives, and the beauty of all lives.
I want to teach my students to look and to see the beauty of God's creation all around.
I want to teach my students how to understand right from wrong, and teach them how to become a support to classmates.
I want to teach lessons that are not always printed in a book, the real lessons of life.
I want to teach my students the importance of learning and a good education so that they can go out in the world and have success in whatever fields they choose.
Help me, God, to teach as Jesus taught through love, respect and understanding. Help me direct each student in a path to goodness. Amen.
~ Sister Rochelle Potaracke, FSPA
Sister Rochelle Potaracke has served as an educator for 58 years. She has been a classroom teacher, supervisor for student teachers and board member for different education boards. This ministry has taken her to different places including Wisconsin, Alaska and Zimbabwe. She currently serves as a supervisor for student teachers at Viterbo University in La Crosse, Wisconsin.