Become an Affiliate
We are excited to share affiliation with you and hope you are inspired by what you find here!
Welcome! The Franciscan Sisters of Perpetual Adoration hold a rich Franciscan story committed to prayer, witness and service. As affiliates, we seek to participate in this story through an approach to life that reflects the teachings of Jesus, St. Francis and St. Clare. Our mission speaks to this further: We, affiliates of the Franciscan Sisters of Perpetual Adoration, are spiritual collaborators joined in sacred relationship, supporting one another to live the Gospel and transform our world.
As Franciscans, we are uniquely called to embrace the Gospel message in our own lives and in our own way. This call to live out the Gospel is rooted in values that are understood to be universal. As such, all are welcome to become an affiliate with the FSPA.
It is my hope that you find this journey to be one of insight, connection and rootedness. I look forward to welcoming you to affiliation and inviting you to participate in the ongoing story and mission of the sisters and affiliate community.
In peace and goodness,
Michael Krueger, Director of Affiliation
---
About FSPA Affiliation
Affiliates seek opportunities to deepen their faith and spirituality, gather together in community and support one another through building relationships, being rooted in prayer and living out the gospel in their own lives and in response to the needs of the world today.
They are people who seek to follow in the footsteps of St. Francis and St. Clare -- seeking how their story can become a part of our own story while being shaped and informed through the charism of FSPA.
Affiliates live all over the country, and after completing their discernment are invited to be a part of a companion community (either virtually or in-person) to continue to support their growth, relationships and connections to the wider FSPA community.
Our Commitments
Affiliates, unlike members of the FSPA congregation, do not make religious vows; rather, they make a commitment to be people of the Gospel through their daily lives and actions. An affiliate is someone who is drawn to the charism of FSPA and chooses to live out the Franciscan tradition and values in their own life through commitments in the areas of prayer, community and ministry.
Becoming an Affiliate
The journey to becoming an affiliate begins with a conversation with the FSPA Affiliation Office. You will then be invited to meet with a companion, who journeys with you through the discernment process -- this can take anywhere from one to three years.
To learn more about affiliation and to start your journey, you may call the FSPA Affiliation Director at 608-668-2588 or send the office an email at affiliation@fspa.org. The affiliation mailing address is Affiliation Office, 912 Market Street, La Crosse, WI 54601.
Initial FSPA Affiliation Application
Affiliation Discernment Checklist
Frequently Asked Questions
Q: Who can become an affiliate?
A: Affiliation is open to all individuals, regardless of religious tradition or background. An affiliate is someone who:
wishes to be in relationship with the Franciscan Sisters of Perpetual Adoration,
embraces the mission of FSPA and FSPA affiliation and commits to living out this mission in their daily life,
lives the charism of St. Francis, modeling his teachings in their own life,
desires to grow spiritually, both independently and in community,
seeks opportunities for spiritual enrichment through FSPA/affiliation-sponsored events, as well as through one's own personal motivations, and
supports the efforts of justice and peace.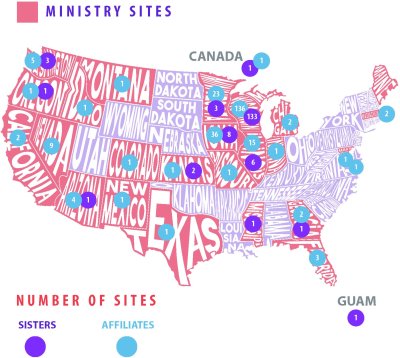 Q: Do affiliates have to live in La Crosse, WI?
A: No, we happily welcome affiliates from all parts of the United States, Mexico and Canada. Part of being Franciscan is taking our beliefs into our daily lives. The world is our neighborhood. Stay where you are, and spread Franciscan joy and peace. There is a virtual companion community for those living in areas with few affiliates. You can share the Franciscan spirit and connect with other affiliates no matter where you live. Refer to the map to the left to see where we are!
Q: Are there any financial or legal obligations as affiliates?
A: No, there are no financial or legal obligations for affiliates nor the FSPA congregation. However, you may choose to offer monetary support for the FSPA mission by becoming a Faithful Friend.
---
Meet Our New Affiliates

New FSPA affiliates Andrea Fluegel, Cindy Dunn, Steve Smart, Martha J. Kaufmann, Alice Holstein and Gina Pignatello
at Mary of the Angels Chapel in St. Rose Convent, La Crosse, Wisconsin.
The Franciscan Sisters of Perpetual Adoration welcomed six new affiliates who have joined us in the call to build relationships, live the Gospel and effect unity in diversity throughout the world. To meet them and learn about their lives of prayer, ministry and community, click here.
---
Celebrate With Us
To honor 40 years of the FSPA Affiliation program in 2021, affiliates and sisters celebrated the interconnectedness of all things and the way of living life through the spiritual lens of Franciscan values. We created a video series to share how the universal values of reflection, presence, simplicity, humility, peacemaking, stewardship and service inspire affiliates and give them life in their Franciscan journeys. Enjoy the Affiliation 40th Anniversary video series below!