Become an Affiliate
We are excited to share affiliation with you and hope you are inspired by what you find here!
FSPA Affiliation's mission is to become spiritual collaborators joined in sacred relationship, supporting one another to live the Gospel and transform our world. We become spiritual collaborators when we nourish our spirit and share that through our actions and the way we exist. Our sacred relationships are with affiliates, sisters, our communities and the Earth. As affiliates we live the Gospel by committing to a values-based lifestyle that reflects the teachings of Jesus, St. Francis and St. Clare. Understanding these as universal values, affiliation is open to all.
Celebrate With Us
To honor 40 years of the FSPA Affiliation program in 2021, affiliates and sisters celebrated the interconnectedness of all things and the way of living life through the spiritual lens of Franciscan values. To conclude the year, affiliates enjoyed the following tribute video montage of memories made throughout the past 40 years of affiliation.
To also celebrate our milestone year, we created a video series to share how the universal values of reflection, presence, simplicity, humility, peacemaking, stewardship and service inspire affiliates and give them life in their Franciscan journeys. Enjoy the Affiliation 40th Anniversary video series below!


About FSPA Affiliation
What does it mean to be an affiliate?
Affiliates seek to grow in spirituality and community. Each affiliate is matched with a companion who journeys with him or her for one to three years during the formation process, connecting monthly or every few weeks. The formation process involves reading a guidebook specific to Franciscan Sisters of Perpetual Adoration as well as "Discovering the Franciscan Intellectual Tradition: A Live-Giving Vision," a book by John V. Kruse. Once approved by the FSPA Leadership Team, new affiliates participate in an initial commitment ceremony and are formally welcomed in the FSPA affiliate community. Affiliates are invited to be part of a companion community, a group of five to eight sisters and affiliates who gather monthly for faith-sharing. In addition, affiliates may gather throughout the year during workshops, retreats, regional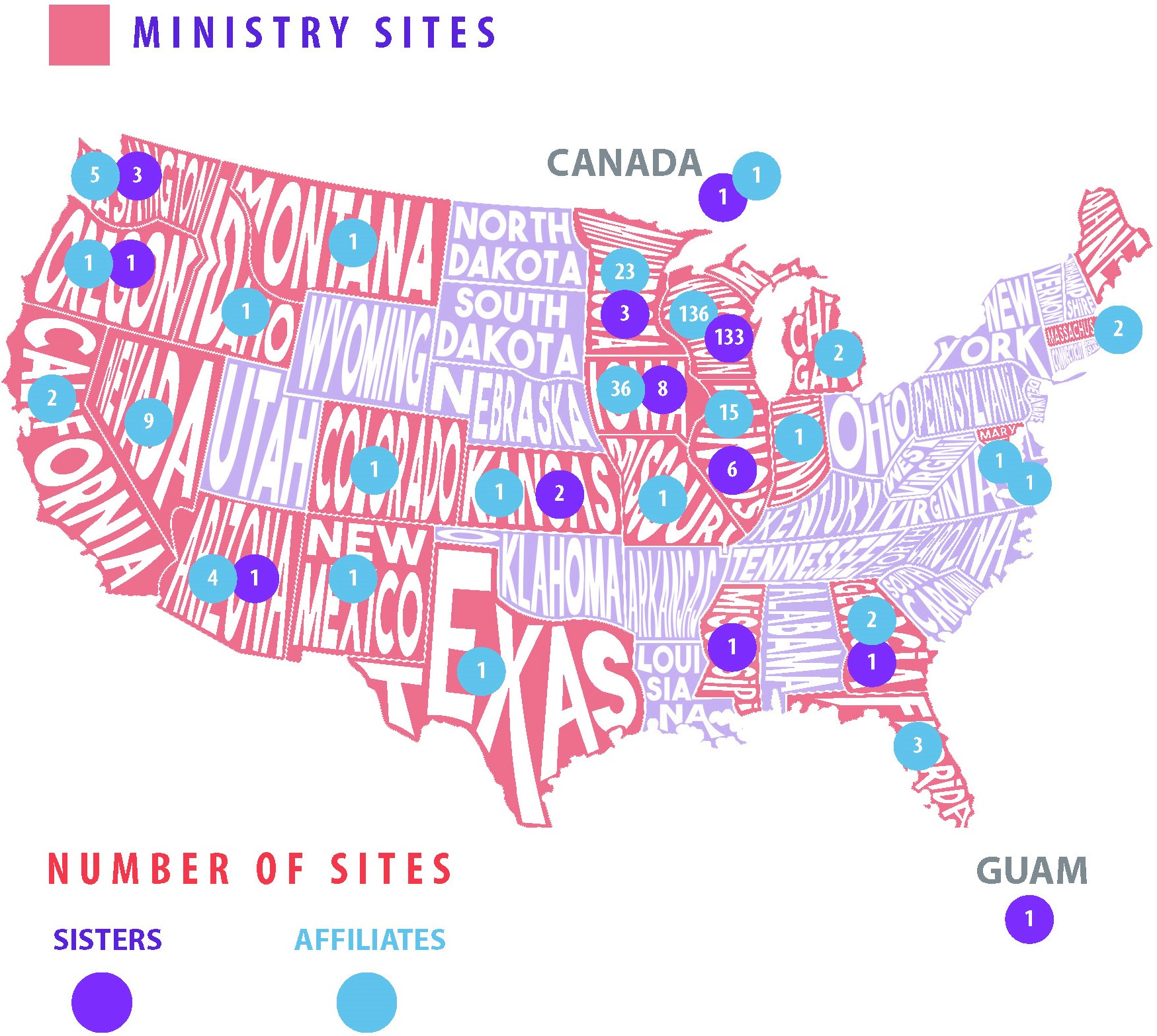 events, and other FSPA/affiliate gatherings.
Do affiliates have to live in La Crosse, Wisconsin?
No, we happily welcome affiliates from all parts of the United States, as well as in Canada and Mexico. Part of being Franciscan is taking our beliefs into our daily lives. The world is our neighborhood. Stay where you are, and spread Franciscan joy and peace. There is a virtual companion community for those living in areas with few affiliates. You can share the Franciscan spirit and connect with other affiliates no matter where you live. Refer to the map to the left to see where we are!
Are there any financial or legal obligations as affiliates?
No, there are no financial or legal obligations for affiliates nor the FSPA congregation. However, you may choose to offer monetary support for the FSPA mission by becoming a Faithful Friend.
Become an Affiliate
In 2021 FSPA welcomed 14 new spiritual collaborators to the community. They have committed to living out the provocative movements, and with Franciscan values guiding their ministries, they are transforming our world. Meet them here! Email affiliation@fspa.org or call 608-782-5610 ext. 650 to learn more and start YOUR conversation!
Learn with Us
Read "The Way in the 21st Century," a guidebook written by FSPA Affiliation Director Beth Allen that's full of common language and practical and tangible ideas for a values-based approach to life that leads to a fuller existence, a life of greater meaning and purpose, and a better world. Read "Finding 'The Way' through relationships, Franciscan tradition" found in the Spring 2021 issue of Perspectives!