A global day of giving
Mark your calendar!
#Giving Tuesday is November 27, 2018
#GivingTuesday 2017 Report: Child Advocacy
The Franciscan Sisters of Perpetual Adoration have much to be thankful for. With your generosity, the $5,000 match from our collaborators U.S. Bank, Robertson Ryan & Associates and Brown & Brown Insurance was met and a total of $29,031 was gifted to the FSPA ministry of child advocacy. It is global giving to be appreciated and a season to be celebrated.
Mamre, Inc. - Chicago, IL

Taken from the biblical story of Genesis 18, Mamre's mission is to establish small faith-based communities of intellectual and developmental disabled children and young adults to experience full belonging in their parish worship experience.
With a ministry grant from FSPA, Mamre facilitates the efforts of the Special Religious Education Development staff integrate young people into full participation of the celebration of the Eucharist.
From Global Partners to Hamilton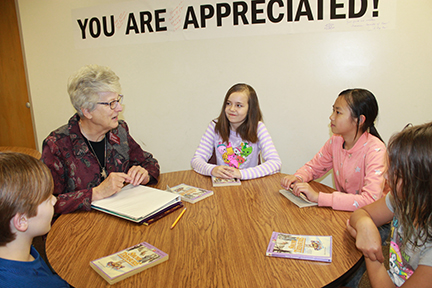 Child advocacy: it's a ministry of social justice that permeates the core of the Franciscan Sisters of Perpetual Adoration. Whether efforts are engaged for education, health care, immigration or many other injustices, by mission, collaboration and inspiration to others, FSPA's outreach to children in need reverberates around the world.
Such ministry also resonates at Hamilton Early Learning Center in La Crosse, Wisconsin. Hamilton's preschool to fifth grade students live within the most underserved population in the school district of La Crosse, and FSPA has been in the classrooms for these children with food, warm winter wear, teaching assistance and other means of support for many years. Now, a program known as Global Partners — "inspiring volunteerism throughout Gundersen Health System and local communities" — is sounding for the students at Hamilton too.
Read From Global Partners to Hamilton
Thank you, from our hearts, for truly making ministry matter.