FSPA called to envision the future with new formation team

"We welcome others whom God calls to follow the Gospel in the lifestyle of the Franciscan Sisters of Perpetual Adoration, and we accept the responsibility for initial and continuing formation," begins FSPA's Unity in Diversity declaration #11, the commitment of the community to create and cultivate relationships with women discerning religious life. "We guide those who have been accepted into the congregation as they carefully consider their vocation. We provide for them an atmosphere of growth within a viable and valid community experience. We also recognize our own need to grow continually in understanding the principles of the Gospel, the meaning of religious life, and the spirit of our Franciscan-Eucharistic heritage."
With these guiding principles at heart and an evolving global community — those with whom we walk in vocation and those we serve in ministry — in mind, FSPA has undertaken a profound discernment of this mission. What emerged is a carefully-crafted new model of formation that renews and reimagines the promises of both Unity and Diversity #11 and FSPA's commitment to serving our brothers and sisters while living modern lives.

This vocation transformation will be carried out by a collaboration of members to be known as the FSPA Formation Team. It is framed by the understanding of formation in three phases: discerning, entering and dedicating. In the discernment phase, Sisters Jacinta Jackson and Julia Walsh will accompany women discerning a call to religious life from initial inquiry with FSPA through what has been known as the associate phase (now called the candidate phase). Ministers to women experiencing what is now the entering phase (including novitiate and temporary vows) are Sisters Corrina Thomas, Karen Lueck and Katie Mitchell. The third phase, the dedicating phase, is focused on lifelong formation and will be coordinated by Sisters Kathy Roberg and Paulynn Instenes.

In reflection on the question "What do we envision for the future of FSPA, and what do we hope FSPA membership will look like?" Sisters Corrina and Katie offer this response: "We are hopeful that our congregation continues to reach out in 'encuentro' (which translates to 'encounter' in English) to all people and that we will mirror the diversity of the Church and the world in all its richness. We desire to faithfully accompany and journey into the future with our new FSPA members, working in partnerships and collaboration, as together we build a culture of encounter and the kin-dom of God."
The FSPA Formation Team appreciates your prayers, support and participation as they enter into a new vision of Unity and Diversity 11.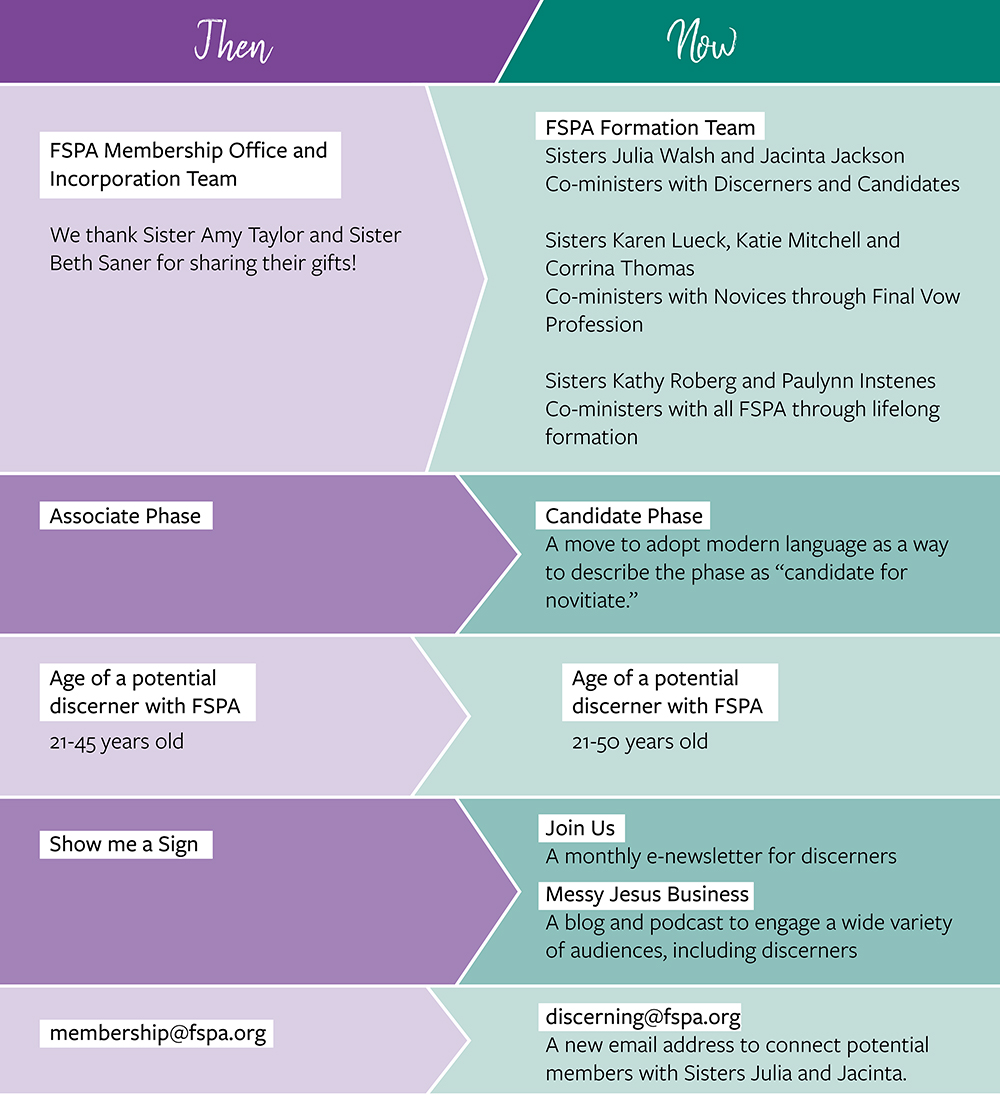 Also in the December 2020 e-edition of Presence:
Access to healthy food and white privilege
Finding great hope in "Fratelli Tutti"
Hope for the world radiates from Villa St. Joseph
FSPA sisters and affiliates embrace virtual fall gathering