"... a visual sign of what was to come."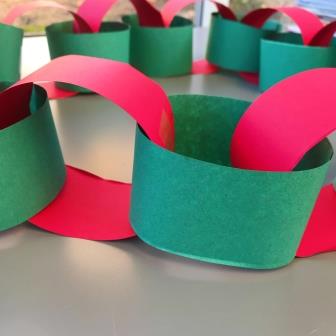 Image courtesy of Daisies & Pie
When I was young child, we began the month of December at school by making green and red construction paper chains — learning how to mark time link-by-link until Christmas. We arrived at the classroom each morning ready to tear away another slip of red or green and inch closer to the big day. I imagine the ritual, a visual sign of what was to come, curtailed our continual Christmas count-down questions for the teacher. It was a reminder — a connection of our fervent dreams to the special time to come. Looking back at the experience I realize it also helped us learn how to wait for something together, as a group. Without fancy theological concepts in our seven-year-old brains, we became a community of believers.
Now, in our fourth week of Advent, the readings serve as a link in salvation history. The Old Testament prophet Micah is the wise teacher reminding the faithful of a time to come. They too struggled with how long the wait would be. But hope withstands like a long, invisible chain, linking the moments until the celebration can begin.
In the Gospel, we skip ahead in time to beyond the angel's visit to Mary and her "yes" to becoming the mother of Jesus. She wastes not a moment; runs straight out the door, bursting with excitement to share the joyful news with her cousin Elizabeth. And in nine short months, Mary beholds the face of God in the birth of Jesus.
Each Advent, over 2,000 years after Jesus' birth, we recall this story and challenge ourselves to make room for Jesus in our hearts. Time is of the essence as this year the day of is just a mere 24 hours after the fourth Sunday of Advent. The moment is now upon us. Is your heart ready for the celebration you have been anticipating?
For additional pondering this week ...
How will the celebration of the birth of Jesus change your life, not just a month in your calendar of events?
How does Mary's example of moving on God's invitation without hesitation inspire you to take the next step in your own vocational call?

Are you discerning religious life? Walking with someone who is? We invite you to share this link, www.fspa.org/showmeasign, and join the conversation. And, stay tuned to Show me a sign for new videos in the FSPA discernment series!