Black Catholic History Month: Thea Bowman
11/08/2023 2:30 pm

Servant of God Sister Thea Bowman (1937-90) was a teacher, a singer, a dancer and a lecturer who spread the Good News to all people and tirelessly promoted pride in Black culture. We're featuring Thea's vision all month, Black Catholic History Month, here and on our social media channels.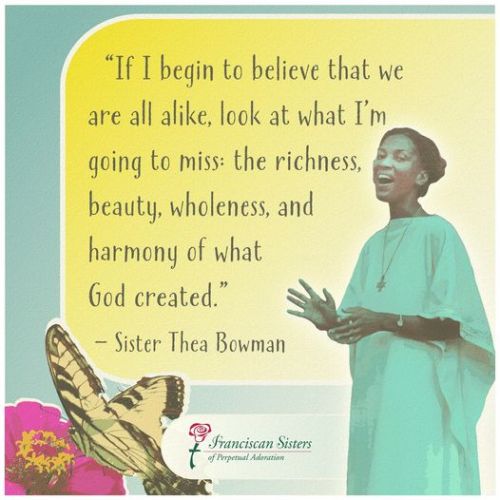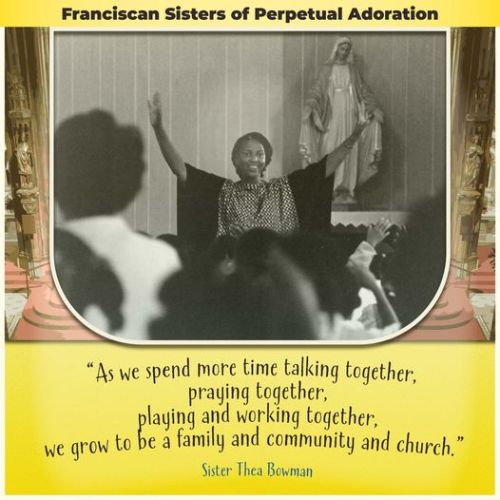 We're social listening!
We're following the Thea conversation happening on social media. Here are a few highlights.
In the spirit of #BlackCatholicHistoryMonth, we reflect on the deep spirituality and resilience of Black Catholics throughout history. Look to the lives of Mother Mary Lange, Fr. Augustus Tolton, and Sister Thea Bowman and discover an unwavering faith has left an indelible mark… pic.twitter.com/HBLEWttSCF

— Unleash the Gospel (@UTGDetroit) November 13, 2023
On Nov. 1, Saint Joseph's announced the name of its new first-year residence hall. Slated to open in fall 2025, the over 500-student residence will be named Sister Thea Bowman Hall in honor of the late educator, evangelist and social justice advocate. https://t.co/EZ8M0JtQBZ

— Saint Joseph's University (@saintjosephs) November 2, 2023
Get to know Servant of God Thea Bowman during #BlackCatholicHistoryMonth!

?? Young convert to Catholicism
? Devoted educator
? Powerful speaker
? Spread her "Ministry of Joy" across the world!#catholic #vocation #holiness #witness #gospel #faith pic.twitter.com/1VMBxxIZlq

— Archdiocese of Denver (@ArchDenver) November 7, 2023
There are several people with connections to CUA on the path to sainthood, including Servant of God Sister Thea Bowman. Black Catholic History Month highlights people like Sister Thea Bowman, who has a sainthood cause.

Read more here: https://t.co/nW4s40Fcxj pic.twitter.com/focHGdBt2j

— The Catholic University of America (@CatholicUniv) November 1, 2023