Spirit of Ministry: 'The value of our mission is giving sight to those we serve'
By Cindy Sjolander, affiliate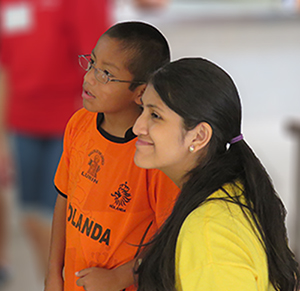 Casa Hogar Juan Pablo II is an orphanage in Lurín, Peru. It was founded in 1985 by Father Joe Walijewski with a donation of $50,000 from Pope John Paul II and the support of the Catholic Diocese of La Crosse, Wisconsin (of which Father Joe was a missionary priest). In 1999, Father Joe asked the diocese about the possibility of forming a medical mission from the La Crosse area to the orphanage. Mary Dowling of Madison, Wisconsin, and Mary Duddley and Dr. Steve La Liberte of La Crosse formed a team of medical, dental and optical volunteers who went to Peru in 2001. Over time, the annual teams grew too large for Casa Hogar to host so they began operating medical and optical missions separately, on alternate years. The next optical mission is scheduled for January 2019.

The value of our mission is giving the gift of sight to the people we serve. We are a team of doctors, opticians and others who conduct eye exams and dispense glasses from Lions Club International to the poorest of the poor, adults and children who otherwise would not have access to eye exams and glasses. We see as many patients as we can in a day that starts with 6 a.m. Mass and ends when the last person with a voucher has received care. In 2017 Casa Hogar volunteers, 39 traveling from the U.S. and another 12 working in Lurín long-term, saw approximately 1,900 people. Orphanage staff also helped.

Today, we also provide funding for treatment of conditions like cataracts, glaucoma, detached retina, diabetes and more. And, about six weeks following each service trip, a group of college students travel to Peru with the eyeglasses made in the U.S. (sometimes, out of the 1,700 prescriptions our team brings to Casa Hogar, we cannot find a fit for an individual). In most cases, these glasses are for children who would be considered blind without eyewear.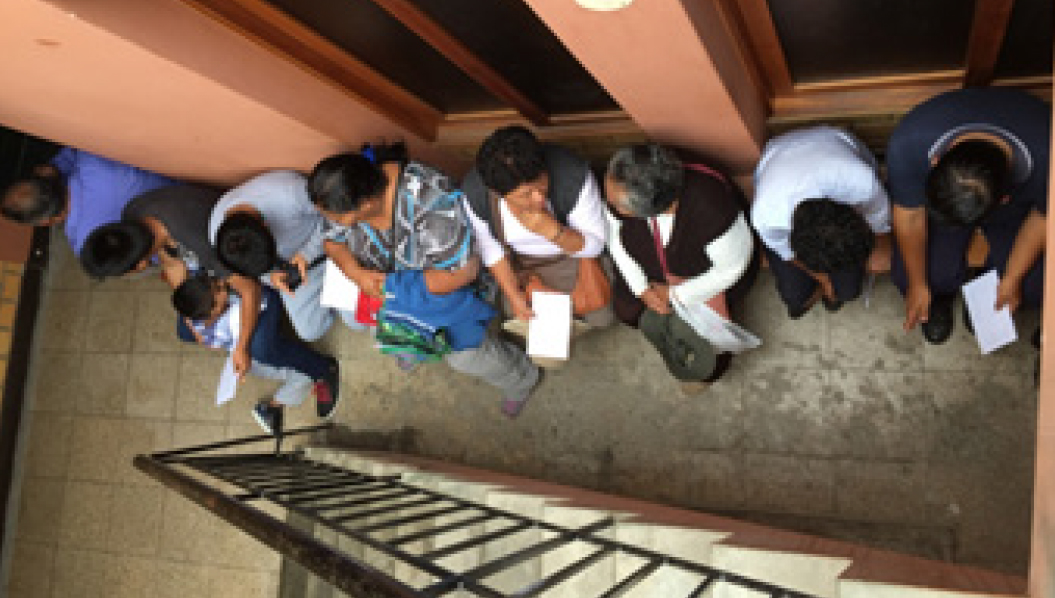 No matter how long the lines are, the "day ends when the last person with a voucher has received care." Photography by Cindy Sjolander.

The far-reaching impact of this mission is clear: through the lenses comes opportunity for the adults we serve to obtain work and have an income to support their families, to purchase food and clothing, to send their children to school. Children are enabled to do better in school by the elimination of some of the health problems that come through trying to focus when everything is blurry.

Volunteers are also given opportunities to experience enlightenment at Casa, for spiritual growth like daily Mass, prayer, confession, benediction and music. Monsignor Hirsch, Casa Hogar director, is always present to talk with and counsel anyone in need. College students who volunteer for the optical mission have eye-opening experiences of life in developing nations and what going without really means — how happy these people are with what they have.

After two bouts with cancer, I believe that the Lord has work for me to do here on Earth before he calls me home. With my 50 years of experience in ophthalmology and optometry I'm not sure I could do anything other than work with eyes and eyeglasses. In helping others, I have reaped the benefits of watching people who have no other means for obtaining the gift of sight to see well for the first time. Watching a child look up to see her parent clearly for the first time — to grasp the many beautiful gifts God has given us — is so worthwhile that I wish I had become more involved in ministry many years ago.
Cindy Sjolander joined the FSPA affiliation community in 2004. She serves as a eucharistic minister and religious education teacher and meets regularly with her FSPA affiliation companion community, Anew. Learn more about affiliation at www.fspa.org/affiliation.
Volunteers are always needed for optical missions.
For more information contact casahogaropticalmission@outlook.com.