Spirit of Ministry: Sustaining service, sustenance in Cuba
By Dee Paqué, affiliate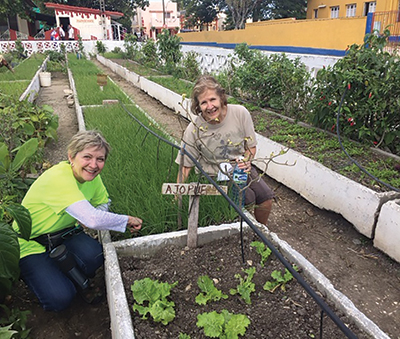 It seems I always travel outside of the United States and come back to report how blessed I am to have been born here. This time was no different. My service trip to Cuba was not only a reminder of what I have, but also of how fortunate I am to be able to travel to such places and learn the culture of new people—always a criteria for myself and my two travel buddies.
My companions Jeanne, Bev and I spent our first 12 days in Cuba in Sancti Spiritus, a very nice, clean, safe city of more than 100,000 people. Dogs roam freely and taxis are horse-drawn carriages. Streets are mostly maintained and clean. Beautiful old cars are everywhere.
During that time we worked in an organic community garden with retired Cuban people, struggling to understand their language (shame on me for not bringing a Spanish dictionary) and, at the same time, appreciating the universality of kindness and camaraderie. The garden is immaculate and those who tend to it are extremely proud. Each morning people come by and purchase fresh vegetables, mostly chives and lettuce. The income helps maintain the garden and pay the workers. Elsa, the wife of the supervisor, invited us over for espresso several times. We became endeared to her (and the growers, mostly elderly Cuban men) as she was so kind and animated. Our leaving was a sad experience.
One of the most rewarding parts of this trip was meeting each night with medical students from the University of Havana to converse in English and help them improve their conversational skills. With much enthusiasm they wanted to know about
America and our culture. Many have family members living in the U.S. and although they've heard mostly negative news about the current political environment, I got the feeling they would come here and practice if they could. In speaking of Fidel Castro, they shared mixed feelings about his good and not-so-good deeds. Considering the positive things he accomplished, many Cubans were deeply affected by his passing.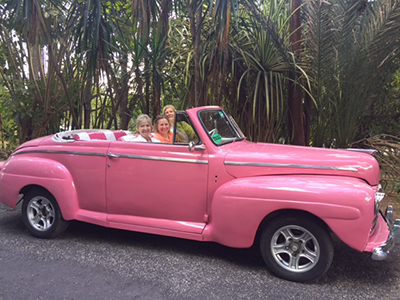 I found myself thinking about Castro's statement at the 1992 Earth Summit: "Tomorrow will be too late." Cuba began living this perspective through self-sustainability after the U.S. trade embargo was forced upon them in the early 1960s. The economic and environmental savings that began then can now be seen everywhere. The garden is organic, light bulbs are energy efficient, people ride bicycles, old cars are maintained with parts innovated by their owners, horse-drawn carts replace gas consuming vehicles, and the people know of no other way of living—thus, appear to be very happy and content.
The last two days of our trip were spent in Havana—a place that looks like a war-torn country just now trying to wake up. Outside the posh hotels in which foreign tourists stay everything, in stark contrast, is dilapidated and dirty. I couldn't help but wonder what the next few years will bring. Surely Cuba's sustainability is to be appreciated and their simplistic way of living admired, but perhaps only for a short time.
I cannot come away from service trips like this one without an overwhelming sense of gratefulness. I know many people in our country are upset and worried about where we are heading. Yet the U.S., compared most certainly to Havana, is still a great place to live.