Sisters volunteer to ensure guests have access to health insurance coverage
by Sister Jean Kasparbauer
We believe that access to health care is a human right, not a privilege. For this reason, we support the Affordable Care Act which assures health care coverage to every American citizen and for lawfully present immigrants. Follow through action to further the implementation of the ACA was a natural response for both Sister Karen Neuser and me. When the La Crosse County Health and Human Services Department asked for volunteers, we responded.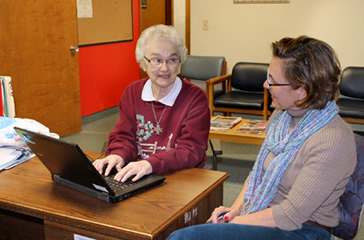 Sister Karen's objective: spread the word and invite participation by those who are uninsured. She contacted agencies and delivered informative printed posters and flyers for general distribution in preparation for registration. In January, she served as a greeter at the La Crosse County Health and Human Services office, welcoming and gathering basic information from clients to make them feel more comfortable, and facilitated the online registration process.
In October, I took a five-hour online training course to become a certified application counselor for the ACA. After passing two tests and taking additional training through La Crosse County, I became qualified to assist individuals applying for health insurance through the ACA.
Since mid-October, I've assisted patients at La Crosse's St. Clare Health Mission from 5 to 8 p.m., Tuesdays and Thursdays. At first, patients were extremely hesitant to apply for various reasons (no job, no income, fear of the computer world). As time went on, however, people became open and eager to enroll and sometimes stood in line for assistance.
For some clients the first step was assistance with establishing an email account. After that, we'd visit the ACA website and I'd assist the person with registration (entering personal data for those who do not type or assist if the person is able to key in his or her own information).
One of the rewards of this volunteer ministry is hearing the anecdotes of people's lives. Another reward is seeing their faces when they realize they now have health coverage for the first time in as many as 20 years or more.
Editor's note: Sister Jean adds that after an evening of working with clients at St. Clare Health Mission, she appreciates the support she receives from FSPA. From words of encouragement to an invitation to a card game (to help clear her head and relax), she reaps the benefits of community support.