Become a Sister
Are you thinking about centering your life in prayer? In community? We welcome you!
Our mission as Catholic sisters, as vowed Franciscan women centered in Eucharist, is our commitment to be loving presence through prayer, witness and service. We live in community which grounds us in a prayerful life, our sacred tradition of perpetual adoration, and pushes us to minister to meet the needs of the times.
About FSPA
As Franciscan Sisters of Perpetual Adoration, we commit ourselves to witness our love for God in service to others. We strive to bring new life, meaning and hope to a suffering and searching humanity. We seek to bring healing with compassion and forgiveness. We do this through ministries of spirituality, education, healthcare, church ministry, social ministry and advocacy.
Our Charism
Our inspiration
FSPA foundresses desired to live the spirit of St. Francis and St. Clare and in deep union with God. Two of our early leaders, Mother Aemiliana Dirr and Mother Antonia Herb, worked tirelessly to solidify the dream of a community devoted to perpetual adoration and to serve the needs of all they encountered.
Lifestyle
As women religious, we seek to follow the universal call to holiness by our public profession of vows. As women in a Vatican II church, we wear contemporary clothes and live in small groups or individually, usually near our ministry sites. A community medal and ring are signs of our FSPA commitment.
We center our lives in prayer; adoration of the Blessed Sacrament is our most sacred tradition. Our prayer lives also include meditation, contemplation, Scripture reflection, liturgy of the Hours, and Mass. Shared prayer and faith are balanced with private and public prayer. We commit ourselves to witness our love for God in service to others. We strive to bring new life, meaning and hope to a suffering and searching humanity.
Vows
In our vocation as vowed women religious we are grounded in the observance of these vows:
Poverty: Franciscan Sisters of Perpetual Adoration have vowed to live simply in the spirit of the Beatitudes. We reverence all of God's gifts and rejoice in the goodness of creation. We hold all things in common which allows us to devote our community resources to serving others.
Celibacy: Sisters also commit to living and sharing a community lifestyle within this vow. Community life frees us to cultivate and enjoy personal relationships-both within and outside the congregation.
Obedience: Members of the FSPA community find that we can accomplish great things when we are united in our efforts. Through this vow, we commit ourselves to the congregation's mission to serve God, the church and society. Listening to the voice of the Spirit in our community, ourselves and the world enables us to discern how our unique gifts foster our mission.
Membership is open to women who:
- desire a deeper relationship with God and a life of Gospel service
- are generally 21-50 years old with at least one year of college or work experience
- are active members in the Catholic Church
- are free from marriage vows and responsibility for minor children
- wish to live in community and to minister according to the FSPA mission
Steps to FSPA Life
To begin your initial discernment and discuss community living experiences, call or text Sister Julia at 608-797-8345 or discerning@fspa.org. The mailing address is Franciscan Sisters of Perpetual Adoration, 912 Market Street, La Crosse, WI 54601.
Candidate
After the application process is completed, formal entrance takes place in La Crosse, Wisconsin. It includes continuing to develop personal spirituality; learning FSPA history, traditions, and Franciscan spirituality and values; and working within and experiencing community life.
Novitiate (two years)
The novitiate phase is two years. During the canonical year, which can be either year one or two, the novice learns more about the Church, the community's constitution, the vows of celibacy, obedience, and poverty and spends time integrating Franciscan values. The apostolic year, again, either year one or two, is a time of continued study of the vows and integration into ministry.
Temporary Vows (typically six years)
During temporary vows, a sister lives her vows in the FSPA community and grows in a Franciscan way of life. Careful attention is given to balancing ministry, prayer, community life, and personal enrichment and preparing for permanent commitment.
Final Vows
After the preparation described above and mutual discernment with the FSPA community, a sister publicly affirms her commitment for life. After pronouncing her perpetual vows, she receives a ring, which identifies her as a full participant in the FSPA community for the rest of her life.
Transferring to FSPA
For Catholic Sisters discerning transfer from another religious congregation, the first step is connecting with the FSPA president who invites the sister to a time of initial relationship. If you're a Catholic Sister looking for transfer information, visit our transfer resource page.
Fast Facts
Franciscan life
We follow in the life of St. Francis of Assisi. In his footsteps, we live simply. This allows us to have a true and humble faith, to serve and work faithfully and conscientiously and to live with special dedication and joy.
Global presence
FSPA minister throughout the United States and in Canada. Our Global Awareness Through Experience pilgrimage program takes us throughout Latin America and our partnership with the Franciscan Common Venture connects us with Franciscan Sisters in Cameroon, West Africa and beyond.
Perpetual Adoration
Since Aug. 1, 1878, we've prayed daily in our Adoration Chapel. Through perpetual eucharistic adoration, we offer God praise and thanksgiving before the Blessed Sacrament. Nurtured and strengthened by Jesus' presence, we live out this adoration in our daily lives as we strive to help those in need.
Social Justice
True to our Franciscan calling, we commit ourselves to building Christ's Kingdom of justice and peace. We continue our efforts to preserve and nurture God's creation, to increase social and global consciousness, to educate ourselves to political awareness, and to encourage action to effect change where necessary (Unity in Diversity #40).
Sponsored ministries
Through sponsorship, we continue to influence our sponsored ministries in ways that further the mission of both FSPA and the institutions themselves. We sponsor three spirituality centers and Global Awareness Through Experience.
Sustainability
An important role of FSPA is to invite others to learn about and experience God's presence in nature. Using our land resources, including our organic garden, to model sustainability practices and spirituality for others is a very significant way of continuing FSPA's long-standing tradition of education ministry.
Frequently Asked Questions
Q: What does a Franciscan Sister of Perpetual Adoration do all day?
A: While sisters' days are varied, prayer, ministry, community and recreation are all necessary for a balanced, happy life. Franciscan Sisters of Perpetual Adoration are engaged in all - with days that begin and end with prayer, through ministries that are tailored to each sister's individual gifts, and through a community lifestyle that fosters close relationships, recreation and meaningful interaction with other sisters and lay people.
Q: Why do some sisters wear habits?
A: There are many symbols that women religious use to indicate their faith in God and commitment to Christianity. Some congregations choose a habit to be their sign. They believe it helps them live out their vows, and some say it is also a sign of penitence and a separate lifestyle.
Most FSPA opt to wear street clothes instead of habits, believing that it helps us build bridges of understanding with lay people and that it makes us more personally accessible to the people we serve. Although we wear a medal, either as a pendant or pin, and a ring as our FSPA symbol, we strive to make our Christian lifestyle the most obvious sign of our commitment.
Q: How do congregations or orders differ from one another?
A: Differences among religious communities are found in their emphasis on prayer and community life. In contemplative communities, for example, all members live at the motherhouse with their primary ministry being one of prayer. Their only other work is for the purpose of providing for their basic needs of life. Most members of monastic communities also tend to live and work together at the motherhouse, though they work in a variety of ministries. They gather together frequently for prayer, usually several times a day. FSPA is an evangelical community, where the sisters are united through prayer yet work among people wherever needed in the world and serve in various ministries.
Q: What ministries are FSPA involved in?
A: Our strength as Franciscan Sisters of Perpetual Adoration is found in our commitment to God and in the unique gifts of each sister. We are encouraged to use our diverse and unique talents as we strive to bring new life, meaning and hope to a world in need of compassion and healing. We minister as teachers, nurses, pastoral workers, spiritual directors, counselors and in many other capacities as directed by the Spirit, community needs and our own talents.
Q: How often do you pray?
A: As our name (perpetual adoration) suggests, prayer has a central role in our lives. As with any individuals working together for the same cause, we must stay in constant communication with God as we seek union with God and to spread God's love, and prayer is that communication. FSPA pray alone, in small groups and with the larger community. Our prayer takes different forms, including liturgy, Divine Office, reading and quiet meditation. We tend to pray more in the morning and the evening since our day usually is spent in ministry, but we carry prayer in our hearts at all times.
Q: Is prayer always easy for you?
A: Prayer is our way of communicating with God. Like any relationship, there are times when we need to act on motives deeper than feelings and trust in God's presence and unconditional love. In fact, Sister Sarah recently blogged about this! Read The transformative power of the spiritual practice of Eucharistic Adoration.
Q: Do sisters have free time, and if so, what do they do in their free time?
A: We have about the same amount of leisure time as most other adults and may spend that time as we choose. Some sisters enjoy sports and athletic activities, others enjoy the arts. We also spend our free time watching television or movies, reading, sharing with friends or visiting family. While the activities are as diverse as our members and this diversity is encouraged, we at all times and places remain true to our vows and commitment to Christian living.
Q: How often do you gather as a congregation?
A: We meet annually to make community decisions and to reconnect with one another in the midst of busy ministries.
Common Myths
Common myths about life as a Franciscan Sister of Perpetual Adoration debunked:
Myth: I will never see my family or friends again.
Fact: Women in the incorporation process as well as vowed members are encouraged to maintain healthy relationships with family and friends.
Myth: If I become a sister I will never have time off from ministry.
Fact: It is important to maintain a healthy balance of ministry and rest. Each year women in the incorporation process and vowed members through discernment make arrangements for a retreat, and vacation time to see family and friends.
Myth: Someone in community will assign me a ministry and I will have no choice.
Fact: Each person in community discerns her choice of ministry with community members. Factors such as qualifications, living arrangements and timing of a change are some of the topics for discussion prior to interviewing for a job opening.
Myth: I will not have the basic necessities of food, water, clothing and shelter because of preparing and eventually taking a vow of poverty.
Fact: By sharing resources with one another in community together we make sure that each person has the basic necessities of life.
Myth: I will lose my professional credentials because I will not be allowed to complete requirements for my career field.
Fact: Sisters are encouraged to maintain professional standards for any field in which they are actively ministering.

Myth: If I say yes and begin the process of incorporation to become a member of the congregation I will not be able to choose to leave.
Fact: Discernment is a mutual process and at any time in the incorporation process the candidate can chose to leave and the congregation also has the right to require the candidate to leave. There are also processes in place for someone in temporary vows or in perpetual vows to discern departure.
Myth: I will be stuck living and working at the same place my whole life.
Fact: We are Franciscans and by our very nature are iterant and in tune with the Holy Spirit. Changes in living and working experiences happen after discernment with community. Many sisters move and change ministries several times over the course of their lifetimes. Sometimes the change will also require further education to work in ministry.
Myth: I will lose my independence.
Fact: Not all decisions are discernments, you will have some autonomy. Moving from independence to interdependence and thinking about what is good for the community is done in steps as you make decisions through discernment.
Myth: I will not have access to use technology such as a cellphone or a computer.
Fact: Access to technology is available. Use is discerned and resources are shared. Community members have access to the tools they need for mission and ministry. In fact, be sure to meet our podcast host and bloggers! Sister Julia blogs and podcasts at Messy Jesus Business and Sister Meg blogs at Wanderings and Wonderings.
Myth: Franciscans love animals so I can bring my pets to live with me when I start the process of becoming a sister.
Fact: Candidates cannot bring pets with them; plans for re-homing pets must be made prior to moving into community. Allergies, cost, distraction from the incorporation process, diversion from relationships in living communities, and ministries that require focus are just some of the reasons candidates cannot have pets. Attachment to your pets needs to be part of your discernment process.
Discernment Guideposts & Resources
Seven Discernment Guideposts
1. Listen to God in your life.
2. Know your heart's desire.
3. Pray for freedom and guidance.
4. Search out data.
5. Talk with someone you trust.
6. Make a decision.
7. Experience peace with that decision.
Pray for the guidance of the Holy Spirit, for openness and courage to follow your inspirations, to be free from undue influence and fear of change. Pray for the wisdom to seek and know the way that will best enhance your own gifts and talents and use them to serve God and the church. Identify your greatest fears and what you want to hold onto most.
Look at your own history and feelings surrounding your past expectations. Gather facts. Consider the pros and cons, losses and gains in the situation. Share your findings and get feedback from a friend, advisor, or spiritual director. Ask yourself why this would be good for you, and explore good reasons for or against your choice.
As you make a decision, take care to ensure it is life-giving to you, so that it can be life-giving to the world. It may not always be the easiest choice, but there will be some confirmation in the form of God's peace. When it comes, you may feel it unmistakably or just have a quiet sense that the choice is right. The correct choice should bring you peace and should be in harmony with your gifts and personality.
Recommended Resources
- How to talk to family about your vocation, Father Andrew Hofer
- Join Us: a guide for discerning religious life, FSPA's monthly e-newsletter
- Celibacy steeped in a whole lot of love, by Sister Sarah Hennessey
- Messy Jesus Business, a blog and podcast hosted by Sister Julia Walsh
Related Sites
- A Nun's Life
- Vision Magazine
- Catholics on Call
- Franciscan Federation
- Religious Ministries Online Guide
- Facebook: The Vocation Discerners
-Giving Voice: Blogging Sisters
Celebrations and Events
Coffee and Chat with Sister Julia
Join Sister Julia Walsh for some coffee and friendly conversation. Email discerning@fspa.org for more details – including upcoming dates, times and specific locations.
Dubuque's Got Sisters
Saturday, April 30, 2022 | 11 - 6 a.m. | Sinsinawa, WI
All single women between the ages of 18 and 45 are invited to join us for Dubuque's got Sisters. Meet sisters, ask questions, explore, pray, reflect with others and have fun! This year's theme is "Behind the scenes of convent life." Visit discernyourvocation.org for more details and RSVP here by April 23!
Annual celebrations
Mar. 19: Feast of St. Joseph
May 28: Founders' Day
Aug. 1: Perpetual Adoration Anniversary
Aug. 11: Feast of St. Clare of Assisi
Sept. 4: Feast of St. Rose of Viterbo
Oct. 4: Feast of St. Francis of Assisi
Contact Sister Julia
Sister Julia Walsh is a Franciscan Sister of Perpetual Adoration and part of a new generation of Catholic Sisters. She's often writing and podcasting about the messiness of following Jesus and being Catholic and doesn't hesitate to ask important questions. This joyful, wild Jesus-lover can be found visiting jails, leading retreats, companioning spiritual seekers, advocating for peace, teaching about social justice, praying in the chapel or camping in the woods.
Email Sister Julia at discerning@fspa.org.
Call or Text Sister Julia at 608-797-8345.
Follow Messy Jesus Business Podcast and Blog
More about Sister Julia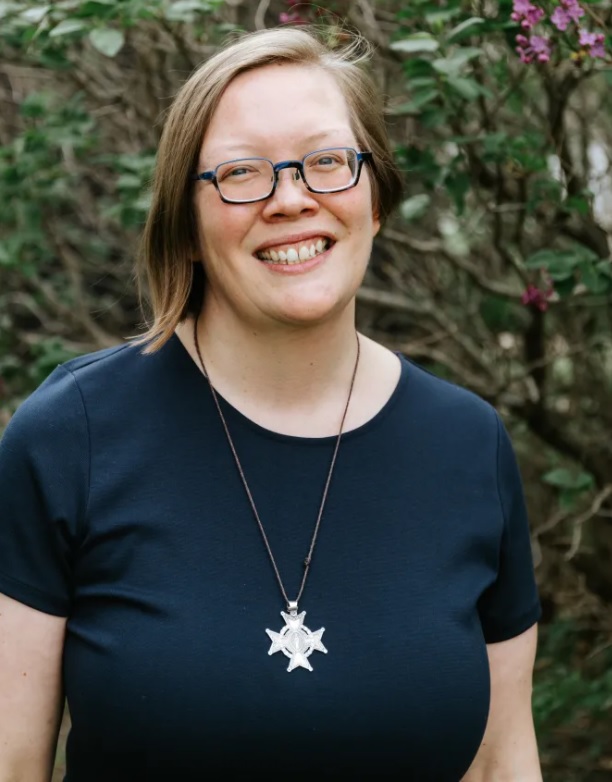 Photo of Sister Julia Walsh by Mike Wohlhutter
Julia Walsh grew up on a goat farm in a small community in Northeast Iowa with her parents: Kevin and Elsie, and three siblings. As a child, she enjoyed gardening, reading, and spending time in the woods. She attended college in Iowa, starting at Wartburg College in Waverly, then ultimately transferring to Loras College to discern her vocation. While a student at Loras in Dubuque, Iowa Julia studied abroad in South Africa and realized her passion for social justice, equality and Gospel living.
In 2003 she graduated from Loras College magna cum laude with a BA in History, Secondary Education and Catholic Studies. After graduation Julia interned with the Iowa Catholic Conference in Des Moines, Iowa, and then moved to California and joined the Jesuit Volunteer Corps. As a Jesuit Volunteer, Julia worked with young parents and their children transitioning from homelessness to healthy interdependence at Waking the Village/Tubman House in Sacramento, California. Her experiences in South Africa, as an intern with the Iowa Catholic Conference and in the Jesuit Volunteer Corps helped her to develop her passions for Gospel-centered systemic change.
In 2006 Julia entered the Franciscan Sisters of Perpetual Adoration, (FSPA) based in La Crosse, Wisconsin. She entered the novitiate and received the name Sister in 2007. She professed first vows in 2009 and perpetual vows in 2015.
Sister Julia began her teaching ministry at Catholic high schools in Chicago where she lived and served from 2008 to 2012. In 2012, Sister Julia moved to La Crosse, Wisconsin to be closer to her community's motherhouse and minister at Aquinas High School, where she served as a theology teacher until 2016.
In the fall of 2016, Sister Julia joined the staff of Marywood Franciscan Spirituality Center on Trout Lake in the Northwoods of Wisconsin, where she presented programs and retreats and served as a freelance writer. In August 2017, Sister Julia graduated from Catholic Theological Union in Chicago with a Master of Arts in Pastoral Studies.
Sister Julia returned to Chicago in August 2019 and became a certified spiritual director though the Claret Center in May 2020. That same year, she joined her congregation's formation team, serving women who are discerning their vocation. In 2021 she co-founded The Fireplace, an intentional community and house of hospitality on Chicago's southside that offers spiritual support to artists and activists.
In addition to writing, serving as a spiritual director, companioning people who are discerning their vocations, facilitating retreats, and managing Messy Jesus Business blog and podcast, Sister Julia also volunteers at Kolbe House, the Archdiocese of Chicago's Jail Ministry Center.
Sister Julia enjoys hiking, camping, watching movies, gardening, creating and taking in art, cooking, traveling and spending time with her community, family and friends. On a sunny day in Chicago she can be found riding her bicycle throughout the city and writing poetry about her relationship with God.