Truth and Healing
We are a religious congregation with a history of administering a Native American boarding school during the era of assimilating Indigenous children into Euro-American culture. We're studying our own history and impact at St. Mary's Boarding School in Odanah, Wisconsin, from 1883 to 1969. Our hope is that as we listen to the painful and tragic experiences of Indigenous communities and take responsibility for the role we played, we can take action in dismantling systemic racism and white supremacy in ourselves and our areas of influence. Our intention is to address our complicity in unjust systems, both historically and now, and strive to enhance dignity and wholeness to those who have suffered for generations.
The FSPA Truth & Healing Team has set the following goals for 2022-2023. We will:
continue to research and educate sisters and all of our partners in mission about the history and impact of the boarding school era.
continue to cultivate relationships with indigenous peoples with whom we share a history and/or occupy ancestral lands.
continue to support and promote the efforts of U.S. Secretary Deb Haaland.
The Franciscan Sisters of Perpetual Adoration support the legislation to establish the Truth and Healing Commission on the Indian Boarding School Policy Act in the United States.
As members of The National Native American Boarding School Healing Coalition, we're proactively working with the Tribal Historic Preservation Officer in Odanah to learn how we can contribute our archival records to both the tribe and NABS' online database resources center. In a letter of support to Wisconsin Senator Tammy Baldwin, FSPA asked for her continued support for this legislation. "As you stated on September 30, 2021, the National Day of Remembrance for U.S. Indian Boarding Schools, 'We cannot gloss over this dark and tragic period of our nation's history.'"
H.R. 5444 / S. 2907
The National Boarding School Healing Coalition reached out to boarding school attendees to submit a personal story to the House of Natural Resources Committee which were due by the end of May. Congress held a hearing on "H.R. 5444 / S. 2907 the Truth and Healing Commission on Indian Boarding School Policies in the US" on Thursday, May 12 and they opened the record to allow for boarding school attendee testimony to be shared until May 26.
Updates
On Oct. 10, 2022, Indigenous People's Day, FSPA reiterated its support of H.R. 5444 / S. 2907 to U.S. Senator Tammy Baldwin and Secretary Deb Haaland. We shared our commitment to address our complicity in unjust systems, both historically and now, and our work to enhance healing, dignity and wholeness to those who have suffered for generations. Read the FSPA message to Senator Baldwin and U.S. Secretary Haaland.
According to Knau, Arizona Public Radio, "A House committee gave preliminary approval Wednesday, June 15, to a bill that would create a commission ot investigate historical abuses at Indian boarding schools." Read Bill advances for Truth and Healing Commssion related to abuses at government-run Indigenous boarding schools
According to Native News Online, "Two issues were on the table during the Senate Committee on Indian Affairs' hearing June 22: the Department of the Interior's landmark investigative report on Indian Boarding Schools, and legislation intended to work in tandem with the department's initiative to address trauma and bring healing to boarding-school survivors and their communities." Watch Secretary Haaland's testimony in "Senate Committee Hears Indigenous Testimony on Fedral Indian Boarding School Report and Legislation."
NABS' one pager is a great resource that summarizes Truth and Healing Commission on Indian Boarding Schools Policies Act.
Follow H.R. 5444 and S. 2907 Truth and Healing Act on Congress.gov
Department of the Interior Investigative Report and the Road to Healing
On May 11, 2022, Secretary of the Interior Deb Haaland and Assistant Secretary for Indian Affairs Bryan Newland released Volume 1 of the investigative report called for as part of the Federal Indian Boarding School Initiative, a comprehensive effort to address the troubled legacy of federal Indian boarding school policies. This report lays the groundwork for the continued work of the Interior Department to address the intergenerational trauma created by historical federal Indian boarding school policies.
The report reflects an extensive and first-ever inventory of federally operated schools, including profiles and maps. Wisconsin includes 10 identified boarding schools, which includes the FSPA-run St. Mary's Indian Boarding School in Odanah.
Road to Healing
"As part of the initiative and in response to recommendations from the report, Haaland announced the launch of 'The Road to Healing' year-long tour. It'll consist of a tour across the country to allow boarding school survivors to share their stories, help connect communities with trauma-informed support and to gather a permanent oral history." Read Indian Country Today's coverage of the release
"Today, Native American elders of our generation, in speaking about the past, are allowing for the uncovering of truths. It is a painful but necessary to expose what happened so that our People and generations to come can begin to heal. It is time to break the intergenerational trauma caused by Indian boarding schools." Read Native News Online's "Elders are finally talking about their Indian Boarding School experiences."
NABS Healing Coalition: 7 Weeks of Action for 7 Generations
NABS Healing Coaltion encourages everyone to call Congress with this message, "During the month of November, which is Native American Heritage Month, I ask that you provide time on the floor to bring forward the Truth and Healing Commission Bill (H.R. 5444 in the house / S.2907 in the Senate)."
NABS launched the "7 Weeks of Action for 7 Generations" highlighting HR.5444 / S.2907, the Truth and Healing Commission on Indian Boarding School Policies Act, holding a two hour event with over 500 registrants. According to NABS Healing Coalition's YouTube page, "We had a dynamic list of elected officials, youth leaders, tribal advocates, and allies who attended. It will take each and everyone of us to ensure HR. 5444 / S.2907 gets passed in Congress."
2023 Ojibwe Winter Storytelling Series (online)
In Ojibwe culture, winter is storytelling season. The Wisconsin Historical Society is celebrating by featuring Ojibwe storytellers in a four-part virtual series every Tuesday evening at 7 pm from Jan. 10-31, 2023. Visit Wisconsin Historical Society's website for all speaker and registration details.
Global Catholic Sister Report: sisters face complicity
Global Catholic Sisters Report talked with FSPA about the history of administering a Native American boarding school, St. Mary's in Odanah, Wisconsin, from 1883-1969, during the era of assimilating Indigenous children into Euro-American culture.
"Aren't we supposed to be the good people? ... But our intent was so different than our impact." -Sister Eileen McKenzie
Read US congregations face their own complicity of trauma in Native boarding schools
Indian Country Today journalist visits St. Rose Convent
Mary Annette Pember, a journalist with Indian Country Today who also authored the article in The Atlantic titled "The traumatic legacy of Indian boarding schools," visited St. Rose Convent in March 2022. Mary Annette's mother was a student at the FSPA-run St. Mary's Indian Boarding School and her visit to St. Rose included time in the archives.
"The Mother House may be one of the most unlikely spaces to encounter a stunning example of Native resistance to U.S. assimilationist policies. But there it was, hidden in an old report languishing deep within the recesses of the sisters' archives."
Read "Perspective: Archived documents reveal covert resistance to boarding school assimilation"
Her coverage continues with "An unexpected apology."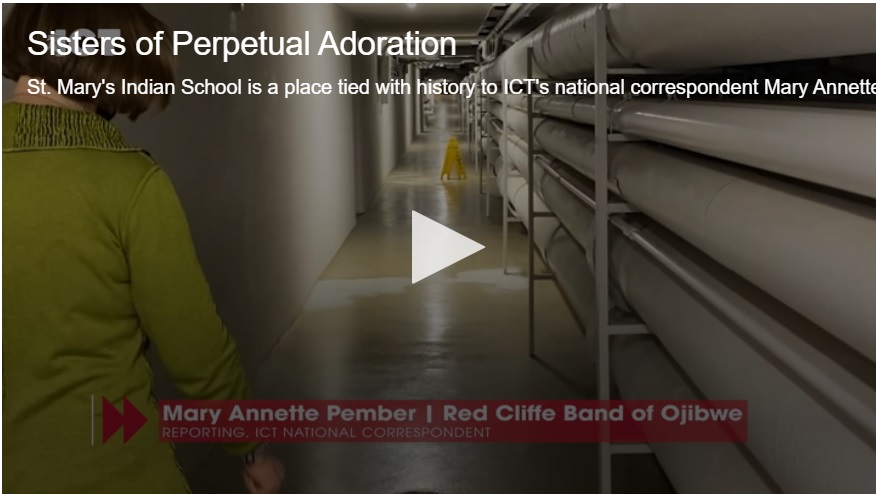 Mary Annette also wrote this piece re: report on federal Indian boarding schools due out in April 2022. Read "Report on Federal Indian Boarding Schools due"
Indigenous leaders from Canada visit Rome; Pope visits Canada
"For the deplorable conduct of those members of the Catholic Church, I ask for God's forgiveness and I want to say to you with all my heart: I am very sorry." - Pope Francis, April 1, 2022
Following up to the Indigenous leaders trip to Rome, Pope Francis visited Canada in July to apologize for the abuses at the residential schools. ICT journalist Mary Annette Pember wrote a follow up article, "Indigenous peoples want sacred items returned from Catholic museums." She writes, "The Vatican's Anima Mundi Ethnological Museum houses feathered headdresses, carved walrus tusks, masks and embroidered animal skins all described as gifts given by Indigenous peoples to Pope Pius XI, who served from 1922-1939. Museum curators claim that most of the items were sent to Rome by Catholic missionaries for a 1925 exhibition in the Vatican gardens." Mary Annette also mentions FSPA's Archives, which she visited in early 2022. Since her visit, FSPA participated in a repatriation ceremony with the Bad River Band in Odanah, where 39 cultural items were returned.
From April, "Listening to your voices, I was able to enter into and be deeply grieved by the stories of the suffering, hardship, discrimination and various forms of abuse that some of you experienced, particularly in the residential schools. It is chilling to think of determined efforts to instill a sense of inferiority, to rob people of their cultural identity, to sever their roots, and to consider all the personal and social effects that this continues to entail: unresolved traumas that have become intergenerational traumas." -Pope Francis
Read Meeting with Representatives of Indigenous Peoples in Canada
Watch Audience with delegations of Canadian Indigenous Peoples
Earlier that week, Indian Country Today reported on the visit. "Indigenous leaders from Canada and survivors of the country's notorious residential schools met with Pope Francis on Monday [March 28, 2022] and told him of the abuses they suffered at the hands of Catholic priests and school workers, in hopes of securing a papal apology from him and a commitment by the church to repair the harm done." Read (and watch) "Indigenous leaders tell pope of abuses at residential schools" from Indian Country Today
FSPA History in the boarding school era
FSPA has engaged with the community in study of our former ministry at St. Mary's Boarding
School with the La Crosse County Historical Society. "For the FSPAs and the people of La Crosse," reads an article published by the society, "St. Mary's School is one of those histories removed from our daily experience by time and distance, but nevertheless important to understand our relationship with Indigenous communities."
La Crosse County Historical Society, September 2020
"A troubled past: The Franciscan Sisters of Perpetual Adoration and St. Mary's Indian School"
The article includes a link to Mary Annette Pember's article, "Death by Civilization"
Cultivating Relationships
The FSPA Truth and Healing team articulated a goal to cultivate our relationship with the people of Odanah. We are moving this work forward as we continue reaching out, listening and learning. We've welcomed Steve Bulley, a member of the Bad River Band of the Lake Superior Chippewa and graduate of St. Mary's, to our core team and is discerning with us how to best support the people of Odanah in the federal truth initiative. Our archivists are communicating with the Tribal Historic Preservation Officer in Odanah to explore how we can share materials and artifacts that are pertinent to both FSPA and the people of Odanah.
FSPA repatriates cultural items to Bad River Band of the Lake Superior Tribe of Chippewa
The Franciscan Sisters of Perpetual Adoration recently had the opportunity to meet with Bishop James Powers and Father Jerome D'Souza while in Ashland, Wisconsin. The meeting was held June 2, the day after members of the FSPA Truth and Healing Team took part in a repatriation ceremony with the Bad River Tribe. During that ceremony, thirty-nine cultural items from FSPA, including 25 paintings by Peter Whitebird, were returned home.
FSPA operated St. Mary's Indian Boarding School from 1883 to 1969. And during the meeting with Bishop Powers and Father D'Souza, FSPA President, Sister Eileen McKenzie, explained, "We're looking at the era of boarding schools through a different lens—a lens of cultural genocide. And, we're understanding FSPA's complicity in that era." Sister Eileen was joined by eight members of the FSPA Truth and Healing Team, including sisters, affiliates and staff. Each member shared their experience of not only the repatriation ceremony, but of the education they've been undergoing, in earnest, since 2020.
"It's complicated, difficult and hard to make a general statement," said Sister Roselyn Heil, who ministers with the Catholic Communities of the Ashland Cluster. And Sister Kristin Peters added that "Our work now is holding sacred the stories and the trauma."
Sister Eileen offered a timeline to Bishop Powers and Father D'Souza. She noted that the repatriation ceremony came after almost two years of study and exploration. "In 2020, the La Crosse County Historical Society invited FSPA to participate in an article about our history with St. Mary's Boarding School. Shortly after, we formed a Truth and Healing team charged with studying our past. We also became members of The National Native American Boarding School Healing Coalition." She added that in fall 2021, members of the Bad River Band Tribal Historic Preservation visited St. Rose Convent. A second visit is scheduled later this month.
Both the Bishop and Sister Eileen connected this work to the Synod on Synodality, the two-year process of listening and dialogue which began in Rome in 2021. "It's a vulnerable process," said Sister Eileen. We listen, dialogue and discern what healing can look like." According to the Synod website, "The aim of the Synod is to provide an opportunity for the entire People of God to discern together how to move forward on the path toward being a more synodal Church in the long-term. Asking 'How does this journeying together allow the Church to proclaim the Gospel in accordance with the mission entrusted to Her.'"
Both Sister Georgia Christensen and Sister Eileen offered that "We talk about truth and healing, not reconciliation. Healing because reconciliation takes for granted you had a mutual relationship in the first place. We need to reconcile with ourselves, but everyone gets to decide their own healing process."
The FSPA Truth and Healing Team, Bishop Powers and Father D'Souza ended their time together asking "Who are we as Church?" And recognizing that this recent visit is really just the beginning of what's to come in the journey of truth and healing.
This visit to Ashland follows Pope Francis' apology to Indigenous leaders and survivors of Canada's residential schools (April 1) and the Department of Interior's Investigative Report outlining next steps in Federal Indian Boarding School Initiative (May 11). And, the invitation came just weeks before the FSPA's 2022 Mission Assembly, A Revolution Through Encuentro, where from June 10 to 12, sisters, affiliates and partners in mission met to deepen the FSPA commitment to celebrating authentically unity in diversity by challenging ourselves to unveil our white privilege.
Sister Rose Heil is now ministering as the pastoral associate of St. Mary's Parish in Odanah; she started in October 2021. We all sense this is an opportunity to cultivate a healing presence and process. Let us keep all our endeavors for historical truth and healing in our prayers.

FSPA Truth and Healing Team Members
Sisters Georgia Christensen, Celesta Day, Carolyn Heil, Roselyn Heil, Catherine Kaiser, Marla Lang, Eileen McKenzie, Kristin Peters, Marlene Weisenbeck and Laurie Sullivan; Affiliate Marge McCardle; Partners in Mission on staff Jane Comeau and Meg Paulino; and Gary Robbins, collaborator and consultant, and Steve Boulley, Wisconsin Tribal Judges Association
Land Justice Futures Course
The N&N Land Justice Project is an initiative that supports religious communities to create new land legacies rooted in racial and ecological healing. Together with hosts, Nuns and Nones, we explored five modules that expand the options available for land transition that protect and regenerate land, repair racial harm, cultivate climate-resilient communities, and expand land access. With long-term educational, technical, and financial support, and hand-in-hand movement partners, we can enable just and regenerative futures for lands and communities.
Read Global Catholic Sisters Report: Nuns and Nones project teaches sisters how to create land legacies for justice
Module 1: Land, Regeneration and Repair
Module 1 dives into the call and possibilities to "protect land, regenerate ecosystems, and secure long-term access, tenure, and equity to regenerative stewards — especially those most oppressed by our current economic system and colonial history. We also heard from guest speakers about the Indigenous-led regenerative kelp farm on the Sisters of St. Joseph coastal retreat center property. We hear about the trust and love from which this project flows, and their dreams for the future of the collaboration. Click here to watch the recording.
Further Reading
- To learn more about the Shinnecock struggle for sovereignty and wellbeing, check out the PBS Documentary Conscience Point.
- Instagram tips: Follow the Shinnecock Kelp Farmers here. Follow the wider movement to protect ancestral Shinnecock lands here.
- Read the Imagining Land Justice guidebooks on Landback and Regenerating the Commons.
Module 2: Colonization, Racism and Re-imagining Solidarity
Module 2 of Land Justice Futures was a deep dive into the history of land dispossession, and the visions of a future without enclosure or injustice. Click here to watch the recording.
We spent our time with guest teachers, Priscilla Solomon, a Sister of St. Joseph of Sault Ste. Marie and Ojibway Anishinabekwe elder, and Deseree Fontenot of Movement Generation.
Check out the further resources recommended by them as well as members of our team.
Module 3: Laudato Si' & The New Cosmology: Evolving Our Spirituality Through Land Legacy
In Session 3, Sr. Sharon Zayac, Rick Ufford-Chase, and Sister Christin Tomy's sharings weave together a "contextual spirituality" for land justice: Sr. Sharon illuminates the "sense of the sacred interconnectedness of the whole" that undergirds this work, and the cosmic impulse that shifts us "from stewardship to solidarity." Rick shares why he sees racial and ecological healing and reparation as the central call of Christians today, and tells of how his local Presbyterian community returned the former Stony Point Church to the Ramapough Lenape people. And finally, Sr. Christin Tomy blows us all away, saying, "I am becoming increasingly aware of the collective power of women religious...What if we could all dream together about what [land justice] could look like? Click here to watch the recording.
We invite you to dream with Sister Christin's closing reflections:
"How are we called, in this moment, to move from stewardship to solidarity?
How are we called to be about that concrete work of healing and repair?
How can we start to see things that might feel like burdens — buildings, land, things that are too big for us — how can we see those as not problems but opportunities?
... And how can we dream together?"
Module 4: Collaboration and Co-Liberation: Meet the Stewards of a Climate Resilient Future
Session 4 wove together two powerful addresses from guest speakers Naima Penniman and Pat McCabe.
From Naima, we learned about the realities of Black land dispossession and food apartheid; the long and unbroken lineage of Black land stewards in the U.S.; and the powerful ways that Soul Fire Farm is nurturing a new wave of food (r)evolutionaries through training, education, and expanding land access to BIPOC farmers.
Pat McCabe, or Woman Stands Shining, offered powerful, open-hearted, and clear-seeing testimony to the complex braid of generational pain held by Indigenous people, the call to put life "back in the center" of our decisions, and the vision of an "unshakeable sisterhood" that can heal the world. Traversing many layers of story and wisdom, we hear stories ranging from the trauma of Pat's parents and grandparents in missionary boarding schools, to her own journey to re-open Diné access to land at the base of one of the four sacred mountains of the Diné people. Pat's testimony is unique in its candor, its power, and its belief in the magnitude of healing that is possible.
Consider journaling or reflecting with a fellow participant on Pat's closing question: "What could happen if the Church could fulfill its promise to be refuge, to be way-shower; to foster love, and peace, and justice, and understanding?"
May we ask this beautiful and courageous question, together, again and again.
Module 5: Nuts & Bolts: New Models for Prophetic Land Legacies
Session 5 included an all-star, all-heart lineup of law, real estate and land trust leaders: Janelle Orsi and Alejandra Cruz from the Sustainable Economies Law Center, Cassandra Ferrera from the Center for Ethical Land Transitions, and Ian McSweeney from Agrarian Trust. Together, they walked us through some of the "Nuts and Bolts" thinking of land transitions. Click here to watch the recording.
>>> ENCOURAGED READING: Legal Tools for Land Return! <<<
Janelle Orsi has prepared this article especially for Land Justice Futures attendees! In plain, accessible language, Janelle walks through the current problems with the real estate system, the possibilities for new thinking and healing action, and helpful links and ideas to get us there. While it is not required, we strongly encourage you to give it a read before watching Session #5. Click here for the discussion guide.
Building our resource library
As students engaged in learning our history, we're building a resource library of videos, articles, webinars and other events.
Doctrine of Discovery:
What does it mean to be a peacemaker today in a world where the present is defined by the violence of the past?


Article: The School Days of an Indian Girl
"THERE were eight in our party of bronzed children who were going East with the missionaries. Among us were three young braves, two tall girls, and we three little ones, Judéwin, Thowin, and I. We had been very impatient to start on our journey to the Red Apple Country, which, we were told, lay a little beyond the great circular horizon of the Western prairie. Under a sky of rosy apples we dreamt of roaming as freely and happily as we had chased the cloud shadows on the Dakota plains. We had anticipated much pleasure from a ride on the iron horse, but the throngs of staring palefaces disturbed and troubled us. On the train, fair women, with tottering babies on each arm, stopped their haste and scrutinized the children of absent mothers. Large men, with heavy bundles in their hands, halted near by, and riveted their glassy blue eyes upon us. Read "The School Days of an Indian Girl."
Film: The Wellbriety Journey to Forgiveness
This is an extremely powerful film produced for truth-telling and healing by White Bison. It is difficult to watch and will bring up all kinds of emotion. Watch with care.


Article: Canadian Indigenous Chief: 'Nobody Can Deny Residential Schools Were The Genocide Of Our People'
"The schools aimed to assimilate First Nations children into Christian Canadian culture. Children were forbidden to speak their indigenous languages, isolated from their families and forced to cut their long hair, he says." Listen to or read "Canadian Indigenous Chief: 'Nobody Can Deny Residential Schools Were the Genocide Of Our People.'"
Book recommendations
from the FSPA Truth and Healing Team:

"Braiding Sweetgrass," Robine Wall Kimmerer
"Stringing Rosaries: The History, the Unforgivable, and the Healing of Northern Plains American Indian Boarding School Survivors," Denise Lajimodiere
The trilogy by Kent Nerburn:
"Neither Wolf Nor Dog: On Forgotten Roads with an Indian Elder"
"The Wolf at Twilight: An Indian Elder's Journey through a Land of Ghosts and Shadows"
"The Girl Who Sang to the Buffalo: A Child, an Elder, and the Light from an Ancient Sky"
For reflection: What do I need to do to be open to healing and reconciliation?
Land Acknowledgement
FSPA acknowledges that St. Rose Convent occupies the unceded ancestral and traditional land of the Sauk and Meskwaki, the Ochethi Sakowin, and the Ho-Chunk peoples. We understand that our organization and our city were founded upon the exclusions and erasures of many Indigenous peoples and we vow to work towards dismantling the ongoing legacies of settler colonialism. But we realize that saying this only has meaning when coupled with the development of authentic relationships and sustained action. We therefore pledge to move beyond mere words and to develop programs, policies and actions that fully embody our commitment to indigenous rights and cultural equity. We affirm Indigenous sovereignty and will work to hold ourselves accountable to the needs of our Indigenous brothers and sisters.
FSPA Anti-Racism Vision
Our truth and healing work intersects with our commitment to awareness, analysis and action; we are praying, learning and acting with those who grant us the insight and courage to know how we can begin dismantling FSPA racism.