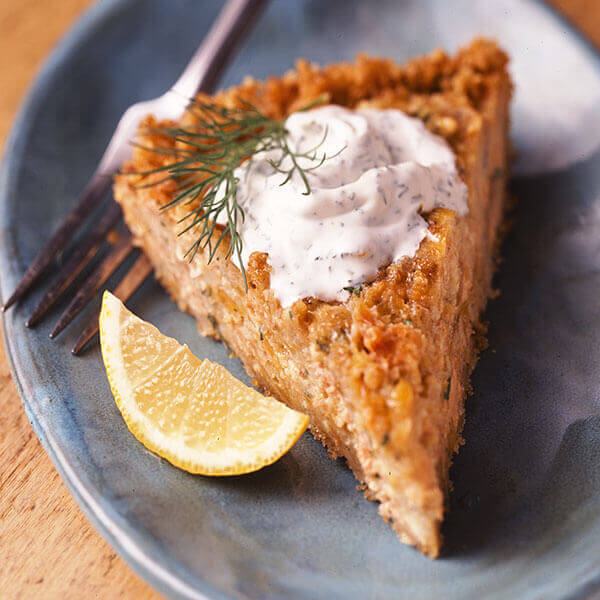 Ingredients:
7 oz package frozen spinach, thawed and drained
1/2 C chopped scallions
8 oz crumbled feta, mozzarella or jack cheese
1 - 7 oz can flaked salmon or tuna (use 2 cans for more salmon goodness)
1/2 tsp dill weed
1 unbaked pastry shell (9-inch deep dish: see below for crustless variation)
1/2 C milk
4 eggs

Directions:
Mix spinach, scallions, cheese, fish and dill. Turn into the pie shell.
Beat together eggs and milk. Pour over the spinach mixture.
Bake 350 degrees for 45 minutes or until the tip of the knife comes out clean.
Variations:
Serve with lemon or a simple dill sauce (as pictured above).
Vegetables like shredded zucchini, blanched kale or leftover carrots can substitute for spinach.
This New England Salmon Pie includes mashed potatoes and a top crust!
This Crustless Salmon "Impossible" Pie omits the pastry shell, incorporating Bisquick-type baking mix from your pantry.
Story:
Salmon is found all over the northern oceans including Alaska, the Pacific Northwest, Ireland, Scotland and Scandinavia. When I think of salmon, I remember the fresh Coho salmon that thrived near the south shore of Lake Superior and in the Black River. Our dear neighbor Bob would often gift our family with fresh salmon after a successful outing on the big Lake. This was usually to thank my Grandfather for skillfully filleting Bob's catch. To this day, salmon is my favorite fish: fresh, smoked or canned. As you can read below, sourcing healthy ocean and freshwater fish of all kinds is not as simple as it used to be!
Salmon Facts:
Some canned salmon includes skin, spine and smaller bones. You can remove all of that. Or remove the dark skin for aesthetic reasons and thoroughly mash the soft bones with a fork, adding nutrients to the finished dish. It's the cook's choice.
According to nutritionists, high-protein salmon is one of the best-canned foods to keep in your pantry. It's versatile, resists spoiling and is relatively economical, especially if you look for healthy, quality brands. This is true of other canned fish: tuna, sardines and mackerel.
Canned salmon is an excellent source of heart-healthy omega-3 fats and other nutrients such as calcium. A USDA study found higher levels of two omega-3 in canned pink and red salmon than in fresh.
When shopping for canned salmon, consider the source. If a can of salmon is labeled Alaskan pink or sockeye salmon, it contains Wild Alaska Salmon. According to Consumer Reports, wild salmon contains less mercury than most farmed, is safer when it comes to pesticides and is less likely to contain polychlorinated biphenyls (PCBs).
Alaska's salmon fisheries are well-managed making the fish healthier with high omega-3 content and few contaminants. They are more sustainable than just about any other salmon fishery.
Sadly, most other farmed salmon (and all salmon labeled "Atlantic salmon") are raised in tightly packed, open-net pens often rife with parasites and diseases that threaten the wild salmon trying to swim by to their ancestral spawning waters. Farmed salmon are fed fish meal, given antibiotics to combat diseases and have levels of PCBs high enough to rate a health advisory from EDF.
On a hopeful note, fresh-water farmed coho salmon have earned the Best Choice status from Seafood Watch. Consumer pressure may encourage more farms to adopt better practices.
On a Food Sovereignty Note:
In her book Braiding Sweetgrass, Robin Wall Kimmerer, indigenous botanist, teacher and poet, describes the effort to remove dams on rivers in the Pacific Northwest. This returns rivers with outlets to the ocean to habitat for salmon. Native peoples have long fished these fertile tributaries to take only what they could use of brother salmon. It is good news for sustainability and for indigenous food sovereignty.
If you would like to be notified when we share new recipes, be sure to scroll to the bottom, provide your email address, check the box confirming you are not a robot, click on a few photos to prove it and click subscribe! You will then receive an email after each new post. Remember, we're always looking for new recipes, so keep sending them to ecopact@fspa.org!