Welcome to The Seasoned Franciscan. Sisters and their partners in mission—including affiliates, prayer partners and staff—share these recipes hoping to provide you with new ways of looking at the food around you. Being mindful of the food we eat is integral to making lasting change throughout the world. We focus these recipes on five themes: eating seasonally, exploring our heritages, pursuing meatless meals, foraging or using food scraps and embracing indigenous and ethnic foods.
New recipes are shared on a regular basis and can be submitted to the FSPA Eco Pact Team at ecopact@fspa.org.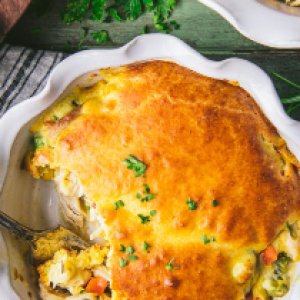 Quick Chicken Pot Pie
While here is another "pie" recipe, this one from The Seasoned Mom is pantry friendly, quick and satisfying. It relies on staples like canned soup, frozen veggies and baking mix rather than "from scratch" ingredients, with several easy options for the chicken. Read on for a list of pantry staples that both chefs and nutritionists recommend!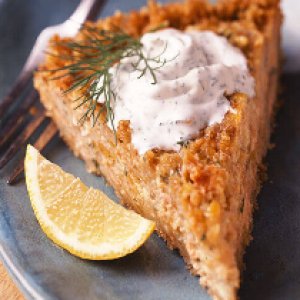 Salmon Pie
Enjoy a great recipe for Salmon Pie from affiliate Sandra Hoeser! Canned fish like salmon can be an important pantry staple. Salmon is found all over the northern oceans including Alaska, the Pacific Northwest, Ireland, Scandinavia and Lake Superior.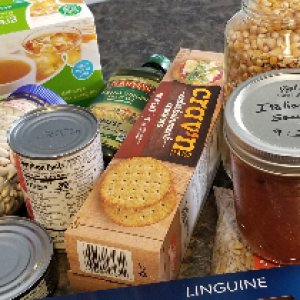 "Cooking Joyfully" from the Pantry
With holiday feasts behind us, what can keep us "Cooking Joyfully" at this time of year? A mindful PANTRY (cupboards, fridge, freezer) can be a tool to foster Cooking Joyfully. If you're privileged to have a stocked pantry as I am, let's shop in it and cook from it with that in mind. It may lead us to live more simply and be more generous.
Vicki Lopez-Kaley – I am an affiliate with FSPA and a member of the Eco Pact Team. For me the kitchen and garden are about slowing down and being creative. Sharing stories and connecting with others and the earth through food can bring great meaning and pleasure.
Isabel "Iggy" Bauer – I served as an AmeriCorps Service Member with FSPA. Sustainable food is one of my passions and I have a vision of bringing local food, gardens and green spaces to urban areas in support of human health and happiness.
The FSPA Eco Pact Team – We are a cooperative group of sisters, affiliates and partners in mission focused on making an impact on integral ecology through the lens of Laudato Si'. Since beginning our mission in the summer of 2021, Eco Pact has brought forward many changes, including initiating effective recycling practices at St. Rose Convent. Connect with us at ecopact@fspa.org.