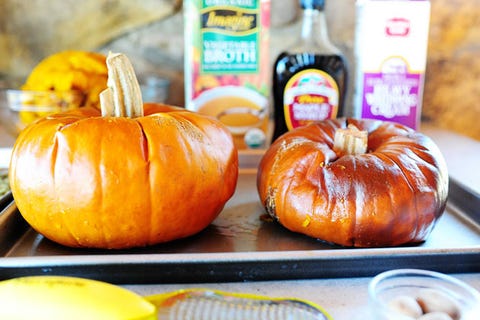 Pumpkin Soup
Ingredients:
2 whole pie pumpkins, washed OR
3 15 oz cans "pure" pumpkin puree (see note for more about canned pumpkin)
1 qt. (4 oz) vegetable or chicken stock
1/2 C heavy cream or evaporated milk
1/3 C maple syrup (local to your region, if possible)
dash of nutmeg
salt to taste
extra cream and toasted pumpkin seeds, for serving

Directions:
Preheat oven to 300 degrees. If using fresh pie pumpkins, place them on a cookie sheet and roast them until slightly shriveled and soft. Allow to cool slightly, then slice in half and carefully scoop out seeds and pulp. Scoop flesh into a bowl. Set aside.
In a pot, heat up the pumpkin flesh (fresh or canned) with the stock and maple syrup until simmering. If using fresh, you will need to mash out the big chunks, transfer the mixture to a blender or food processor (or use an immersion blender) and puree until velvety smooth. Add cream and nutmeg and completely combine. Season with salt to taste.
Reheat if needed. Garnish with a drizzle of cream and pumpkin seeds, if available.
Note:
Small sugar pumpkins have denser, meatier, more colorful, sweeter flesh than the large ones we use as decoration, so if you do want to make pie (or other pumpkin) recipes completely from scratch, use those. Canned "Pumpkin Puree" is a mixture of squashes, bred for their resemblance to the smaller pie pumpkin. In contrast, canned "Pumpkin Pie Filling" includes added spices, sugar, salt, and water.
Story:
Many scholars use food as a means of tracing history and culture. What can we learn from the simple pumpkin? For example, the first Thanksgiving in 1621, is not likely to have had pumpkin pie on the menu since there were no ovens for baking in America at the time, no European wheat or enough sugar to make this dessert.
But, some Native peoples made pumpkin porridge with milk, honey, and spices poured into hollowed-out pumpkin shells, which were roasted whole in hot ashes until blackened, soft, and steamy. Later, with the use of metal pots brought by the colonizers, they had more cooking options. Don't I take my oven for granted!
Pumpkins and squash are believed to be native to Central America. The very first wild pumpkins were probably extremely bitter and small, but once they began to be cultivated by indigenous farmers for their flesh, they grew sweeter and more palatable. As tribes established extensive trade routes, many seed varieties traveled north, including this nutritious "sister" and its siblings tomatoes, potatoes, chilis and more. Once Europeans came to America, they began growing pumpkins as a staple food crop. European explorers as far back as the 1530s brought pumpkin seeds home with them, which explains why French and English cookbooks in the 1600s contain pumpkin recipes. Today, even China and India are among the largest pumpkin growers in the world.
Some of these details come from Jen Wheeler at greatist.com.
If you would like to be notified when we share new recipes, be sure to scroll to the bottom, provide your email address, check the box confirming you are not a robot, click on a few photos to prove it and click subscribe! You will then receive an email after each new post. Remember, we're always looking for new recipes, so keep sending them to ecopact@fspa.org!