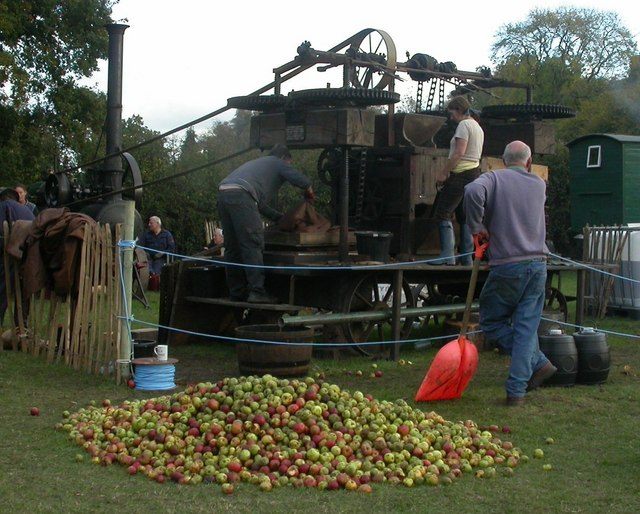 Ingredients:
1 whole nutmeg
10 allspice berries
10 cloves
2 star anise
4 cinnamon sticks
½ gallon apple cider
¼ cup rum, optional
1 small orange, for garnish
Whole cranberries for garnish
Note: The recipe doubles easily, and fits into a standard slow cooker or Instant Pot.
Instructions:
Toast the spices first. Add the nutmeg, allspice, cloves, star anise and cinnamon to the bottom of a pot or skillet. Toast over medium heat for 2 to 3 minutes, stirring occasionally, until fragrant.
Stovetop Instructions: Turn the heat to low. Pour in the apple cider and bring to below a simmer, just barely bubbling. Warm for 1 - 3 hours on low heat (don't let it simmer). Some brands of apple cider have some particulate in the bottom of the jug. This is completely expected. Strain or skim off any particulate, if desired, or stir to re-incorporate it.
Slow Cooker & Instant Pot Instructions: Place the apple cider in the slow cooker or Instant Pot (pressure cooker) with the toasted spices. Cook on low for 1-3 hours OR use the Instant Pot "Slow Cooker" setting.
Garnish last. If you cook mulled cider with fruit like orange slices and apple slices, they'll fall to the bottom and the color will fade. Instead, use them as a garnish after cooking.
If using rum, stir it in at the end. The rum adds a bit of warmth and takes mulled cider to another level. If you're serving a party where not everyone is drinking, you could also leave out the rum and let guests add a splash to their own drinks. The recommendation is to add only ½ T of rum per glass.
For more Hot Drinks, check out these ideas from Sonja and Alex:
Mulled Wine: Simmer red wine with orange zest, cloves, cinnamon sticks, allspice, brandy and honey.
Homemade Hot ChocolateThere's no need for a packaged mix if you're craving hot cocoa!
Spiked Hot Chocolate: On cool evenings in fall or anytime in ski country, hot chocolate can also be "spiked" with: a teaspoon of Peppermint Schnapps or Creme De Menthe, Baileys Irish Creme, or Kahlua
Caution: Don't imbibe alcohol if you will be spending lots of time outdoors. The alcohol makes your body feel warmer than the air temperature indicates.
If you would like to be notified when we share new recipes, be sure to scroll to the bottom, provide your email address, check the box confirming you are not a robot, click on a few photos to prove it and click subscribe! You will then receive an email after each new post. Remember, we're always looking for new recipes, so keep sending them to ecopact@fspa.org!

Story:
To "mull," apple cider or red wine means "to heat, sweeten, and flavor it with whole spices". "Mulled cider is a cozy drink during fall apple season! Infused with spices like cinnamon and nutmeg or cloves, it will lift your spirits and make your kitchen smell like fall. Smells can hold memories, so as hands are clasped around warm mugs, memories can be shared and made.
The flavor of apple cider is crisp. But after simmering with mulling spices (whole cloves, cinnamon sticks, allspice berries, a nutmeg berry or "nut" and star anise), the flavor blossoms into something warm and spiced. Dried and ground spices would make the drink cloudy. Mulled drinks can be made in a slow cooker or on the stove. Using whole spices infuses the entire drink (and your home) with that warm flavor and scent.
Today, the United Kingdom and United States are the biggest producers of cider in the world. Yet, at some point in the last few hundred years, the words "apple cider" have evolved to mean different things in these two nations. To understand the difference between "cyder" and "cider", we need a little history.
Some Apple Cider History:
• People have been making apple cider for thousands of years, using wild apples that grew in the ancient British Isles. Some evidence shows that the Celts drank a cruder form of crab apple cider, as far back as 3,000 BCE.
• Once they invaded the British Isles, the Romans encouraged apple cultivation for fermented cider, although wine was their more "civilized" preference.
• When Christian monks established monasteries in Europe, they also fermented cider where apples grew.
• When European settlers traveled to North America, they took fermented cider with them.
• In colonial America, cider was the most commonly produced drink—the beverage of choice for most Americans. It was a time when imbibing water was questionable due to the potential presence of disease-causing organisms. Then, cider was a fermented product usually between 4-6% alcohol.
• New England residents in the 18th century consumed cider generously: an estimated 15 to 54 gallons per year.
• As European settlers moved west into the newly acquired Northwest Territory (Illinois, Indiana, Michigan, Ohio, and Wisconsin) they planted apples, in part to prove their commitment to their new homes. Enter the legendary Johnny Appleseed (John Chapman). Eventually, the process of grafting trees was preferred to planting seeds.
• The Industrial Revolution saw the immigration of much needed laborers increase. This new wave of settlers created a taste for beer and hard liquor. Barley and other grains could be grown as settlers moved west.
• World War I made grains less available for producing alcoholic beverages. Negative sentiments toward Germans and their beer industry also lowered production of beer.
• In 1920, prohibition halted the production of beer and hard beverages. Interestingly, farmers could make limited quantities of naturally-fermented products, so long as they were "not meant to intoxicate." So, what was a farmer to do?
• During the prohibition era, some orchards of heirloom apple varieties were burned down by the FBI and overzealous supporters of the temperance movement.
• Due to suspicion of all things alcoholic, the cider industry in the United States turned to growing sweeter eating apples and "sweet cider" became synonymous with fall and farm life.
• In the American state of New Hampshire, the state beverage of apple cider is like unfiltered apple juice. But in the famed cider-growing regions in Britain, France and in Spain, cider remains a fermented, alcoholic beverage.
• Today, the popularity of "hard" or fermented cider is gaining popularity. This cider often includes astringent, tannin-rich apples to create interesting, full-bodied, dry ciders.
• The hot, mulled beverage Americans know and love is usually made from culinary apples, such as Jonagold, Honeycrisp, and Gala. The final product for both sweet and hard ciders is usually pasteurized or UV-sterilized.

Some of these history facts and the photo above come from Gastro Obscura, which covers all sorts of issues about the world's most wondrous food and drink.