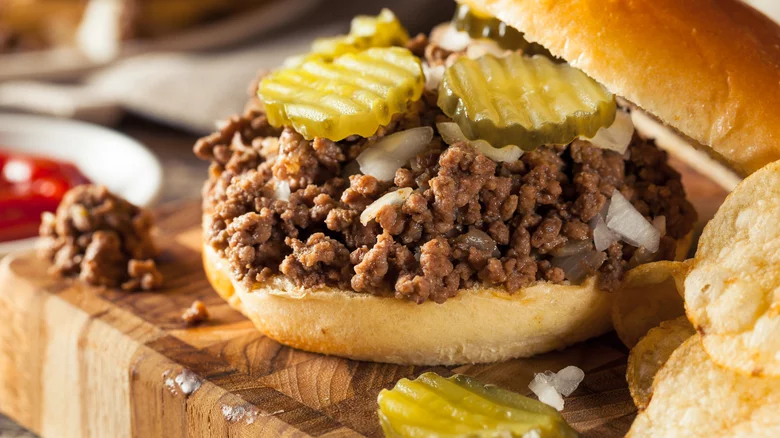 Ingredients:
2 T extra-virgin olive oil or vegetable oil
1/2 C chopped onion
1/2 C chopped green bell pepper
2 cloves garlic, minced
8 oz lean ground beef or turkey
1/4 C bulgur (*see note)
2 T chili powder
1 tsp smoked or regular paprika
1/4 tsp salt
1/2 C water
1/3 C ketchup
1/3 C tomato sauce (low sodium or salt-free)
1 T Worcestershire sauce
4 whole wheat hamburger buns, split
Serves 4
Directions:
Heat oil in a large skillet over medium-high heat. Add meat, breaking it up with a wooden spoon, until it is no longer pink, 3-4 minutes. Add onion, bell pepper and garlic. Stir in remaining ingredients, reduce heat to low, cover and cook, stirring once or twice, until the bulgur is tender, 10-12 minutes.
Traditionally served with pickles and potato chips as pictured above by mashed.com in The Untold Truth of Sloppy Joes.
*Note: Bulgur is a quick-cooking whole grain that's made by parboiling, drying and grinding or cracking wheat berries. It can be fine or coarse, which has a similar texture as cooked ground meat. Using it in this recipe cuts the saturated fat in half and adds 6 grams of fiber. With a whole wheat bun, the fiber count goes up some more!
Bulgur can be found in the whole foods section in bags or in bulk. Bob's Red Mill is a popular brand. Click this All Recipe link for a video version of preparing this recipe using all beef!
Story:
Bulgur: Bulgur is a whole grain, meaning it contains the endosperm, germ and bran of the grain. Because it comes from the whole wheat seed or "berry", it is rich in fiber, B vitamins and other nutrients and has a nutty taste no matter what seasonings are used. The wheat berry itself can also be used after cooking in many similar dishes.
Bulgur is a wheat product. We picture "amber waves of grain", wheat shining in the sun across the American Plains. While wheat grows in many parts of the world today, the humble origin of wheat is Egypt, the Middle East and Eastern Mediterranean or the "fertile crescent." Originally, foraged, early cultivated species of wheat were einkorn, emmer and spelt which are gaining interest today for their health benefits.
The first bread was most likely baked in Egypt where archeologists believe it may have been the result of flour accidentally falling into the brewing barley beer. Huge wood-fired ovens have been unearthed in Egypt which may have been built and stoked with wood by the hands of Hebrew slaves and others. Jesus and his friends would have been raised on whole wheat barley and wheat loaves of all kinds.
Cooked, bulgur can be added to bread dough (reduce flour in recipe by 3/4 C and water by 1/4 C.) Use it in a Greek Salad called Tabouli or as a substitute for rice or couscous.
Sloppy Joes: Some believe that this popular sandwich is a more flavorful version of a Midwest "loose meat" sandwich like Iowa's Maid-Rite or Nu-Way. Mashed.com writes that the Sloppy Joe got its start in Sioux City where a cook named Joe (translate "common" Joe) added tomato sauce and seasonings to a loose hamburger, making it sloppy. Others claim it originated in a messy or "sloppy" restaurant owned by Jose Otero in Havana, Cuba. His sandwich became known by his nickname, "Sloppy Joe." It seems a famous patron was Ernest Hemmingway who convinced a friend in Key West, Florida to Americanize the sandwich and rename his restaurant "Sloppy Joe's!" This eatery still serves over 50,000 "Sloppy Joes" and hosts a yearly Hemmingway look-a-like contest. Conagra's Hunts Foods (known for tomato products and ketchup) developed a special sauce named "Manwich," advertising that "a sandwich is a sandwich, but a Manwich is a meal!" presenting an even quicker route to the convenient dish.
The Sloppy Joe is a popular school lunch item and can be made for a crowd at home in a slow cooker or "Nesco." Today the Sloppy Joe has meatless versions using all bulgur or TVP (textured vegetable protein). A leaner version called the Sloppy Jane, is made with ground turkey. Sloppy Joe filling can be served on a hoagie and topped with cheese, wrapped in lettuce or a tortilla, embellished with coleslaw and onions. Variations make it an even more popular recipe!
If you would like to be notified when we share new recipes, be sure to scroll to the bottom, provide your email address, check the box confirming you are not a robot, click on a few photos to prove it and click subscribe! You will then receive an email after each new post. Remember, we're always looking for new recipes, so keep sending them to ecopact@fspa.org!