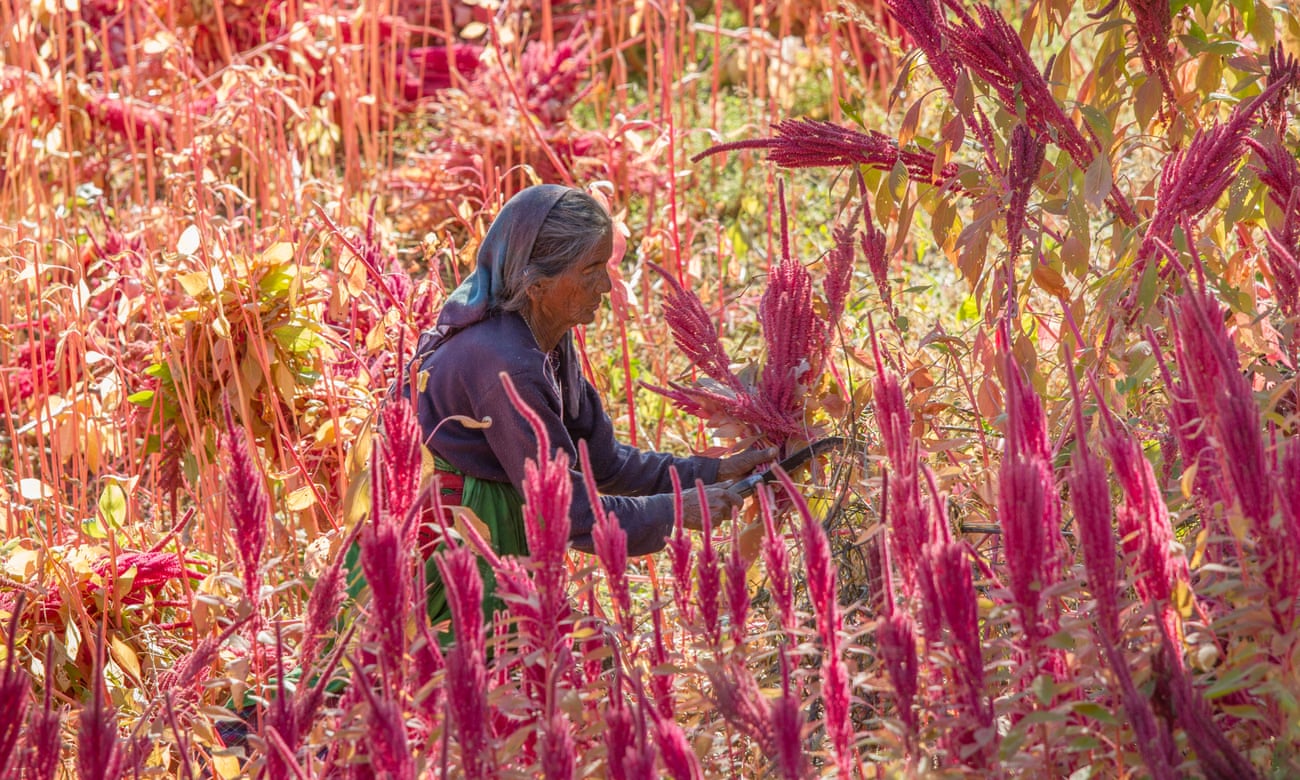 Ingredients:
1 C yellow cornmeal
1 1/2 C amaranth (may substitute all-purpose flour)
3 tsp salt
2 tsp baking powder
3 T maple syrup (pure is best!)
1 sweet red pepper, chopped
1/3 C warm water
1/2 C coconut oil (may substitute sunflower or corn oil)
Instructions:
Preheat oven to 400 degrees Fahrenheit. Line an 8x8" baking dish with parchment paper
In a medium bowl, whisk together dry ingredients. Add maple syrup and sweet pepper
Stir in water until just combined, then add oil (a few lumps are fine)
Pour the batter into the prepared baking dish and gently smooth the batter
Bake for 15-20 minutes or until golden brown
Option: Brush additional maple syrup on cornbread as a glaze while still hot.
Story: The recipe Maple Amaranth Cornbread is shared by Meg Paulino who has been part of maple syrup production on Saint Joseph Ridge. It was posted by the Ho-Chunk Nation's Division of Health as a Harvest of the Month. For Indigenous people, both maple syrup and amaranth have many uses and sacred connections to their food sovereignty, culture and spirituality.
Amaranth Facts:
Amaranth has more than 70 species. It can grow up to 9' and has bright purple, red, or yellow flowers. The young plants and growing tips of older plants make nutritious vegetables that can be boiled like spinach or eaten raw as salad.
Some varieties are valued ornamental plants as both the leaves and the flowers can be stunning. Others are grown for their seeds which can be cooked whole or ground into flour. The plant is indigenous to North and Central America but also grown today in China, India, Southeast Asia, West Africa and the Caribbean. It is shown above during harvest in India.
Amaranth is considered a seed. The seed is about the size of a pinhead. Amaranth has 9 grams of protein per cup and twice the amount of protein as rice and corn. It is a complete protein, meaning it contains all the essential amino acids your body needs. It is also is gluten-free, and high in minerals and antioxidants.
It is harvested and stored much like other common cereals like quinoa and buckwheat. It can be stored whole in the pantry for 4 months or in the freezer for 8 months. Amaranth flour can be kept in the pantry for 2 months or in the freezer for up to 4 months. It pairs well with squash, corn, cinnamon, vanilla and chocolate. We would find Amaranth in the whole foods section of a coop or other grocery store. Bob's Red Mill is one of many companies that sells amaranth and other whole foods. Amaranth can be foraged. However, if it grows in an area that may have been sprayed or grows in pesticide-sprayed soil, it will most likely absorb the toxic chemicals, making the plant itself toxic.
This hardy plant has followed the cycles of colonization which brought it from its origins in mesoamerican to China, India, Southeast Asia, West Africa and the Caribbean. The harvest of amaranth is shown above in India. Colorful names have been used for it's many species such as African spinach, bush greens, callaloo, Chinese spinach, golden grain of the Gods, Indian spinach, Joseph's coat, yin-choi and love-lies-bleeding and pigweed.
Ancient Indigenous Food:
The Aztecs of mesoamerica cultivated amaranth as one of their major crops and used it during several seasonal festivals honoring various deities. The American Indian Health and Diet Project describes one festival in May during which milled amaranth and toasted corn seeds are mixed with honey or maguay sap (much like agave). This sweet dough was used to make idols that represented the war god Huitzilopochtli. Food historian Jonathan D. Sauer writes that "during the festival meal these idols are broken up, distributed, and eaten in a communion-like ceremony."
"In the 16th century, Spanish conquistadors banned the plant's cultivation, fearing that the spiritual connection with it would stymie the establishment of Catholicism on the continent. Quinoa had a similar demise, but was rediscovered centuries later."
Ecology journalist Cecilia Cowell writes in the Guardian, "It could feed the world: amaranth, a health trend 8,000 years old that survived colonization." She reports that "for many Indigenous farmers in Guatemala and the United States, growing amaranth has provided a degree of economic independence, but it has also offered a route to food sovereignty.
If you would like to be notified when we share new recipes, be sure to scroll to the bottom, provide your email address, check the box confirming you are not a robot, click on a few photos to prove it and click subscribe! You will then receive an email after each new post. Remember, we're always looking for new recipes, so keep sending them to ecopact@fspa.org!