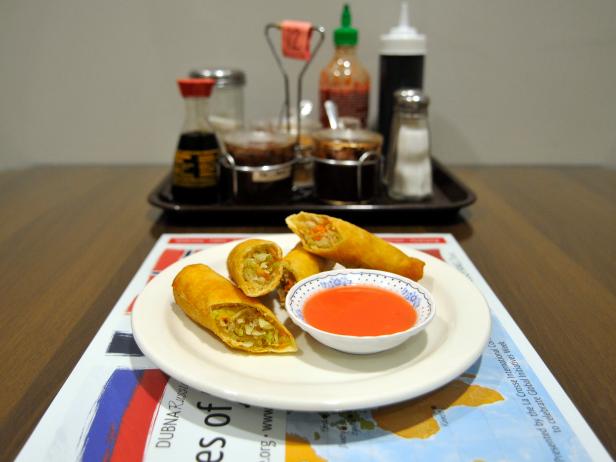 Ingredients:
1/2 bag of Vermicelli Glass Noodles (found in Asian section of store)
1 package egg roll wrappers
1/4 C oyster sauce or soy sauce for a milder flavor
1/8 tsp hot sauce (optional)
1/4 tsp salt
1/2 head cabbage
3-4 carrots, cut in match-sticks
1/2 bundle of cilantro (optional)
4 green onions, sliced
1/2 bag of bean sprouts
Cooking oil (up to 1 qt, if deep frying) *See below for how to bake rather than deep fry.
1 egg yolk, whisked smooth in a small bowl
Directions:
Thaw egg roll wrappers at room temperature, NOT in the microwave.
Soak noodles in hot water for 15-30 minutes. Drain off water in a colander and cut noodles in half using scissors.
Heat cooking oil to 325 degrees in a large Dutch oven or frying pan (if deep frying).
Shred cabbage thinly, chop onions and cilantro and mix well with noodles, carrots and other ingredients.
See the diagram below for illustration on how to wrap egg rolls. Kids love to help!
Place 1 egg roll wrapper (corner facing you) on the counter in front of you (keep others covered with a damp cloth).
Place 1/4-1/2 C of filling diagonally in the center of the wrapper.
Fold the corner (facing you) up over the filling. Fold in both sides.
Moisten the edges of the last flap with egg yolk and roll over until the flap is completely wound around the egg roll.
When all egg rolls are "rolled," put several in a frying pan, leaving room between each egg roll.
Turn egg rolls over when golden brown (fry for about 3 minutes on each side).
Drain on a paper towel-lined cooking sheet. Keep warm in a low oven while you fry the remaining egg rol
For extra protein in the recipe above, add 10 oz package of firm or extra firm tofu, with moisture squeezed out.
Egg roll filling can also include meat, Cook and drain about 1/2 # of ground pork or beef for the recipe above.
To bake rather than deep fry egg rolls, preheat oven to 400. Place a pan 1/2 filled with water on the bottom rack. Bake on a parchment or foil-lined, greased baking sheet. Bake for 20-25 minutes, turning rolls halfway through until golden brown.
Serve with rice, soy sauce and any sauce of your choice as an appetizer or a meal.
Story:
Who doesn't like egg rolls? They are a celebration food! When the Hmong Community Center has an egg roll sale in La Crosse there is often a line out the door! Yee Xiong, virtual worker at St. Rose Convent, used to make this recipe on special occasions at the Villa to entice Sisters and staff to the Terrace for an event! She will tell you that they are served at important family occasions in Hmong culture. Vietnamese, Chinese and Korean cuisines have their own version. Needless to say, they are made with love and care, often by a big kitchen team!
Foods like egg rolls carry stories, memories and culture from one generation to the next. Most ethnicities have some kind of hand-held fried, baked or steamed food with a special filling: Italian rice balls, Polish pierogi, Mexican empanadas and tamales, to name a few. What ethnic dishes convey your cultural identity, meatless or not? Share one or just its name and we'll do some research!
To learn more about Hmong culture, see the website of a popular La Crosse Restaurant, Hmong Golden Egg Rolls, pictured above. Also, see the La Crosse Public Library website. Their main campus has displays of Hmong clothing, Hmong terature and more.
If you would like to be notified when we share new recipes, be sure to scroll to the bottom, provide your email address, check the box confirming you are not a robot, click on a few photos to prove it and click subscribe! You will then receive an email after each new post. Remember, we're always looking for new recipes, so keep sending them to ecopact@fspa.org!