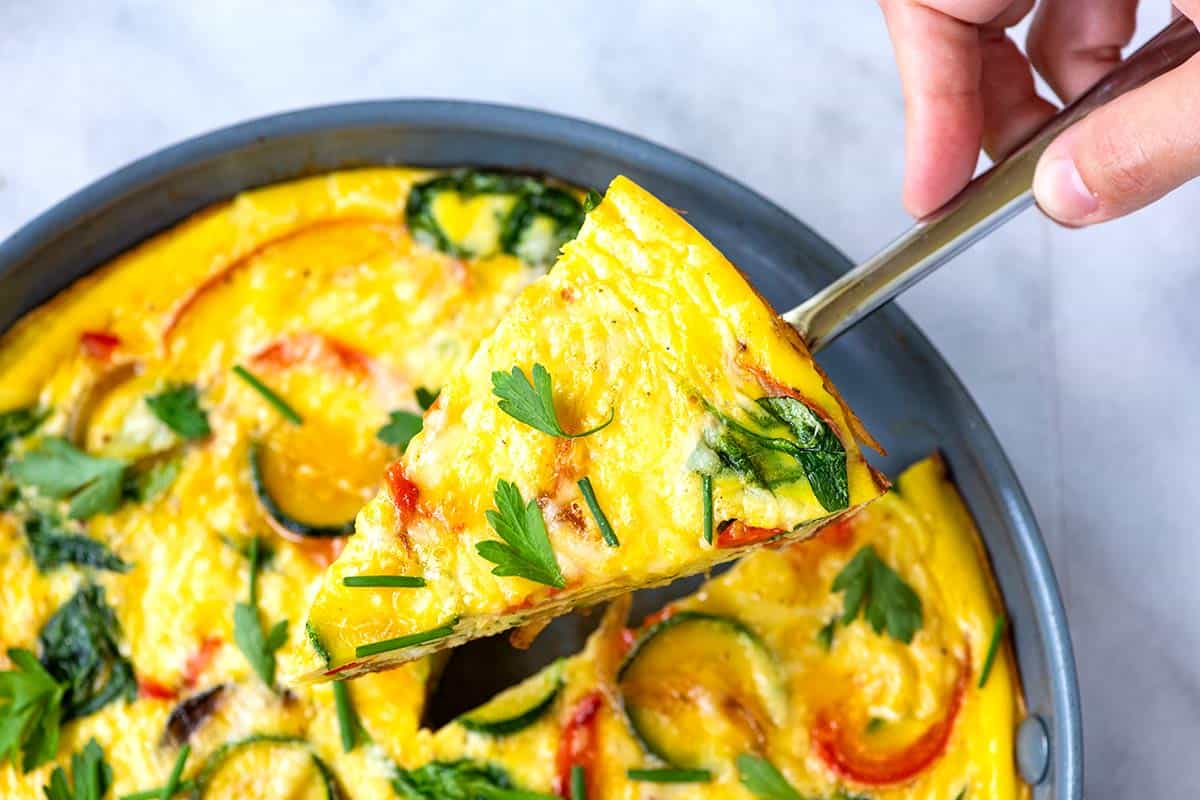 Makes 6 servings
Ingredients:
10 large eggs
5 T heavy cream, half-and-half or whole milk
3/4 tsp salt
1/4 tsp fresh ground black pepper
1 C (4 ounces) shredded cheese, like cheddar or Fontina
1 T olive oil
1 1/2 C vegetables total
*Choose 2 or 3, such as onion, mushrooms, diced peppers, zucchini, small cooked broccoli florets, potatoes or carrots. May be raw, fresh or cooked leftovers.
1 1/2 C packed baby spinach (optional)
*If using frozen veggies, thaw and squeeze the moisture out.
Chopped or torn fresh herbs like parsley, chives or dill (optional).
Directions:
Heat oven to 350 degrees Fahrenheit.
In a medium bowl, whisk eggs with cream, 1/2 tsp of the salt, pepper and cheese.
Heat olive oil in an oven-safe 10-inch skillet on medium high heat. (Non-stick or a well-seasoned cast iron pan are best).
Add vegetables (except spinach). Cook, stirring every once in a while until the they are soft and have a little bit of color; about 5 minutes.
Season with 1/4 tsp of salt, then add the spinach. Toss the spinach around the pan until it's slightly wilted and bright green.
Whisk egg mixture once more, then pour into the skillet. Move the pan back and forth to distribute the egg around the vegetables. Stir and cook until edges start to pull away from the pan, 5-7 minutes.
Slide the skillet into the preheated oven. Bake for 16-18 minutes, until the eggs are barely set and the frittata trembles — like jello — when you give the pan a gentle shake. Keep an eye on it as it bakes and check the frittata a few minutes before it's supposed to be done.
Serve hot or cold with fresh herbs on top.
Story:
Frittata is good for breakfast, lunch or dinner and a great way to use whatever veggies you have on hand or leftover pasta. It's easier than quiche, but may take practice to get it set how you like it!
My Italian heritage is the source of this family favorite. My grandmother made it completely on the stovetop, using a big Rubbermaid spatula to slowly ease cooked eggs to the center without scrambling them. She could flip the whole thing in the pan, to get both sides cooked perfectly. This was not genius, just experience! (She'd been learning to cook since she was eight!) Does she sound like a grandma or great-grandma in your ancestry? What meatless dishes come to you from your food heritage? We'll be sharing some this Lent!
About the price of eggs:
Eggs have long been an economical source of protein and remain so, even in with the prices we've seen in the last year. "The average price of a dozen eggs goes up and up and that's for the cheapest kinds" says Marion Nestle, author of Food Politics. Egg prices now may show signs of coming down. As of February 24, 2023 the average price was $2.45 a dozen
Reasons for high egg prices are listed by the New York Times as follows, according to Nestle, dietician, author and public health and food systems expert:
Inflation
The war in Ukraine
Higher feed costs
Higher energy costs (those hens have to be kept warm)
Avian flu (44 million hens died or were killed)
Higher-than-normal demand
"It could get worse." Nestle continues. "Avian flu infects animals as well as birds and could infect us. How's that for a cheery thought? Small egg farms, anyone?"
Seriously, do any of you get eggs from a local organic free-range egg farmer? It makes sense for the animals, our environment, the local economy and the taste!
If you would like to be notified when we share new recipes, be sure to scroll to the bottom, provide your email address, check the box confirming you are not a robot, click on a few photos to prove it and click subscribe! You will then receive an email after each new post. Remember, we're always looking for new recipes, so keep sending them to ecopact@fspa.org!