Sister Karen Lueck publishes book encouraging a different view of leadership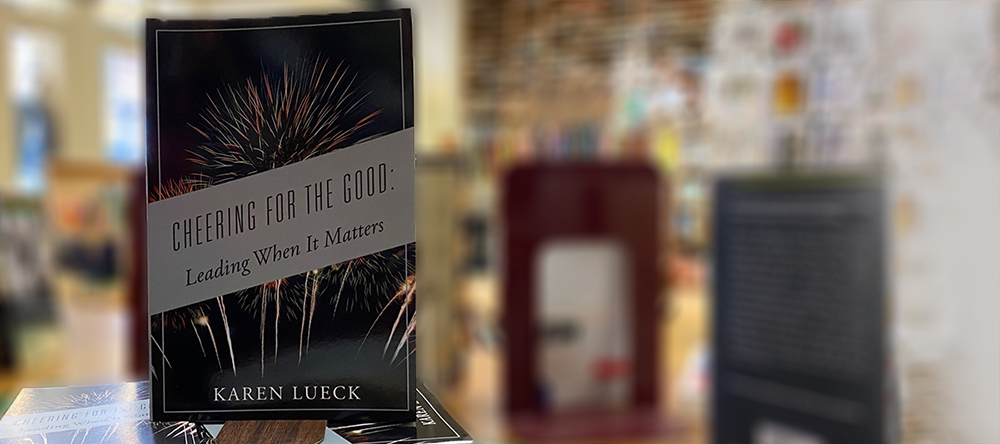 In her new book, "Cheering for the Good: Leading When It Matters," Sister Karen Lueck is urging everyone to step up and be the change. Using the metaphor of cheerleading, she encourages readers to exercise leadership in their own corner of the world, using their unique gifts, collaborating with others, embracing our oneness, and focusing on what's right with the world. Good leaders inspire us to be our better selves. These models of leadership call for much more collaboration, compassion, inclusion, humility and integrity.
"People are hungering for a different view of leadership, one where they can embrace hope. And that's what we've seen lately," says Sister Karen. "Many leaders have come to the fore during the COVID-19 crisis. They have put the common good ahead of their own comfort and safety. They have spread the message that we are all in this together and that we must look out for everyone. They have used their creativity to serve the needs of the whole. When the COVID-19 pandemic is behind us, we will need to make decisions about who we want to be as a people. Will we go back to who we were before, or will this challenging time have been a point of transformation for all of us? In order to become leaders, people need first to believe in themselves as good, with unique gifts and wisdom."
Throughout the book, Sister Karen cheers for the readers to claim their power. She gives examples of good leadership in today's world and provides reflection questions at the end of each chapter to help the readers further delve into their own call.
When asked about her favorite message from this book, Sister Karen said, "I love a paragraph in the last chapter of the book entitled Standing on Holy Ground: 'I am cheering for you to be the best leaders you can be. Remember, everyone is a leader, so you have plenty of partners in this mission. If any of you decide to sit this one out, to let someone else do it, to count on the experts to carry out our mission, we as a whole will be immensely poorer. And the earth and its creatures will suffer. We're counting on each other. Together we commit ourselves, a tiny band of pilgrims, united in love, on a journey of transformation, to bring life, love and presence to a world aching to be healed and transformed.'"
Also in the March 2021 e-edition of Presence:
Finding "The Way" through universal values
You've been invited ...
"Braiding Sweetgrass" woven with social and ecological justice for all creation