FSPA welcomes Sister Michele Pettit into first profession
On Saturday, July 25, Franciscan Sisters of Perpetual Adoration celebrated the profession of Sister Michele Pettit's first vows at Viterbo University's San Damiano Chapel in La Crosse, Wisconsin. Viterbo chaplain, Father Conrad Targonski, OFM, presided at the Mass. Guests were welcomed to join in the celebration either in person, following COVID-19 safety measures, or virtually, via livestream connection.
Coming from a family of educators, Sister Michele has served as an associate professor in the University of Wisconsin-La Crosse Health Education and Health Promotion Department since 2010. She joined FSPA as an associate in 2017 and was welcomed into the novitiate program a year later. As she prepared for her first vows, Sister Michele engaged in intense prayer and study and spent much of her time volunteering within both the FSPA and La Crosse-area communities.
During the ceremony, Father Conrad read from Matthew 13:44-52 and encouraged everyone to think of the people and events in their lives that excite them. "The kingdom of heaven can be translated through the ways of God, and the ways of God have to get you excited." He went on to explain that God gives us time to rejoice, and "today we rejoice in Sister Michele's profession of her first vows."
Following Father Conrad's homily, Sister Georgia Christensen shared a message with Sister Michele and her community. "Sister Michele has always reflected the ordinary in an extraordinary way," expressed Sister Georgia. "Michele came to community searching for a way to respond to the Lord she loves so dearly. She recognized that God was searching for her, as well as her searching for God."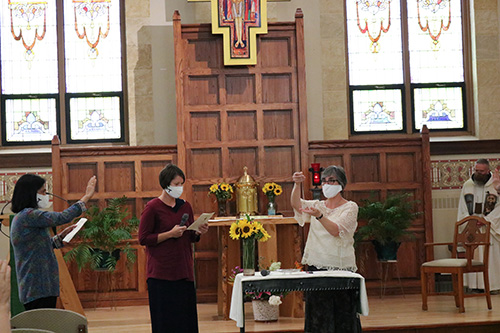 Shortly after Sister Georgia's reflection, Sister Michele proudly professed her vows by stating "I, Sister Michele, vow to God almighty and into your hands, Sister Eileen [McKenzie], to live poverty, consecrated celibacy, and obedience in community for three years according to the Rule of the Third Order of St. Francis and the Constitutions of the Franciscan Sisters of Perpetual Adoration."
In the moments following, Sister Eileen placed the FSPA eight-point Maltese cross on Sister Michele and said, "In the name of the Franciscan Sisters, I present you with this medal. Wear it as a symbol of FSPA identity."
Watch the full recording of Sister Michele's first vow ceremony below.
Also in the September 2020 e-edition of Presence:
Who is my Sister?
How COVID-19 opened hearts
Walking, virtually, with women discerning religious life
The path to racial solidarity
Jubilee celebrations