How COVID-19 opened hearts
By Pat Ruda, justice and peace promoter
COVID-19 hit the United States and our region in Wisconsin in mid-March, changing all of our lives forever. The Coulee Region Immigration Task Force, commissioned to serve migrants and immigrants through hospitality, education and advocacy, jumped into action via Zoom. We changed course from planning People Fest, a cultural celebration of food, music and dance, held annually in the summer in La Crosse, Wisconsin, to providing emergency relief efforts for the migrant families suffering great economic hardships — job loss and lack of access to government assistance — suffered at the hands of the virus.
The first step was applying for a grant from the La Crosse Area Emergency Response Fund, rapid-response aid made available to individuals and families — like those we serve — in critical COVID-related financial need. The fund is facilitated in part by the La Crosse Community Foundation and supported by FSPA through a $500,000 donation. CRITF was awarded a $15,000 grant with which we disbursed money orders (as most recipients of the funds lack bank accounts, are "unbanked") to 30 Latinx families who met the requirements for assistance. Throughout the spring and summer months, the task force applied for and received two additional grants to assist Latinx families in need: a second, with which we provided 50 families with money orders of $750 each, and a third, which enabled us to give 30 families money orders of $750 apiece.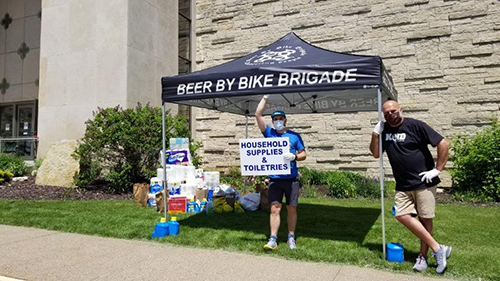 Sister Eileen McKenzie said of FSPA's gift to the COVID-19 relief fund, "The spirit of giving is contagious." It most certainly has been. The La Crosse-area food bank WAFER was onsite for each money order disbursement event, supplying families with meat, fresh vegetables and fruits, dairy products and other staples. Couleecap Inc., an agency in La Crosse that provides housing, food and transportation assistance to marginalized members of our community, joined us to facilitate a clothing drive. We were overwhelmed with donations that led to the provision of clothing for children and adults in a four-county area. La Crosse's Beer By Bike Brigade supported the task force's mission by facilitating a household supply drive, which led to the distribution of items to those in need in four local counties. Women's Fund of La Crosse provided diapers and hygiene products. When we learned that Latinx residents of Trempealeau County (adjacent to La Crosse County) were in dire need, several FSPA stepped in and helped us procure money orders, food items like rice and beans, and clothing for 25 families. We've also received cash donations. And with every outreach opportunity, CRITF is providing resources, printed in Spanish, to educate adults about the importance of completing census forms.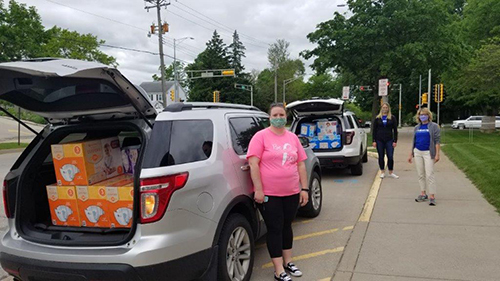 The generosity we've observed and the opened hearts we've encountered, especially during this time of COVID-19, are amazing. The spirit of giving is indeed contagious.
All images taken during the June 2020 CRIFT- and Couleecap-sponsored clothing drive at First Congregational Church in La Crosse, Wisconsin, by CRIFT member and Greater La Crosse Area Diversity Council Executive Director Arlette Rodriguez-Miller.
Also in the September 2020 e-edition of Presence:
FSPA welcomes Sister Michele Pettit into first profession
Who is my Sister?
Walking, virtually, with women discerning religious life
The path to racial solidarity
Jubilee celebrations