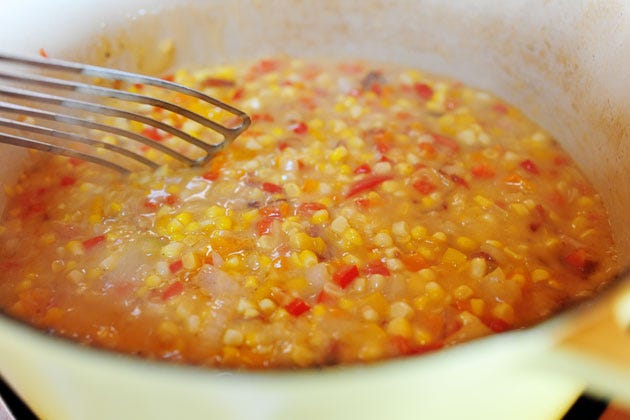 Ingredients:
4 T butter
1 whole onion, chopped
3 slices bacon, cut Into pieces
3 whole bell peppers, finely diced (green, red, yellow, or orange)
5 ears corn, kernels, sliced off cob OR about 4 Cups of corn kernels
1/4 C flour
3 C. vegetable or chicken stock or broth
2 C half-and-half
1 C (heaping) Grated Monterey Jack
1 C (heaping) Pepper Jack
1/3 C sliced green onions

Directions:
In a large pot, melt butter over medium-high heat. Cook onions for a couple of minutes. Add bacon and cook for another minute or so, then add diced bell peppers and cook for a couple of minutes. Finally, add corn and cook for a minute.
Sprinkle flour evenly over the top and stir to combine. Pour in broth and stir well. Allow this to thicken for 3 or 4 minutes, then reduce heat to low. Add empty corn cobs, if using. Stir in half-and-half, then cover and allow to simmer/thicken for 15 minutes or so.
Stir in cheeses and green onions. When cheese is melted and the soup is hot, check seasonings. Add salt and pepper as needed and serve immediately.

Food Waste Note:
If you use fresh whole ear corn, don't throw out the cobs. You can add them to your chowder after you add the broth or make stock from spent cobs. To make corn stock: Place cobs in a large stockpot and add water to cover the cobs by an inch or two. Bring to a boil, then reduce heat to low and simmer, covered, for 1 hour. Add more water, if needed as it cooks down. Remove cobs and discard them. Divide and transfer the liquid to freezer-safe containers and freeze for up to 1 year. Use in place of water, chicken stock or vegetable stock in soups and stews. Onion skins, carrot peels, mushrooms and celery scraps can also be added.
If you would like to be notified when we share new recipes, be sure to scroll to the bottom, provide your email address, check the box confirming you are not a robot, click on a few photos to prove it and click subscribe! You will then receive an email after each new post. Remember, we're always looking for new recipes, so keep sending them to ecopact@fspa.org!
Story:
This Corn Chowder recipe from the Pioneer Woman is great for fall. Corn fields are prominent in the Upper Midwest. Did you know that less than 7% of US corn gets to our tables as fresh or frozen corn and cornmeal? 4% is processed into high-fructose corn syrup. The rest is "dent" or field corn which becomes ethanol and feed for beef cattle, pigs and chickens.
It makes me wonder how the upcoming US Farm Bill will support creation, food and farmers, no matter what they grow.
Pope Francis makes clear in Laudato Si that care for one another and care for the Earth are intimately connected. He notes that we are not faced "with two separate crises, one environmental and the other social, but rather one complex crisis that is both social and environmental." The Farm Bill speaks to both. Rewritten and voted on by Congress every 5 years, it can support the dignity of all people, especially those in poverty and can offer safeguards for preserving Creation.

Over 76% of this nearly 1 trillion spending bill supports nutrition programs like WIC (Women, Infants & Children) and SNAP (Supplemental Nutrition Assistance Program) for low-income people and some of the bill addresses world hunger.. The Farm Bill is on the agenda in Congress now. Many other aspects of the bill regulate the safe use of soil, water, fertilizer and conservation methods to make farms healthy for the Earth.
To add your voice to this issue, Midwestern Franciscan Justice Promoters, including FSPA, encourage you to explore this link through Action Network and to advocate for A Just Farm Bill.