The power of pedals: Everybody Bikes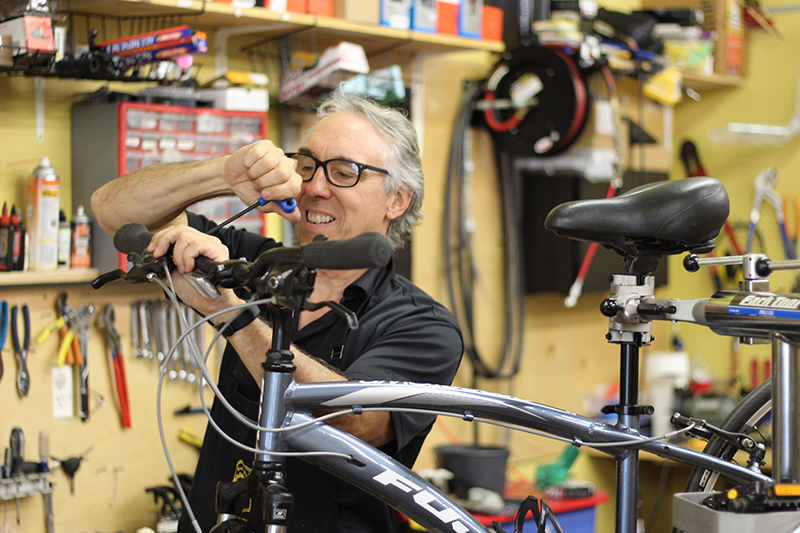 Matthew Christen, being the good through work at Everybody Bikes
On warm and glowing summer days, you will find bikes speeding down nearly every city street and forest trail throughout La Crosse, Wisconsin. While many do so to enjoy the sunshine, others pedal out of necessity, biking their way to work, to the grocery store or to any other errand. On days when heavy rain or snow render our bikes useless for transportation or recreation, many of La Crosse's bikes are pedaled off the streets and into Wrench & Roll Collective. In his small bike shop for sales, repairs, tours and more, owner Matthew Christen can be found repairing, adjusting and upgrading La Crosse's most affordable form of transportation.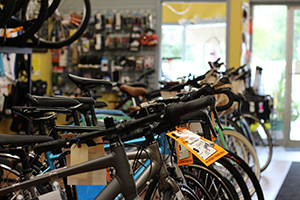 With great environmental, economic and health benefits, biking has become a growing choice for transportation in La Crosse. But for many residents, biking is not a choice; it's the only form of transportation available to them. Without livable incomes that can fund the wide array of costs associated with driving a car, biking becomes their only option.
Cars cost a lot more than just the gas they use and any measure of savings as a result from biking can greatly benefit someone in need. According to Matthew, 40 percent of the household budget for a family in poverty goes toward transportation. Bicycling can help reduce that percentage, affording more resources for food, clothing and shelter needs. With 17,000 La Crosse residents living below the poverty line, the need for a bicycle assistance program is abundantly clear.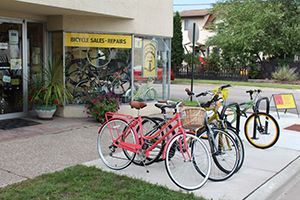 However hard it may be to run a bike collective, Matthew considers himself lucky to find success pursuing his passion. His humble nature was what motivated him to serve more than just those who walk into his bike shop. From his active participation in biking advocacy, Matthew was inspired to "put [his] money where [his] mouth is and developed [his] own program." He knew his biking expertise could serve a much larger community than his Wrench & Roll customers and serve a far greater need. While Matthew spends a lot of time fixing hobby bikes for recreational use, his new program, Everybody Bikes, focuses on utility bikes for transportation.
Everybody Bikes provides under-resourced community members with a bicycle, equipment and training. Social service agencies begin the process by initiating referrals for those in need. By directing individuals to Everybody Bikes, these agencies benefit from self-reliant transportation, which decreases the need for their social services. After equipment needs are assessed, the cost is submitted to the volunteer executive board.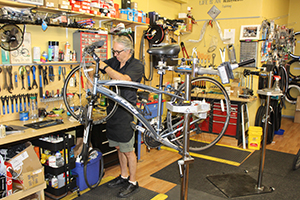 The board members for Everybody Bikes help immensely by sharing their experience in working with people of low-economic status through programs such as First Teen Clothes Closet and La Crosse Area Showing Up for Racial Justice. Thanks to these volunteers, all funding goes directly toward the program instead of administrative costs. Once approved, the funds and equipment are released by the board and the community member will receive both the equipment and three hours of educational sessions at Wrench & Roll. This assures that the recipients have everything they need to get the most value from their bike.
While receiving a bike is the most important part, bike safety and maintenance training keep both the bike and the rider protected. When bikers feel comfortable operating and maintaining their bikes, they gain the confidence to ride faster and farther than ever before.
In all of his biking ventures, Matthew shares a common theme of empowerment: Wrench 4 Women classes educating female bikers, the Logan Bike Works program equipping youth, and even a rentable repair bench in Wrench & Roll Bike Collective for anyone to use. Sister Rochelle Potaracke first heard from a La Crosse Tribune article about the good Matthew is spreading. A teacher was providing bikes and bike education to students. Sister Rochelle began to collect bikes for his efforts and used this connection to find a bike for a young family man having trouble with his transportation to work. Since then, Sister Rochelle has become an advocate for the organization and more than 80 bikes have been donated to people and programs throughout the community. With strong community support through donations of time, money and especially bicycles, Everybody Bikes continues its mission to empower La Crosse residents with transportation solutions.