Sister Thea Bowman remembered
Sister Maryam Gossling poses with the painting of her classmate, Sister Thea Bowman, entitled Bright Glory.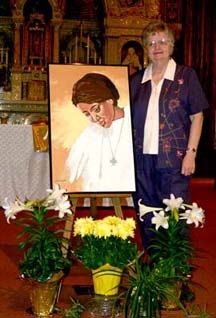 Reprinted with permission from the La Crosse Tribune April 9, 2005
By Gayda Hollnagel
Sister Thea Bowman, an FSPA member and internationally recognized African American spiritual leader and speaker before her death from cancer in 1990, was remembered March 30 on the 15th anniversary of her death.
A "remembering fest" in the Mary of the Angels Chapel in St. Rose Convent included spirituals by Dan Johnson-Wilmot and the Viterbo University Concert Choir; reflections by an elementary school classmate of Bowman's; and a new painting of her by FSPA Sister Maryam Gossling.
FSPA Sister Charlene Smith, who is in charge of "Thea" information for the FSPA, says "Thea's legacy lives on" even though it's been 15 years since her death.
Smith said the anniversary was noted in Memphis, Tenn., where a 2 p.m. liturgy was held at Thea's grave in the Elmwood Cemetery.
Also, Thea is featured in a new book, "Women of Mercy," just released from Orbis Press. The book tells the stories of 16 women of mercy, women from the Old Testament, saints from the New Testament, and heroes from contemporary times. The book was produced by Kate Coffey and Brother Mickey McGrath, an artist who has featured Thea in much of his work. Besides Sister Thea Bowman, women whose stories are told in the book are: Sarah, Mary, Mary Magdalene, Veronica, Catherine of Siena, Teresa of Avila, Therese of Lisieux, Catherine McAuley, Elizabeth Ann Seton, Kateri Tekakwitha, Frances Cabrini, Katherine Drexel, Josephine Bakhita, Dorothy Day and Mother Teresa.