Sharing Intentional Ministry: With presence and prayer, affiliate serves law enforcement chaplaincy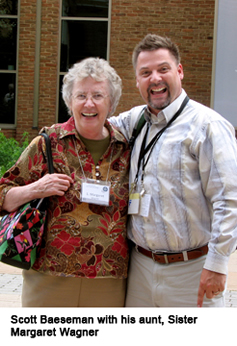 Throughout his life, Scott Baeseman has been compelled to answer many calls: to studying music education and performance with the influence of Franciscan core values at Viterbo University in La Crosse, Wis.; to directing music and leading the fine arts department at Lake Forest Country Day School in Lake Forest, Ill.; to being a licensed foster parent for 10 years and then adopting his two daughters through the program. He was also called to FSPA affiliation in 2010.
And Scott has answered countless calls to his cell phone: at 2 a.m., 2 p.m. and all other hours of the night and day for the past five years. He does so as chaplain of the Highland Park Police Department, a precinct of 46 sworn officers in the Illinois town of about 29,900 people, located some 23 miles north of downtown Chicago.
"A new ministry to serve people on the margins," called Scott, in 2008, to police chaplaincy. Something outside the box, "not as traditional as a soup kitchen," was stirring him. After speaking with clergy from his parish, he learned that the department's chaplain was planning to retire. It turned out that she'd already been screening Scott for about a year "to see if my personality would fit the position." That fit has proved perfect.
When called to a crime scene to offer grief counseling, Scott comes quietly "with prayer and as a safe presence to listen and represent God's healing." This he is not only to victims' loved ones but also to the officers who, inherently, are also vulnerable to distress. Trained to be tough men and women, though, they conceal their concerns with "blue veils," indiscernibly worn with their uniforms, universally issued throughout the culture of law enforcement. "You can't get through that veil if you're not one of them," says Scott. He seeks subtly to help cast those coverings aside. Again, mostly silent, with prayer, during regular ride-alongs in passenger seats of squad cars and as a continual presence at the station, he persists in a trust-earning process with the Highland Park officers that can take many years to develop. He does however—to the person who is perhaps an atheist, a Christian or a Buddhist—communicate very clearly two things. "They all comprehend my conviction: I represent God's love and care and am here to travel with them on their own journey, whether they believe in God or not." And he also articulates the message that perpetually—in prayer—FSPA rides along with them too. Once officers gain the confidence to shed their cloaks, it's not all that unusual for them to reach out to Scott. "Can you talk to me?" someone may say. "My marriage is falling apart."
After ending a call to calamity it can be "easy for me to lose faith in humanity," says Scott. That's when he finds his footing in the Franciscan fidelity of pax et bonum, "seeing goodness in all things." And, by reconnecting with FSPA in affiliation 20-plus years after graduating from Viterbo, he's refocused on his own faith journey "so that when I'm serving people in crisis my faith is strong. I'm reminded every day that no matter how tragic a situation, God is present—in all things."
God is also with Scott in Affilia, the companion community he is called to. They meet bimonthly—to be a presence in community for one another—spending about two hours in reflection and then a few more preparing and loving and laughing and sharing a meal together. "They keep me grounded. When things are scary and shaky," he looks to his authentic relationship with them, he says, "to check my own faith." Sister Beth Saner, the group's leader and once Scott's college advisor, has been with him since that ground was first broken. "Throughout my discernment and now as my contact she makes perfect sense: she has known me in my worst and best times in life."
Says Sister Beth of his call to affiliation and to Franciscan values, "I have witnessed the emergence of a man of integrity—rooted in deep faith—as he's matured from the 18-year-old kid who came to Viterbo so many years ago." She now joins the applause for him—the passionate musician he is widely known to be—and also for his "pastoral care heart, part of his chaplaincy work"—a vital part of his identity that he doesn't show off on his sleeve. "These officers are a group who deal with trauma and who have few listening ears to receive the stories of their hearts. Scott does that," says Sister Beth, "with calm compassion."
Presence is pleased to bring you this regular feature, Sharing Intentional Ministries. Here we'll spotlight stories of sisters, affiliates and collaborators in mission joining together, intentionally, to live out Franciscan values.