People incorporated aims to serve critical needs of twin cities area homeless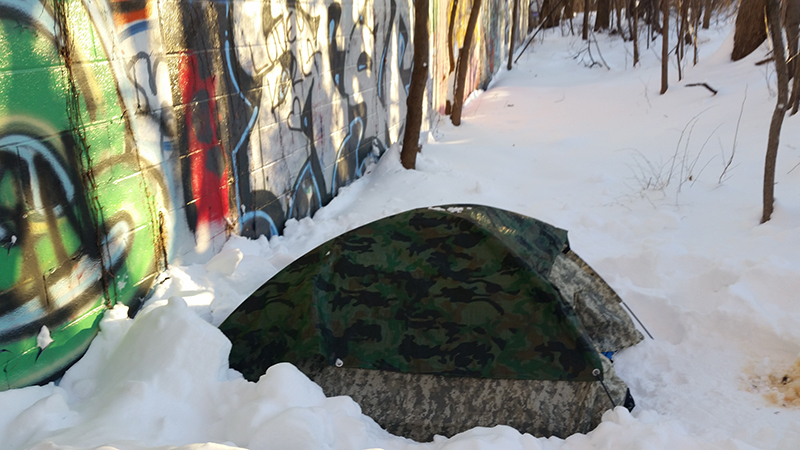 In 2018, many people joined together to create a safe encampment near Minneapolis' Franklin/Hiawatha corridor. A broad coalition of partners and stakeholders worked together to address the short-term, mid-term and long-term barriers to housing for the residents of this camp, who slept in tents, as pictured throughout. Working together, the group opened the Navigation Center in December 2018. The center includes three large heated tents, each with 40 beds, gathering spaces and chairs. Photos courtesy of People Incorporated
By Charish Badzinski, contributing writer
Freezing rain. Ice storms. Bitter wind chills and temps well below what any human being can endure for long. It's no secret that the Upper Midwest can get brutally cold. But while most of us have a warm place to tuck into at night, for the homeless, no such oasis exists. At least one Minnesota man was forced to find warmth and shelter in an unlikely place: the Minneapolis Light Rail.
But public transportation is not a panacea for homelessness. It is a tradeoff of one hardship for another. It can be dangerous, placing vulnerable people in harm's way. Sleep, if it comes, is fitful. And the only solution this man could find to protect himself from physical violence on the rails was to stay awake all night and nap at the public library by day.
That was 2016.

Enter the Homeless Outreach Team from People Incorporated, an organization dedicated to supporting mental health and wellness in the Twin Cities Metro Area of Minneapolis and St. Paul, Minnesota. That year, the Outreach Team had expanded their Community Resource Outreach Project to the Roseville, Minnesota, library. There they met the man who rode the rails by night and learned he was striving to pursue an education, but he struggled with mental health issues that led to year-after-year homelessness.
His story is all too common, and the need is overwhelming. But generous donations to FSPA's 2018 #GivingTuesday campaign provided funding for mental health advocacy initiatives that help people overcome the root causes of their homelessness. That includes the services of People Incorporated Homeless Outreach. Franciscan Sister of Perpetual Adoration Sue Ernster serves on the board of directors for People Incorporated and sponsored the FSPA ministry grant application for the organization.
"There's not yet parity for mental health services, like there is for physical health services," explains Wendy Darst, grants officer for People Incorporated. "People Incorporated is definitely trying to address that and make sure that folks get the treatment they need. And as far as the FSPA funding specifically, it is definitely going to the people with the greatest need and challenges: individuals who are generally living outdoors due to their severe mental health issues."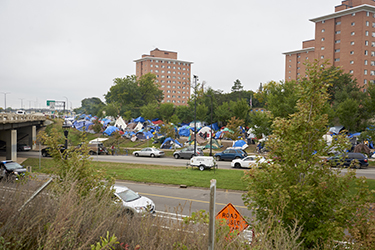 Put to work, that funding helps those facing the highest level of barriers to housing: mental illness, chemical dependency and more. In 2017, outreach case management for the organization had contact with 919 individuals, often by visiting homeless encampments. That year they enrolled many of those individuals in Certified Community Behavioral Health Clinics initiatives and secured housing for 49 people. On a regular basis, they also provide life-saving assistance to the homeless, including survival gear, crisis intervention, whole-person health assessments and referrals to community resources. That's in addition to food, sleeping bags, blankets and clothing — the basic needs for survival — and tents, so at least they have a roof over their heads, albeit one that is no match for the Minnesota cold.
"Mental illness is a real thing, and there's such a need out there," says Kristen Felegy, communications and marketing manager for People Incorporated. "It can be really powerful working at a place like this, helping real people in need."
For the man who rode the light rail by night, the dedication of those at People Incorporated made all the difference. The Homeless Outreach Team engaged their case management services with a goal of securing housing for him. Progress was slow and sometimes painful; the hardships of homelessness and serious mental illness are daunting. But in 2018, his sleepless nightmare on the rails came to an end as he signed a lease for his first stable housing in more than five years.
FSPA has supported the work of People Incorporated in another way, by guiding the process of opening the Diane Ahrens Crisis Residence in the White Bear Lake area in 2016 (in a building that was formerly an FSPA convent). The 16-bedroom facility provides short-term residential mental health stabilization services to those in need.
For more information about People Incorporated and the good work they do, visit peopleincorporated.org.