My Perspective: Teaching the good news from California to Zimbabwe
by Donna Storms, FSPA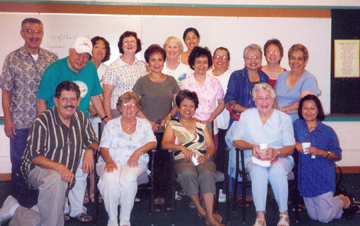 I am a teacher. This inspiration for my ministry has always been from the last words Jesus spoke to his followers before he ascended to His Father: "Go into the whole world and proclaim the good news to all of creation" (Mk 16: 15ff).
I proclaimed the good news for 14 years in the ministry of religious education in the Diocese of Spokane, driving from one parish to another, training catechists and other parish leaders. I decided it was time to leave Spokane and find a parish where I would have more direct contact with "adults in the pews."
I found the right spot at St. Louis of France Parish in La Puente, Calif. As director of adult and ministerial formation, I had an ideal setting for proclaiming the good news through the very challenging and rewarding task of RCIA. I soon discovered the hunger of adults for a better understanding of Scripture and the need to enrich their lives through the word of God. I set up an adult Scripture study group in that parish which continued on its own when I retired and began volunteering.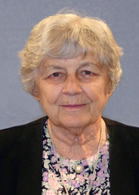 After 12 years at St. Louis Parish, I looked around the neighboring parishes for one in need of the gifts of good news I had to offer. I found St. Christopher's Parish in West Covina, Calif., walking distance from home, in need of education (especially the study of Scripture) for adults who had been searching for such an opportunity.
My weekday Bible study group consists of adults of varied ethnic backgrounds who devote themselves to enriching their spirituality. A significant number are retired persons; some are working people, often nurses or other health care professionals who happen to have the time off. Participants come and go as schedules and family situations change. Several have been together for more than 10 years and are recognized as a ministry of the parish. The youngest participant has been a 19-year-old student; the oldest a 93-year-old grandmother who always sits right beside me so that she doesn't miss anything. I help her to follow along in her brand-new, large-print Bible.
About eight years ago Laurette Sprosty, FSPA, who was ministering in Zimbabwe, shared a story in a letter to the community about a young man who often visited the mission there. It so happened that his cow died. For a poor man who depended on the cow, the animal's death was a terrible tragedy. I was touched by his story and shared it with my Scripture class. So moved by his pain, the group decided to buy the young man another cow. They collected $300 and the parish added $200 more to pay for it. When Sister Laurette learned of their generosity, she suggested they continue to support the poor man—monetarily for chores he carried out at the mission site. This, they did.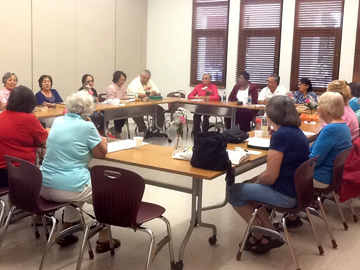 Sister Laurette's story and their first gift sparked their interest in the needs of the poor in Zimbabwe. The class decided to take collections on a regular basis for the needs of Sister Laurette's mission. She sent photos of people she worked with. The class was especially moved by pictures of the orphan children benefitting from their generosity. One of our members, Lydia Nueva España, who has suffered for many years from cancer, took it upon herself to collect the money. She decorated a coffee can with pictures of the orphan children and passed it around every week. If she was absent, there was always someone who would speak up to be sure we didn't forget Zimbabwe. With the help of FSPA Director of Development Madalene Buelow, even after Sister Laurette returned to the U.S., they have not failed to remember Zimbabwe.
This is one example of how people who share faith and conviction for serving the needy have spread, in their small way, the good news to the whole world. I'm proud to use my talent for teaching to continue to be a part of it.