Justice Network: Changing the direction of mental health in Minnesota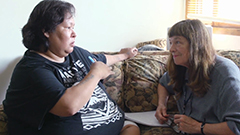 She thinks they sensed it. They felt it—the presence of healing, the power of the spirit—when they walked through the door.

But citing stigma, some people questioned it. Fought to keep them out of it.

She is Sister Sue Ernster, FSPA treasurer and CFO. Sister Sue worked with them, People Incorporated (a nonprofit organization in St. Paul, Minnesota, missioned to provide mental health crisis care, short-term housing and health care/social services counsel to adults), in the acquisition of the facility formerly home to The Well Franciscan Spirituality Center. And those unknowing of the people, the programs and the purpose of People Incorporated tried to bar them from the building; calling the city's council to vote down a rezoning contingency based on unfounded concern constructed as a potential neighborhood parking problem.

In synergy with Sister Sue, four women are also invested in the building, the people and the mental health crisis not precarious to a community, but pervasive in this country. They celebrate the approval to rezone The Well and share their passion for a change in direction.
Sister Sue Ernster
The Well, an FSPA-sponsored ministry that began in 1983 as the Franciscan Center for Wholistic Living, was an urban oasis for spirituality, healing and justice until closing its doors in 2014. Its air of welcoming—of soothing, of caring—lingered the following spring when People Incor-porated visited the property for sale with interest in purchasing it and making it a short-term mental health crisis residence. "When People Incorporated toured the building initially," says Sister Sue, "they proclaimed that their program 'will be here somehow, some time' because they could feel really good energy and spirit." And all along she's foreseen the transition as idyllic for the organization that "will continue the healing ministry FSPA is no longer doing there." Fate? "I do not think," states Sister Sue, that "it's a coincidence."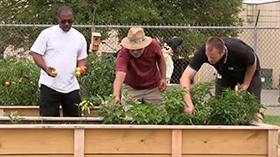 Yet serendipity was almost not to be when FSPA applied for a permit to rezone the building from a single-family to a multi-occupant town-house residence (to meet People Incorporated's needs). The cause stalled in St. Paul City Council sanctioning after individuals in the neighborhood expressed a groundless disquiet that parking would become saturated by crisis center staff. Members of the FSPA community, including Sister Sue, attended the council's meetings. People Incorporated "really appreciated our presence, and council members noted we were there," as were the National Alliance on Mental Illness and other Minnesota-based organizations. There were letters to local publication editors and a report on Minnesota Public Radio. Support was expressed by the St. Paul mayor. All brought to light, says Sister Sue, "the stigma of mental illness. One council member said 'Let's not kid ourselves. The truth of the matter isn't about parking: residents just don't want those people here.'"

Yet "the tide turned," says Sister Sue, on Sept. 9. The council voted in favor of rezoning five to two, The Well will become the Diane Ahrens Crisis Residence and justice prevails for People Incorporated and those in critical need.
Corrine Bauer, affiliate

Unbeknownst to many, People Incorporated has had an FSPA advocate for many years: Corrine Bauer. An affiliate since 1990, Corrine is a retired home health nurse and private-practice psychological counselor who has served people diagnosed with mental illness of all degrees. "Many of my clients lived in St. Paul right near The Well." She also had a presence there: partaking in many of the spirituality center's offerings such as modalities of healing and women's justice issues, volunteering and serving as a board member for a year prior to its closing. And as a professional health care provider collaborating with services of many different agencies, social workers, doctors and clinics in the area, Corrine considers herself to be "definitely an advocate" of the organization. A supporter is she, who rallied her contacts to stand behind rezoning the property. One parish nurse told her "It's about time" for mental health crisis care in the area. And Corrine attended all the council meetings not just as an advocate for the cause but also with reverence for The Well. "It seemed very obvious to me that, with its atmosphere of healing all these years, the center is perfect for People Incorporated. It's a great way to continue the spirit and service and will take away some of the pain," says Corrine, "of The Well's closure."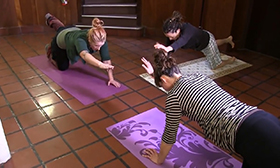 Jill Wiedemann-West

People Incorporated had been searching for a new place to provide safety to those in mental health crisis for two years before a broker facilitated a tour of the The Well. "We had not been particularly successful" says Jill Wiedemann-West, CEO of People Incorporated, but "when we first saw The Well, we knew we had found our new home for Diane Ahrens Crisis Residence. It was," she says, "just perfect!"

From Jill's perspective, the facility is a good fit for the organization that employs 700 people, has approximately 40 locations throughout the Minneapolis-St. Paul metro area and in St. Louis County (Duluth, Minnesota), and serves more than 9,500 people
each year.

And the many yet to be served by People Incorporated would not have been welcomed to walk into the powerful presence of the place that was The Well were it not for FSPA activism during the rezoning process. "Oh my gosh, yes!" says Jill when asked if the congregation had a hand in the outcome. "An overt support came from letter writing, speaking at the meetings ... as well as the benefit of the wonderful energy that came from the sisters and others who showed up. They continually reminded everyone of the alignment between these two missions ... We are incredibly blessed!"
Sisters Delmarie Gibney and Marcella Anibas

Of People Incorporated "We embrace them," say Sisters Delmarie Gibney, past center director, and Sister Marcella Anibas, a center staff member (as spiritual/program director and for a time as interim director) for over 20 years. "We embrace the ministry of People Incorporated—of social justice—as it bears resemblance to FSPA's mission, Unity in Diversity: "We are sent to manifest God's love in our world; to bring new life, meaning and hope to a suffering and searching humanity, to heal with compassion and forgiveness; to proclaim the Gospel in word and action."

From its start, The Well recognized the changing faces of those seeking wellbeing and compassion at its doors. "The center has been in a process of evolution since its beginning, evident in the varied name changes (first Franciscan Center for Wholistic Living, then WomanWell and finally The Well)," says Sister Marcella. "Each ushered in a new era and direction but remained within the context of a healing ministry. It seems a crisis intervention center creates a line of continuity with the past ministry of healing." And in the present they agree—statistics indicate a rise in mental illness and the devastating results of those left uncared for, in need of psychological, spiritual and emotional support.
Change in Direction

And so, in the end, there has been a change in direction. It wasn't just a path to the end of a property dispute, more than a call for critical mental health care in the St. Paul area. It's a nation-wide Campaign to Change Direction—a confluence of people and leaders of organizations and corporations "who have come together to create a new story in America about mental health, mental illness and wellness." Campaign creators selected La Crosse, Wisconsin, as a regional launch site and FSPA pledged to change the story surrounding mental health.