Economy of Francesco: 'Soul of the economy of tomorrow'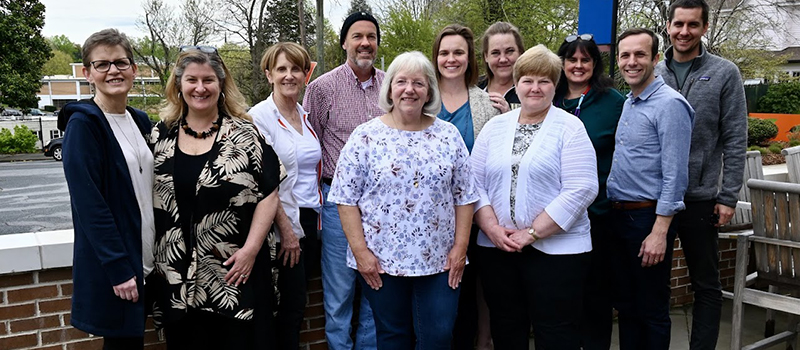 Sister Sue Ernster, pictured left, attends Francesco Collaborative's Solidarity Economy Encounter at The Industrial Commons in Morganton, North Carolina.
By Elizabeth Garlow and Felipe Witchger
"Dear Friends, I am writing to invite you to take part in an initiative very close to my heart," wrote Pope Francis in a letter to "young people studying economics and interested in a different kind of economy." The letter, sent on May 1, 2019, was an invitation to "an event that will help bring us together and allow us to meet one another and eventually enter into a 'covenant' to change today's economy and to give a soul to the economy of tomorrow."
Over two years later, thousands of young people plan to gather in Assisi, Italy, Sept. 22 to 24, 2022, for the Economy of Francesco event. While younger leaders will lead the conference, they will also tap into the wisdom of elders who have been working to make the global economy more humane and sustainable for decades. Participants will meet in 12 "thematic villages" to discuss topics such as finance, agriculture, energy, lifestyle and women in the economy, culminating in a meeting with Pope Francis to offer experiences and proposals for the future.
However, this gathering is no longer a "launch" of the Economy of Francesco. It is a continuation of its spirit, which has been woven in and through communities and initiatives since Pope Francis shared his initial letter and invitation over two years ago. One such initiative is the Francesco Collaborative, which we launched last year to accompany investors who desire to support the solidarity economy — one that is rooted in the common good, love of neighbor and stewardship of our common home.
The Pope's letter struck a chord with us: we felt called to play a role in giving a "soul of the economy of tomorrow," particularly in the realm of finance. We first set out to re-examine our current social-political realities and ask ourselves how we could better integrate our spiritual heritage, formation of conscience and work with investors. We have been students of heterodox economic schools of thought pointing to a new praxis through things like cooperative enterprises and solidarity. We also recognize the conventional logic that is so deeply entrenched in our dominant training and ways of working, particularly in finance and investing.
The invitation from Pope Francis to dream of a new economy rooted in the ideals of Catholic Social Teaching has animated our efforts to cast an alternative vision and build conviction around new possibilities. We launched our Livable Future Investing workshop, a collaborative space for asset stewards to explore and apply frameworks rooted in CST to their finance and investing activities. At its heart, this workshop is about unleashing the leadership and bold action each of us can take to, in the words of Pope Francis, be "protagonists of transformation."
We have found that a growing number of asset stewards, especially those with a faith background, are reckoning with the injustices perpetrated by our dominant economic investment paradigms. Yet we lack dialogue around how the limited options afforded by conventional finance constrain our ability to adequately respond. The Francesco Collaborative is helping investors play their part in "preparing the future," one in which future generations can thrive, and we can be remembered as good ancestors.
That future is contingent on co-ops and employee ownership trusts to restructure the traditional "capital supremacy" power dynamics in business. Conventional firms are almost always accountable to their capital shareholders or the investors. Workers, customers, producers, surrounding communities and the interests of all other stakeholders (including the earth and future generations) are in fully-subordinate relationship to the people with the money.
Cooperatives center democratic ownership and governance by a different stakeholder group — usually workers, customers or producers. Employee ownership trusts have employees as owners of a meaningful share of the firm — the upside doesn't accrue narrowly to the external investors but also to the employees who have a share in creating the value of the business.
Our view is that bold action in impact investing — when seeking to embody CST as your starting point — looks like more cooperatives, employee ownership and purpose trusts. We believe bold CST-embodied investing can restructure conventional ownership, governance and leadership to have the common good, solidarity and subsidiarity integrated into business.
We define "Shared Ownership" as the ecosystem of cooperatives, employee-owned businesses, perpetual purpose trusts (or steward ownership), "Just Transition" enterprises, place-based anchor institutions and organizations focused on repair and healing for past harms.
FSPA has been vital to the formation of the Francesco Collaborative. Since the first conversation we had with Franciscan Sister of Perpetual Adoration Sue Ernster, she told us about FSPA's commitment to the Economy of Francesco and Laudato Si' with a desire to make those commitments real and practical. Unlike many others we've worked with, FSPA has delivered very practically by deploying meaningful grants and investments in 2021 to enterprises and funds networked into and living the values of the Economy of Francesco.
FSPA is one of the asset stewards that we've seen grow the most in the past 12 months. This gives us tremendous hope for many others to live the Economy of Francesco more boldly.
---
Elizabeth Garlow and Felipe Witchger are co-founders of Francesco Collaborative. Elizabeth also serves Fellow on Faith and Finance with New America and is based in Detroit, Michigan. Felipe is the former founder of the Community Purchasing Alliance and is based in Durham, North Carolina. Learn more about their organization at francescocollaborative.org.