Doing the good of what is ours to do today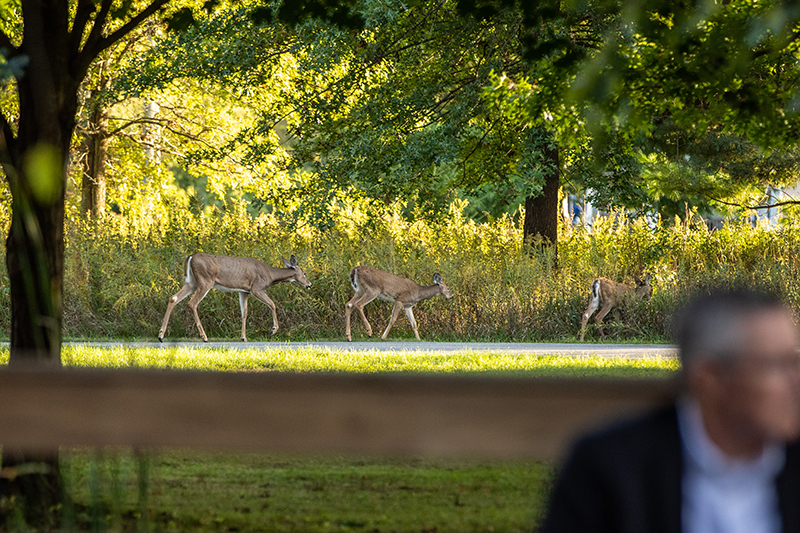 Photos courtesy of Studio U Photography
Prairiewoods Franciscan Spirituality Center land placed in conservation easement
On Oct. 4, Prairiewoods Franciscan Spirituality Center, Hiawatha, Iowa, marked a significant step in its ministry story as most of the 70 acres of woods and prairie were placed in a conservation easement with the Iowa Natural Heritage Foundation. The land will be forever protected from future development. This is a guarantee that Prairiewoods will remain as it is now — a place where woods and prairie are protected, where wildlife flourishes and where our human spirits are renewed as we experience the Divine present with us in the constantly-renewed heart of creation. Even future buildings that might be needed in the next chapters of the Prairiewoods story will be permitted only within a limited area close to existing structures.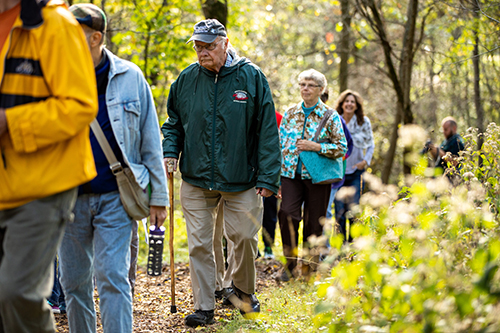 The land at Prairiewoods has a story to tell. Its story stretches back much further than we have the ability to know, since it emerged from the one far-distant, singular and spectacular event that is the source of all life in the universe. Chapter after chapter, story within story, huge chunks of time were needed to keep the narrative alive and moving. And it was not so long ago, as reflected in the great scope of evolutionary history, that peoples of the First Nations dwelt here; members of the Sauk and Fox (Meskwaki) lived in belonging and harmony with these woods and grasslands. Their spirits remain.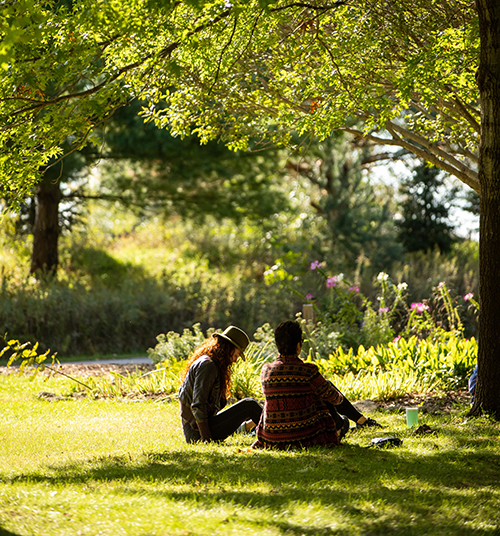 In 1837, the government of the United States acquired this land and opened it for settlement. A survey that followed described topography, soils, tree species and the size of streams. The team conducting this survey noted the abundance and variety of trees, the enormous size of the oaks and the ample open space between them for ground level sedges and other plants.
Several families owned the land before 1962, when Franciscan Sisters of Perpetual Adoration of La Crosse, Wisconsin, purchased these 70 acres in an undeveloped area of Hiawatha as a possible site for administrative offices for a new province. This plan never developed and by 1994 members of the community were ready to begin telling a new story about this land and making the choices that eventually came together as Prairiewoods — a spirituality center based on the Franciscan concept that creation itself is the great arena of life in which the voice of God can be heard.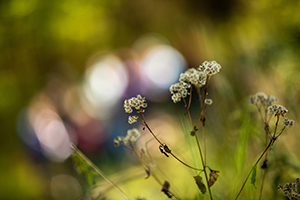 We tell our stories through the choices we make. The choice to protect this space from the intrusion of future development rests soundly on the heritage of those earliest Franciscans, Francis and Clare, both known and loved for their own expressions of joy in creation. The mystic Francis found union with God through all of creation. In his Canticle of Creation, he sings the praises of sun and stars, fire and water. He praises Mother Earth with all of her diverse and astounding expressions of life.
In its mission statement, Prairiewoods promises to offer a sacred space for those seeking greater intimacy with God, Self, Others and Earth.
The easement ensures that:
• The Franciscan value of protecting the environment will remain a tangible FSPA gift to the people of the area.
• We, as a community, take a stand for all life in an age of great environmental destruction.
• Most of these 70 acres of natural beauty and ecological assets will remain forever preserved as a habitat for wildlife.
• Even if these acres are eventually sold, the new owner is bound by all terms of the easement "in perpetuity."
This conservation easement seems even more significant in this time when the climate crisis we are now in threatens all of life. Trees and the land itself are our allies as we do what we are called to do. The stakes are high.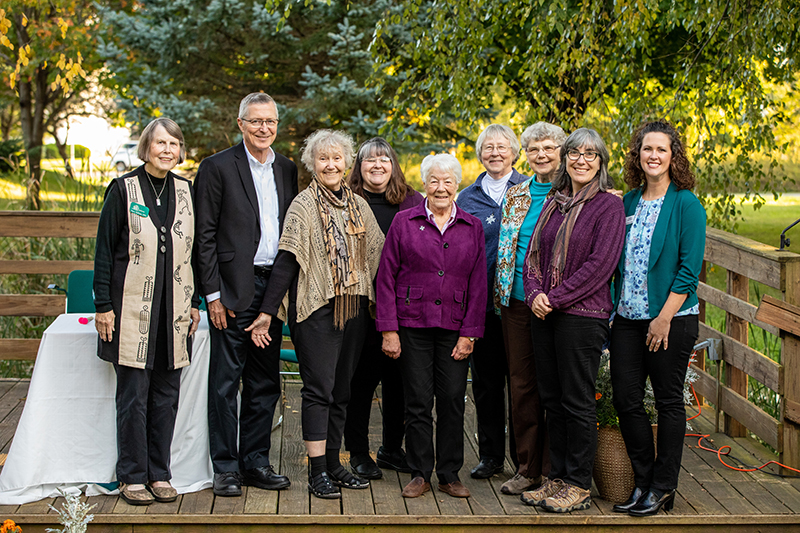 This story was reprinted with permission from Prairiewoods Franciscan Spirituality Center.
We offer this prayer from Pope Francis, who in his encyclical, "Laudato Si': On Care for Our Common Home," addresses our God who speaks to us through creation:
All-powerful God,
You are present in the whole Universe
and in the smallest of your creatures.
You embrace with your tenderness
all that exists.
Pour out upon us the power of your love,
that we may protect life and beauty.
Touch the hearts of those who look only for gain
at the expense of the poor and the Earth.
Teach us to discover the worth of each thing,
to be filled with awe and contemplation,
to recognize that we are profoundly tied with every
creature as we journey toward your infinite life.
Amen.