Devastating floods and long-term recovery
Couleecap bridges the gap
Summer brings a smile to the faces of southwest Wisconsinites as they are blessed each year with a glowing green landscape. The recreational and economic affordances offered by this diverse and unique landscape provide a foundation for the culture of this vibrant community.
Unfortunately, the summer scenery arrives alongside severe storms and flooding in the greater La Crosse area. Extreme weather events have become all too common across nearly the entire state of Wisconsin with severe floods increasing in frequency and intensity. Over the course of 15 days in August of 2018, more than 20 inches of rain hit the southwest region of the state, equivalent to nearly half of the area's average yearly rainfall. After what was called a 500-year flood, President Donald Trump declared a state of emergency, which brought federal assistance to help recovery efforts. Once the emergency was declared, citizens and flood relief organizations could apply for financial aid from the Federal Emergency Management Agency.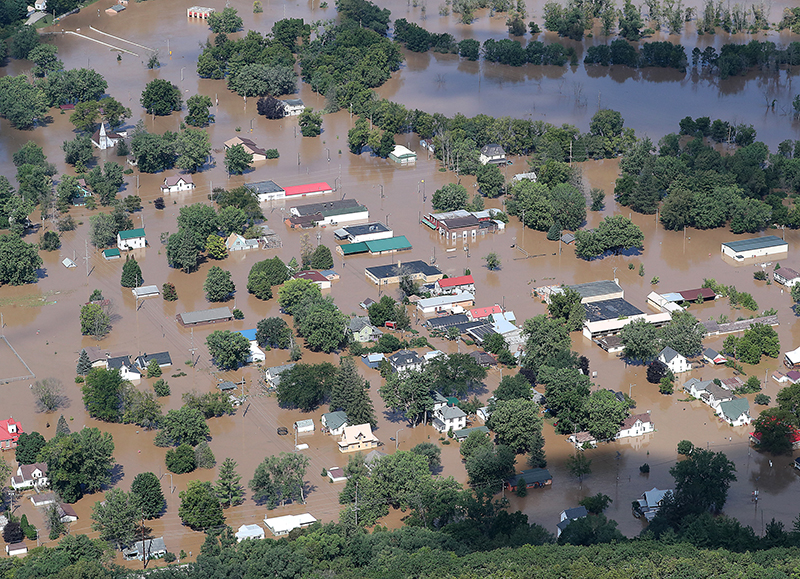 Flooding in Gays Mills, Wisconsin, as pictured on Aug. 29, 2018. Photos used with permission from La Crosse Tribune.
FEMA, however, is limited in the assistance it can provide. The agency verified more than $3 million in lost property caused by flooding and identified more than $1.5 million in unmet needs, for which they cannot provide assistance. This disparity between the needs of flood victims and the available means for relieving the problems brought by this natural disaster represent a significant challenge for local organizations that are expected to clean up after this tragic event. Couleecap, a community action agency that has served the La Crosse area for more than 50 years, assumes much of the burden when disasters strike.
Providing housing, food and transportation are only part of Couleecap's routine services. This organization fights poverty and promotes self-sufficiency, economic development, social justice and personal responsibility. After natural disasters, people from the coulee region, especially those who are already impoverished, rely heavily on Couleecap. The executive director for Couleecap, Hetti Brown, detailed the first steps along this long road to recovery. "Immediately we focus on emergency assistance. This involves everything from our staff going out and helping with cleanup to making sure that people, especially low income families, have access to food in these affected areas."
This organization has always lent its support for our community's greatest needs, increasing services substantially in the event of severe storms and flooding. In the immediate aftermath of flooding, Couleecap provides critical services through emergency sheltering and food assistance. While food and shelter are essential forms of support, they only address basic needs. FEMA is able to provide more financial assistance than Couleecap but only enough to prevent catastrophic loss — not nearly enough to address the total damage. After FEMA completed all of its grant approvals, more than $500,000 in unmet needs remained.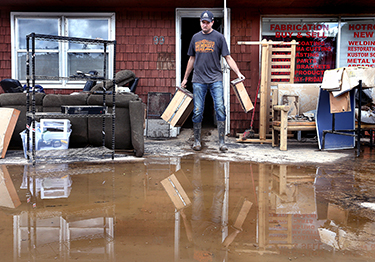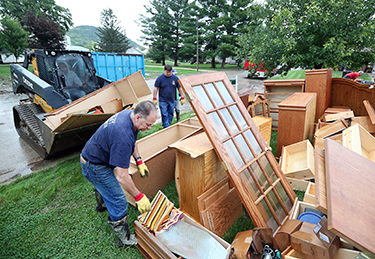 Dave Phillips, owner of DC Kustoms on Central Avenue in Coon Valley, Wisconsin, cleans out his flood-damaged business; Tim Candahl, left, and Mark Skolos of the Shelby Fire Department, load destroyed items from the home of Roy and Joyce Stephan of Coon Valley, Wisconsin.

Combining the resources of several local nonprofit organizations, The Long Term Recovery Group works to identify the unmet needs not covered by FEMA and coordinates their services to meet them. This is largely done through private donations that are not subject to the numerous requirements and restrictions that come with government grants.

Of these donations vital to flood recovery efforts, FSPA's aid to Couleecap has provided incredible support for present and future needs related to these floods. "Most of the recovery falls on the shoulders of local organizations," says Hetti. "That is why the donation from the sisters was just really life-saving. With their support we helped many families that were experiencing homelessness and had nowhere to go while the weather was getting very cold." Donations to Couleecap help in many ways beyond what FEMA can do: buying necessities like new furnaces, cell phones and other supplies needed for both short- and long-term recovery.
More than half a year has passed since flooding devastated Southwestern Wisconsin, and early spring 2019 flooding is contributing to more devastation. Those impacted by severe storms and flooding may experience lasting damage, both physically and psychologically. Through Couleecap's newest initiative, Project Recovery, trained outreach workers are available to assist survivors with a variety of needs. Outreach, crisis counseling and support are their main objectives. The program deploys outreach workers to nine counties designated for federal disaster assistance: Crawford, Dane, Juneau, La Crosse, Marquette, Monroe, Richland, Sauk and Vernon. In maintaining their support for victims of extreme weather, this organization continues to show their profound dedication to serving Southwest Wisconsin throughout times of need.