County gathers to celebrate its bright light
by Judy Bean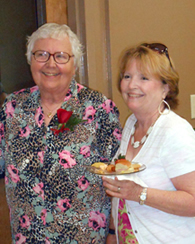 If you meet Franciscan Sister of Perpetual Adoration Janet Fischer, our Lord's words, "Let your light shine" might instantly come to mind. With her brilliant blue eyes and joyful smile, she's a 1,000-watt bulb, a candelabra and a Broadway marquee, all wrapped up in one shining spirit. Although she's as humble as a tea-light candle, this is a woman who truly lights up a room.
Light up the room she did on the evening of June 13, official "Sister Janet Fischer Day" in Evans County, Georgia. As some 200 to 300 locals gathered in the county recreation center, Sister Janet was gleefully hugged, bountifully fed, joyfully feted and gently roasted all in one festive evening—and all in celebration of her 33 years of service to the community.
This was the day of Sister Janet's not-quite-retirement. Although leaving her official post as pastoral associate at St. Christopher's Parish in Claxton, Ga., (the Evans County seat) she says she has no intention of slowing down.
The 76-year-old (who radiates energy that would do a young athlete proud) intends to continue her life's work of helping the poor and the sick, and caring for animals. She is a board member of Evans County CARES (which raises money for and provides service to local cancer patients) and also serves on the ethics board of the local nursing home, volunteers for the county's Christian food bank, raises funds for preschoolers' first books and volunteers for the local Humane Society. Finally, she fosters two fortunate dogs and is the long-time "dog-mother" to another.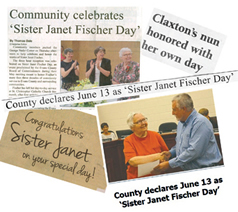 Sister Janet's transition was due to a change in parish management. Once staffed and run by Glenmary Home Missioners (who hired Sister Janet), St. Christopher's and nearby churches grew too fast in recent years to fit the Glenmary model. Staffing and supervision moved to the diocese of nearby Savannah. Since Spanish-speaking parishioners outnumbered English speakers, diocesan officials decided they needed someone in Sister Janet's job who, unlike her, spoke fluent Spanish.
Reflections
Born in a small, central-Wisconsin farming town, Sister Janet grew up with three brothers. All attended the same one-room schoolhouse. She first felt her calling at age 15 but initially resisted, moving with a friend to Los Angeles. After about a year, she could no longer ignore her inner voice, so she returned to Wisconsin to study with the Franciscan Sisters in La Crosse. She worked elsewhere in Wisconsin and in Iowa before returning to the motherhouse as its chauffeur for 13 years.
Then came the call to head south. Sister Janet was one of four Franciscan sisters sent to Claxton in 1980. By 1985, the other three had accepted new assignments. Sister Janet then became—and has remained—the county's beloved "nun on the run" and Claxton's only religious sister.
The celebration
Even though Sister Janet had never studied Spanish, she seemed undeniably fluent interacting with the evening's many Hispanic guests—and they with her. "She speaks the language of the heart," one said. Parishioner Rosa Martinez delivered a glowing personal tribute in Spanish. An adept translation by fellow parishioner Alfredo Vincente, who also spoke for himself, almost seemed unnecessary.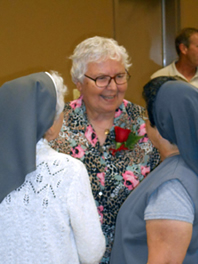 Other speakers included parishioners from Holy Cross Church in nearby Pembroke, Ga. Local songstress Holly Hunto performed Wind Beneath My Wings, Sister Janet's favorite song, in her honor. Then Father Steve Pawelk, an old friend who once served St. Christopher's as associate pastor, stepped up to the podium. He provided a laugh-out-loud account of Sister Janet's interests and antics. "Sister and I have three things in common," he noted, "a love of football, a love of animals—and when we're together at a function, no cookie is safe." A Minnesota Vikings fan, he presented Sister Janet, a Wisconsin native and passionate Green Bay Packers supporter, with a Packers helmet.
Then the honoree herself stepped up to express her appreciation—after a standing ovation—with a characteristic combination of wit and humility. Claiming that "some of this stuff (was) kind of made up," she thanked the evening's organizers, performers, caterers and attendees with what seemed like the hint of a tear.
And how does Sister Janet feel now about the people of Evans County? "To say they're really nice people doesn't quite do it," she muses. "The best I can say is, they're awesome!"
Words of wisdom
Asked what she might say to young nuns of today, Sister Janet is quick to relate, "For me it's been both challenging and fun. I'd say, if you have the calling, follow!"