An affiliate is doing the good through art and prayer
Spirit of Ministry
By Mary Louise Thompson, affiliate
Teaching Art as Prayer has become a ministry for me. It began years ago with a simple prayer asking God to enable me to share the joy I feel while creating art. Since then, Art as Prayer is an ongoing journey that combines teaching, learning and opening my heart to God's voice. It is a means of stirring our creative spirit.
I've learned that creativity is not a particular gift given to a few. It resides within all of us, waiting to be birthed in one form or another. When we create, we open ourselves to the universe. Theologian Matthew Fox summed it up beautifully when he said "Creating is our imitating Divinity."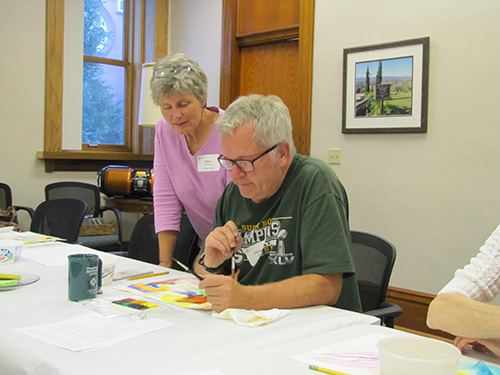 Mary Louise guides Art as Prayer
Photo by Franciscan Spirituality Center
This September began my fourth season of teaching Art as Prayer at the Franciscan Spirituality Center in La Crosse, Wisconsin. It has been wonderful working with the FSC staff. I'm grateful for the spiritual home they have provided in which mutual exploration, creation and spiritual enrichment are fostered.
Volunteering for the past 11 years at La Crosse's Unity House, a residential chemical dependency treatment center for women, has also been an enriching ministry. I began facilitating art therapy for women in recovery after the unexpected death of my sister Peggy. Weekly visits focus on the integration of prayer and art, creating an environment that enables their creative spirit to help build confidence.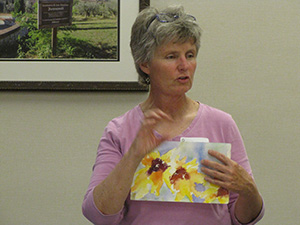 It has been an honor to witness remarkable women recognizing their strengths and authentic selves through creation. I'm grateful for the opportunity to journey with them.
My greatest source of joy has been my FSPA affiliation. The sisters are a continuing source of inspiration through their faith in Christ, fearless advocacy and unwavering commitment to making the world better for everyone. They exemplify the Franciscan way. Through word, action and graceful leadership, they carry the message of Jesus to our entire community. We are blessed to have them as a guiding light.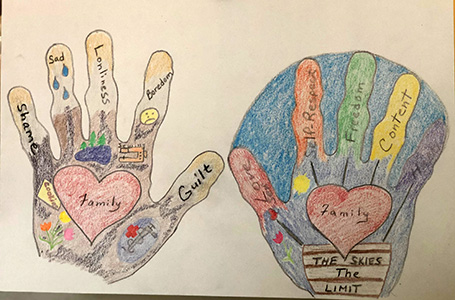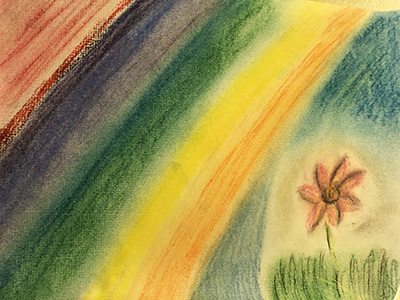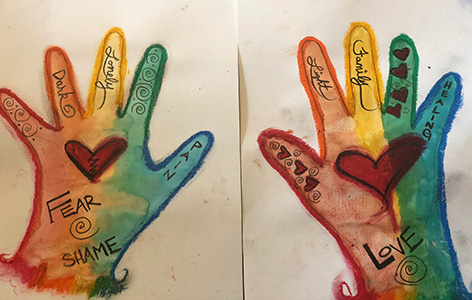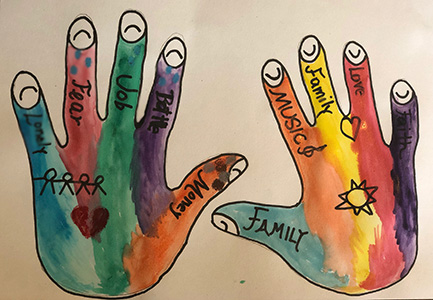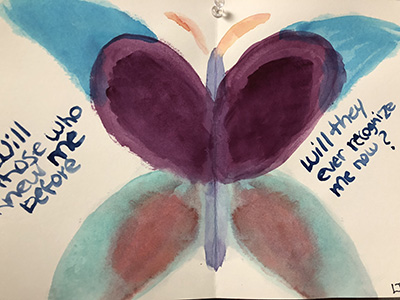 Photos of artwork created by residents at Unity House for Women, taught by affiliate Mary Louise Thompson
---
Rachel Unseth, Unity House for Women treatment therapist, shares that "Mary is an invaluable asset to our community. Her smile radiates joy and hope in our hearts — something that many women struggle to feel, especially as they work through shame and self-forgiveness in early recovery from addiction." Rachel also shares reflections of Mary by Unity House women who've experienced art therapy with her.

"Miss Mary is the sweetest gal! In her patient, kind way, she encouraged me to express my thoughts and feelings through art. She would laugh with me, not at me, with my kindergarten artwork. That laughter taught me how to slowly trust her and others. Trusting is crucial for my recovery."

"I dreaded art Fridays, but Mary made me feel good about myself and never saw me as an alcoholic or drug addict. She is an amazing woman and someone I will never forget!"
---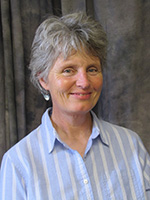 Mary Louise Thompson joined the FSPA affiliation community in 2011. She ministers weekly at Unity House for Women, enjoys volunteering in the organic garden on FSPA farmland at St. Joseph Ridge and is an active member of the companion community Earth Tenders. Visit our affiliation page to learn more about the lay affiliation program.