Meet Us
Affiliation: In Their Own Words
Rosalie Hooper Thomas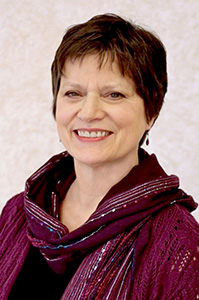 As I walked down the steps of the lower basilica into the crypt, a profound sense of peace came over me. I looked up and saw the sarcophagus of Francis of Assisi. "This is real," I whispered to no one but my heart.
After working with FSPA for several years, I had the privilege of going on a leadership pilgrimage to Assisi. During my years at the Franciscan Spirituality Center in La Crosse, I worked with the sisters, observing their wisdom and courage at living out the Gospel message. Indeed, through their Franciscan lives, I discovered a new way to experience the Gospel stories as a way of divine connection rather than institutional mandate.
I felt more and more called to a Franciscan life but resisted getting trapped in an institution. I experienced the love that called these women to serve the poor and those on the margins, but always hesitated when the topic of my affiliation came up.
And then I walked into the crypt. During the following days, which included the programmed trip to the basilica, I carried a calm energy throughout the days. We then went to the Basilica of St. Clare. During the liturgy, I watched the softness surrounding Clare's effigy. I said, "I guess it's time."
I realized that formally affiliating with the FSPA completed a long process of stepping back from hesitation and opening my heart to that love that connects us all. What a joy to be in community with others who truly care about all who are the faces of the Creator!
Meet the Affiliation Minister
Ashley Skoczynski
Ashley Skoczynski is the affiliation minister for the Franciscan Sisters of Perpetual Adoration. She graduated from Ripon College in 2009 with a dual major in educational studies and sociology/anthropology and then obtained a master's degree in servant leadership from Viterbo University in 2014.
She enjoys the Franciscan lifestyle because it calls her to live simply, to connect with those on the margins, and to express the Gospel through actions.
In this position, Ashley is responsible for gathering knowledge and wisdom from affiliates, sisters and the greater community. The hope is that affiliation will encompass the talents of each person, thereby transforming local communities and the world. She also develops opportunities for affiliates to deepen their spirituality while creating a strong community for collaboration and celebration with like-minded people.
During this time of transition, Ashley will work to honor the foundation and traditions of the past while creating momentum for the future. This requires the involvement of affiliates and sisters at every point in the program's development. She will also facilitate opportunities for others to share ideas, suggestions and exciting visions for what affiliation is becoming.
Please feel free to visit Ashley in person or contact her at ashley@fspa.org.