Media Kit
Fact Sheet
Media Contact
FSPA Communications Office
608-791-5289 or communications@fspa.org
Profile
The Franciscan Sisters of Perpetual Adoration are a vital, growing, diverse group of women religious. Members minister in 15 states in the U.S. and five additional territories or countries. They are committed, through prayer and action, to cultivating spirituality in the world.
History
The Franciscan Sisters of Perpetual Adoration (FSPA) were founded in 1849 in Milwaukee, Wisconsin, as the Sisters of St. Francis. The congregation moved to Jefferson, Wisconsin, in 1864, and finally to La Crosse, Wisconsin, in 1871, shortly after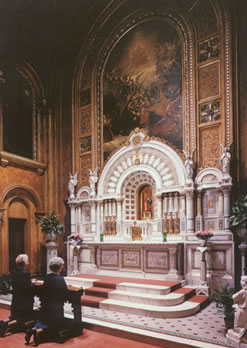 the Diocese of La Crosse was formed. The sisters became known as FSPA in 1878 after they began the practice of perpetual adoration, or around-the-clock prayer.
Mission
We are a community of vowed Franciscan women centered in Eucharist, committed to be loving presence through prayer, witness and service.
Headquarters
St. Rose Convent in La Crosse, Wisconsin, serves as the administrative and spiritual heart of FSPA, housing more than 50 offices and three chapels. Among the chapels are Mary of the Angels which welcomes visitors from La Crosse and around the world, and the Perpetual Adoration Chapel where the sisters have prayed 24 hours a day since 1878. St. Rose Convent is on the list of historical sites in La Crosse.
Key Leadership
FSPA leadership is elected by its members after prayer and consideration. Terms of office generally last four years. Currently, Sister Karen Lueck serves as president of the congregation, with Sister Helen Elsbernd as vice president.
Franciscan Spirit
The Franciscan Sisters of Perpetual Adoration were inspired by St. Francis of Assisi, who served the people of Italy during the 13th century. St. Francis is regarded for his close relationship with God - evidenced in his simple life of prayer, devotion to the poor, and awareness of all creation.
Ministries
FSPA offers new life, meaning, and hope to the temporally and spiritually poor by working for change both in society and in individuals' lives. Its local and global ministries reflect this commitment and include everything from GATE (Global Awareness Through Experience) programs in Central Europe, El Salvador, Guatemala, and Mexico, and the teacher education project in Zimbabwe, to sisters responding individually in a variety of social and educational church ministries in 20 states.
Institutions
FSPA takes special care to continue the Franciscan spirit in its institutions - even though the sisters' day-to-day activity in some of those institutions has declined as they've turned their attention to additional ministries.
From its healthcare facilities to its spirituality centers and schools, FSPA's hospitable and inclusive spirit is still evident today in all of its sponsored ministries and illustrates well the sisters' commitment to serving humankind.
Institutions and programs sponsored or operated by FSPA include:
Mayo Clinic Health System - Franciscan Healthcare, including La Crosse and Sparta campuses and regional clinics, Elder Services, Community Programs and Indochinese/St. Clare Health Missions;
St. Anthony Regional Hospital and Nursing Home, Carroll, Iowa;
Viterbo University, La Crosse, Wis.;
Spirituality Centers in La Crosse, Wis.; Hiawatha, Iowa; and Arbor Vitae, Wis.
GATE (Global Awareness Through Experience);
St. Rose Convent (FSPA Congregational Headquarters);
Villa St. Joseph (FSPA Skilled Care Retirement Home).
Vows
Simplicity. The Franciscan Sisters of Perpetual Adoration have promised to live a life of simplicity, known as the vow of poverty. This vow frees members from ownership concerns, allowing us to focus on our stated mission and devote our common resources to serving others.
Relationships. Sisters also commit to living a community lifestyle within the vow of celibacy. Community life frees us to cultivate and enjoy intimate friendships - both within and outside the congregation.
Unity. Members of the Franciscan Sisters of Perpetual Adoration find that we can accomplish great things when we are united in our efforts. Through the vow of obedience, we commit ourselves to the congregation's mission to serve God, the whole church, and society. Listening to our community, ourselves, the spirit, and the world enables us to discern better how our individual gifts may further our mission.
Membership
FSPA vowed members enjoy extraordinary opportunities for spiritual growth, lifelong learning, and professional development. FSPA invites Catholic women of all origins and backgrounds to consider religious life within its community. New membership is open to single Catholic women, ages 21 to 45, who want a deeper relationship with God, and who seek community and a life of Gospel service.
Affiliation
Women and men are invited to partner with the Franciscan Sisters of Perpetual Adoration through the affiliation program. Affiliation is open to people baptized and active in their faith and offers participants an opportunity to share Franciscan values and goals—either through praying with and for the congregation or through integrating prayer, community and mission into one's chosen lifestyle.