Meet Our Summer Eco Interns!
06/30/2021 12:03 pm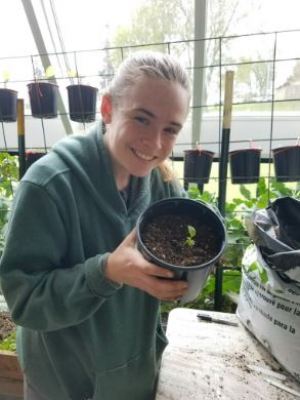 Katie Eastman

Hello! My name is Katie Eastman, and I am currently finishing up my senior year at UWL as a biology major and an environmental studies minor. I am originally from the town of Cedarburg, WI, which is about 25 minutes north of Milwaukee.

Growing up, I absolutely loved being outside, and still do to this day. I have always been fascinated with nature and took as many classes in high school as I could surrounding the topic. Many of these classes pertained to global warming and climate change, and it drove me to want to learn more about what we as humans can do to protect our planet. This is how I decided upon my major and minor when it came to college. UWL has an incredible environmental studies program, and I have fully enjoyed my time both at the university and in La Crosse.

I have been given the opportunity to be a part of the ecospirituality internship team at the garden and greenhouse on the St. Joseph Ridge, and I couldn't be more excited. So far, my favorite thing that I have learned has been how asparagus grows. Each stalk comes straight out of the ground individually! I thought that was great. Feel free so say "hello" if ever at the Villa, and I look forward to meeting more people during my time there!
---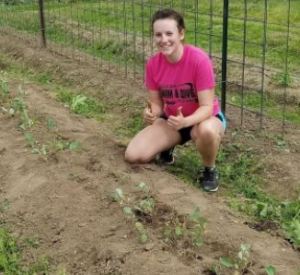 Mallory Keating

Hello! My name is Mallory Keating. I am going to be a senior at UW La Crosse this fall studying Biology and art. I am super excited to be joining the eco-team at FSPA!

I grew up in Sun Prairie, WI with two siblings (I'm the middle child), two cats, and a few dogs. I am a big animal lover and just adopted my very own kitten! Long before I became a cat mom though I was involved in other things. I have been competitively swimming since I was 8 years old and swam on the UWL Swim and Dive team for 2 years (until COVID).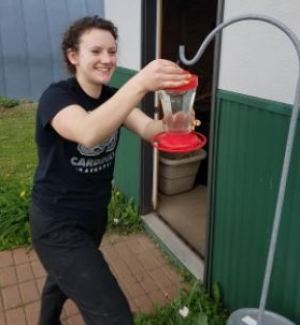 I also participated on the track-and-field team in high school as a thrower. I was heavily involved with music in high school as well, playing the trombone. I played with my school's wind ensemble as well as the jazz band and was lucky enough to be able to play at Jazz at Lincoln Center in NYC because of it!

I have had amazing opportunities in the past, and I look at this internship in the same way! Growing up, I was surrounded by nature and I love spending time outdoors. I am a collector of plants and am so excited to be working in and learning about the organic garden this summer. I am working with Karen Stoltz in the gardens and the greenhouse, so if you see me feel free to say hi!



---
AJ Jeninga

Hi FSPA community! My name is AJ Jeninga and I am your Americorps service member. I am currently a graduate student at the University of Wisconsin - La Crosse; working towards a Masters in Biology and researching the effects of pesticides on fathead minnows. I am very excited to be serving with you this summer!

I am from Delavan, WI near the Illinois border. Growing up I lived near a protected wetland where I spent a lot of my freetime following deer trails with my friends. I completed a B.S. in Biology with minors in Geology and Psychology at the University of Wisconsin-Whitewater in 2020.

While completing my degree I had many opportunities to travel to different ecosystems to meet with conservationists working to preserve our planet. I spent time in Yellowstone during both the summer and winter months learning about the reintroduction of our wolves as well as guiding international artists around the park.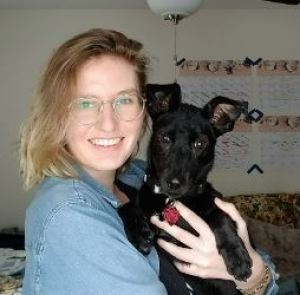 My junior year I was blessed to be able to travel to Panama to learn about conservation efforts with the rainforest there and to set up camera traps to track jaguar movements in Chagres National Park. These experiences cemented the importance of stewardship for me and inspired me to pursue Biology as my career.

This summer you'll be able to find me in the greenhouse, gardens, or along the trails on the property. Feel free to say hi! I love dogs, plants, and hiking. I have a rescue pup named Phyllis who just turned 1. My favorite authors are Jane Austen and Agatha Christie and my favorite book is Pride and Prejudice. What about you?


---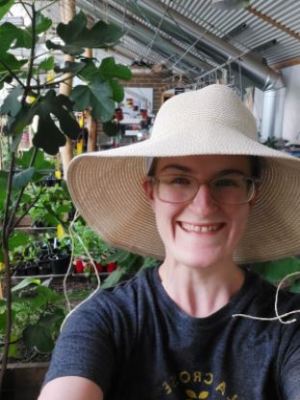 Megan Rheaume-Brand

Hi FSPA community! I'm Megan Rheaume-Brand and I'm one of three Ecospirituality Interns working at Villa St. Joseph in the gardens from May to December 2021. I have a background in gardening both personally and professionally. Although I am working on my Master's of Education with a Graduate Certificate in Family and Consumer Science, I am not doing this Ecospirituality Internship as part of my studies. However, I always enjoy working hard outdoors, serving God and my community, and I am excited to learn organic gardening skills for my future homestead farm.

I am originally from Sugar Camp, WI which is about 1.5 hours North of Wausau, WI. I have gained much experience in gardening and landscaping through teachings from my Mom who was an avid flower gardener, from my Dad who is an avid vegetable and strawberry gardener, and from various gardening jobs for my neighbors. I also spent a summer as a garden worker for Hanson's Garfen Village in Rhinelander, WI which has 32 production and retail greenhouses and hoophouses.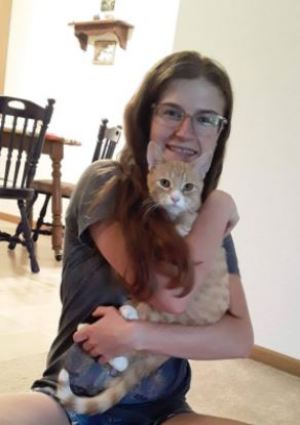 Other gardening experience I've acquired in Stevens Point, WI which included working as a cashier at Jung's Garden Center and volunteering with Central Waters Farmshed for most of the time during my Undergraduate studies in my Bachelor of Science in Health Promotion and Wellness.
I merged some of my volunteer work with Farmshed with my internship as a Community Outreach Coordinator with Marshfield Clinic Center for Community Outreach, by teaching nutrition education to young students in an after-school program, and also by revitalizing the Farm to Table Progrsm by creating relationships and surveys between local restaurants and food distributors.

My networks in that internship led to an AmeriCorps term with Wisconsin Farm to School in Wisconsin Rapids Public Schools as a Nutrition Educator. I also collaborated with Farmshed during off-season times to glean unsold food from farmers at the market, distribute it to local food pantries, and educate pantry users on nutrition and how to prepare and cook the produce. The majority of my AmeriCorps time was spent creating, planning, implementing, and evaluating over 40 unique, hands-on gardening, agriculture, and nutrition programs for Wisconsin Rapids students from daycare age, to 2nd-4th grade, to 6th-7th grade. My AmeriCorps team member and I also collaborated to procure local foods from farmers, prepare the produce, and cook it for cafeteria taste tests, to eventually maintain that food in their menus.

This wonderful AmeriCorps experiences plus a not-so-good experience in a job in public health led me away from my major in Health Promotion and more towards Education, especially related to helping students learn where their food comes from, how to grow, prep, and cook it, and other life skills like budgeting, parenting, changing their own oil, etc- basically all the useful skills high school students complain they don't learn in high school in preparation for the real world. So in light of this "a-ha moment" of putting my past gardening experiences and passion for education together, I decided to go back to school at my Alma Mater (UW- Stevens Point) for my Master's degree so I can teach Family and Consumer Science (formerly known as Home Economics).

While I complete my degree, I have been substituting as both a paraprofessional and a teacher in all grad levels in the Onalasla School Dostrict and have gained lots of experience and passion for behavior management, creative problem solving, and compassion for students. I plan to continue working mostly as a substitute teacher, and doing this Ecospirituality Internship (until Decemner), until I obtain my degree and teaching license so I can have my very own classroom with all the resources I need to teach my students important life skills and make sure they're ready for "the real world". Besides working both aforementioned jobs and working on my degree,I enjoy hiking and biking in this beautiful area, visiting with family, friends, and pets, watching "The Chosen" attending First Free Church in Onalaska, and singing. Thank you for taking the time to read my introduction, and I hope to see you around the gardens sometime!