The Sister Thea Bowman Black Educational Foundation Twelfth Annual Scholarship Dinner
April 23, 2008, Heinz Field, Pittsburgh, PA
Acceptance Speech for the Thea Bowman Foundation Award
by Brother Michael O'Neill McGrath, O.S.F.S.
In Irish spirituality, there are times and places in which, for a fleeting moment or two, the boundary between our world and the spiritual world grows very thin. We have a heightened awareness of ourselves and the presence of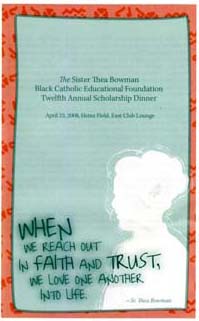 God within us and around us. These moments are called "thin places" and the end result of a thin place experience is that suddenly the ordinariness of our days is transformed into something quite extraordinary.
Life, and our journey through it, is never the same again.

Photo below, Br. Michael O'Neill McGrath, left, with the Sister Thea Bowman Foundation Award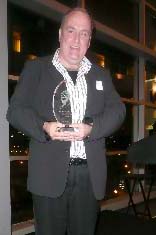 My first encounter with Sister Thea Bowman, whom I never met in person, never even heard of until after her death, was a thin place experience. She introduced herself to me in one of the very darkest times of my life, as I confronted the reality of death, the meaning of life, and the sad fact that I had become a thirty-five year old orphan. You know, the little things of life. Over the course of several years prior, my four brothers and sisters and I had watched as cancer invaded our parents' bodies. Together, we accompanied each of them on their journeys home. We walked with them only as far as we could and watched as they entered the heavenly gates and crossed from this world into the land of promise and freedom described so poetically in the spirituals which Sister Thea sang and loved all her life.
"If you get there before I do, coming for to carry me home, tell all my friends I'm coming too, coming for to carry me home."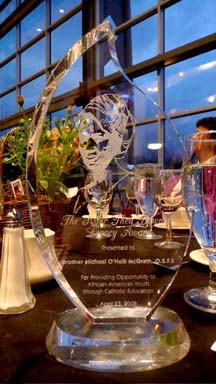 Right photo, Dick and Jill Wickwar, Ft. Washington, MD, with Sister Charlene Smith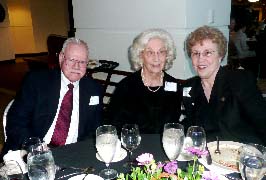 She came out of the deep blue like a shooting star, and flooded my imagination with the colors and shapes of hope and the promise of better, brighter days. Buddhists say, "When the student is ready the teacher appears." Well, this teacher didn't just appear, she possessed me, enough that I like to tell folks I have a little black nun inside of me. And she's a rowdy one at that. Hers was a ministry of joy when she walked and danced among us on earth, and that same ministry continues through each of us who are dedicated to spreading the Good News of Jesus in whatever way has been given us to do. "We each have a light," she'd say, "and God didn't give us that light to sit on it." The unspoken message in that line is that we can only discover this little light when we willingly enter the darkness. We walk in the light when we choose love over fear at every twist and turn in the road. The song says, "Be not afraid, I go before you always. Come, follow me, and I will give you rest."
The lessons that this remarkable Franciscan woman of color taught me then, in those dark nights of the soul, those days of grief and sadness, have continued to sustain me in the dark days since.
That God calls forth the most unlikely people from the most unlikely places to do His work. That's been true of prophets through the ages and it is true of us gathered here tonight.
That each of us is touched by the light of God in powerful ways; that we must share the joy of our gifts and talents not be burdened by them.
That the Holy Spirit empowers us to be who we are and to be that perfectly well.
That we are not alone on our journeys; that art and music lead us into each other's hearts, the place of beauty where God dwells beneath the differences that separate us on the surface.
That when we are tired, weak, and worn in the valleys of sickness and death, Jesus comes like a pillar of fire to lead us safely home.
That we only discover our true voice in trial and adversity-where we also discover the courage and stamina to use that voice.
That we mustn't live our lives in fear of death, but truly live until we die.
That life doesn't end in death, it merely changes. We cross the river Jordan to walk in freedom with the saints forever.
That deep in my heart I do believe that we shall overcome someday; overcome injustice, hunger, poverty, and war and any of the fears that separate us from one another.
Photo below, Br. Michael O'Neill McGrath, left, with Mary Lou and Len Jennings. Mary Lou is the executive director of the Sister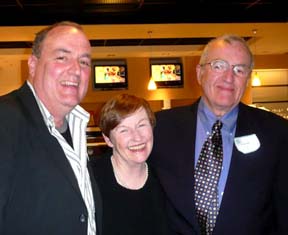 Thea Bowman Foundation
The first major commission I received after Sister Thea rocked my world is a painting called the Windsock Visitation. I'd had Thea in me for a good year by then.
In closing I would like to say how truly honored I am to receive this award. Through Thea Bowman I have been introduced to many wonderful people over the past fifteen years - and among my favorites is Mary Lou Jennings who created this amazing foundation. She is clearly in love with God's poorest and disadvantaged children and is passionately committed to Thea's legacy.


From left, Dan Rooney, owner of the Pittsburgh Steelers, with his wife and Marilyn Brooks, emcee,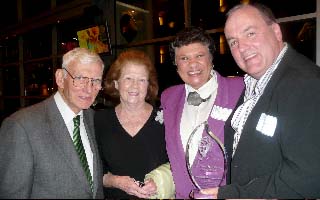 and Br. Michael McGrath
Another is Sister Charlene Smith, friend and sister of Thea's who has always generously shared with me her stories and memories of life with Thea. I am happy that Charlene has become my friend as well. Charlene has pointed out to me that today is Shakespeare's birthday, worth mentioning since Thea so loved Shakespeare.
And lastly, I want to acknowledge and thank my own religious community, the Oblates of St. Francis deSales, who have always supported and encouraged this unique ministry of mine. Here tonight are our recently elected provincial and dear friend in high places, Father Jim Greenfield; our communications and vocation director, Frather Kevin Nadolski, who I am sure has the necessary papers tonight if any of you feel a sudden calling to our way of life; and Brother Bob Drelich, the ideal business manager that every artist should be so blessed to have.
Let your lights shine. Keep on steppin'. May God be blessed.