SPRED and FSPA: all are welcome in Chicago
Imagine, if you will, living in Chicago, Illinois. You speak, solely, Spanish. You struggle with intellectual and developmental disability.
Imagine also that you are Catholic. And just like any other you seek connection to, belonging in the church. You want for the word of the Lord. You are searching for a faith community in which all are welcome.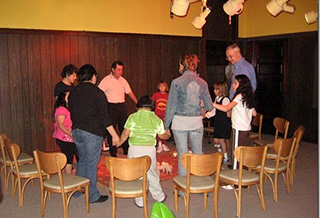 A SPRED faith community sings a hymn at the close of their catechetical experience.
Photo courtesy of Mamre, Inc.
All are welcome through SPRED, the Special Religious Development program for adults and children, both English and Spanish speaking, supported by the organization Mamre, Inc. (named for Genesis 18 in which Abraham cared for the three visitors who appeared to him under trees of Mamre). Supporters of the group began, in the mid-1980s, to assist SPRED in reaching its goals: to "help parishes establish small faith communities of adults who welcome persons with developmental disabilities, each paired with a person with special needs, becoming a sign of God's love and care." Further explained by Sisters of Providence Susanne Gallagher, a member of the SPRED team, catechetical materials translated from English to Spanish "make it possible to include all who wait to be welcomed and prepared for the experience of belonging in parish worship."

All are welcome to SPRED, a ministry founded in the 1960s by Father James McCarthy that has literally spread to 20 other U.S. dioceses and seven countries. "A SPRED faith community," says Sister Susanne, "welcomes six persons with special needs and is composed with eight parish volunteers to accompany them." The intention, she says, "is to experience communion with God and to develop a sense of sacred, thereby becoming prepared to participate in eucharistic liturgy in the parish, and to experience the sacraments of confirmation and the Eucharist."

All are welcome to SPRED. "I believe that small faith communities are foundational to transformation of individuals and the parish community as a whole," says Kristin Peters, the Franciscan Sister of Perpetual Adoration who sponsors a grant to support the program. "Extending these materials to the people who speak Spanish," to those underserved, "is an issue of social justice." Sister Kristin served SPRED for two years, inviting people into the faith community, serving as a catechist and sponsoring a confirmation student. "Through deepening relationships with parish communities and individuals, lives," says Sister Kristin, "are transformed."

All are welcome to SPRED, including Sam. Sam's parents were taking him—a young child with special needs—to church each week, where they struggled to keep him quiet. "He didn't need a microphone to drown out whoever was up front doing whatever it was they were doing," recalls his mother Jeanne. In Sam's mind "this was a great party and he obviously thought he was the guest of honor." But that's not the reception he and his parents received. "We were advised to simply accept that he was somehow different and that his salvation was in God's hands; he would never really understand much of anything. This broke my heart. It was as if they were telling me he didn't count as a real person. But he was my son and I couldn't give up on him spiritually," asserts Jeanne, "any more than I could give up on him physically."

Just before Sam turned 5 years old his parents learned about SPRED from a family friend. They began taking him to participate in the program, enjoyed attending services with him as he quieted and seemed to understand and "glowed" on his way back to their pew after communion.

Sadly, Sam passed away last year. Jeanne remembers him as the "ambassador" of his adult SPRED group who greeted everyone with "I'm so glad you are here tonight." His family learned "to see him as a wise, thoughtful and loving individual ... to let him be our evangelist and mentor."

And SPRED, says Jeanne, "gave us a home in the Catholic church and a relationship with a God who says to us each day, 'Come. You belong here.'"