Spirit of Ministry: Reverie Harp - an innovative approach to healing
by Krista Clements Orlan, affiliate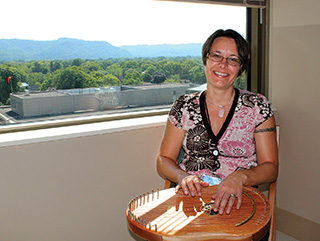 Krista Clements Orlan plays the reverie harp to patients at Mayo Clinic Health System-Franciscan Healthcare in La Crosse, Wisconsin. She is an FSPA affiliate and member of Franciscan Healthcare's spiritual care team.
"Whenever the spirit from God came upon Saul, David would take the harp and play, and Saul would be relieved and feel better ... " (1 Samuel 16:23)
Since biblical times people have been using the musical tones of the harp to soothe during periods of stress and provide for a better state of well-being. This healing tradition continues at La Crosse, Wisconsin's Mayo Clinic Health System–Franciscan Healthcare in the form of the Reverie Harp Program. Launched in 2012 by the Department of Spiritual Care, Ethics and Humanities in Medicine under the direction of Mike Brown, this program has served over 10,500 patients, families and medical staff in providing a sense of calm in a normally fast-paced—and often chaotic—environment.

I have had the privilege of working with Regina Chihak and Dana Wooden in the Reverie Harp Program since 2013. Typically we spend 20 minutes with each patient playing relaxing tones on our harps. We work in pairs and together intuitively improvise music for the physical, mental and spiritual benefit of the individual. Patients may experience reduced pain and anxiety, respite from the chaos, and aid in falling asleep. Due in large part to ongoing support from an FSPA ministry grant this program has grown from a pilot volunteer ministry into a fully integrated, staffed program.

While using the soothing sounds of music to calm and restore is an age-old practice, therapeutic music hasn't been fully embraced by the medical community until recently. Most people are familiar with arriving at a hospital lobby to find a pianist playing beautiful music, or the weekly visits of various musical entertainers to nursing home community rooms. The Reverie Harp Program differs in that we are an integrated part of a patient's health care team. Our purpose is not to entertain but to help reduce anxiety and stress and bring better balance to patients, their families and medical staff. We play at the bedside; we play during medical procedures and treatments; we play for those who are unconscious and those transitioning out of this life. According to the creator of the Reverie Harp, Musicmakers of Stillwater, Minnesota, our program is uniquely innovative in how we are an integrated part of the patient healing process.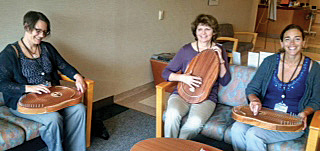 Reverie harp players in a hospital lobby at Mayo Clinic Health System-Franciscan Health in La Crosse, Wisconsin.
Because of the uniqueness of our program we have been encouraged to explore developing a Reverie Harp training program by both Musicmakers and Mayo Clinic Health System-Franciscan Healthcare leadership. This innovation would allow us to teach others how to utilize the instrument for the greatest patient benefit, as well as to develop an integrated program in their health care setting.

The Reverie Harp Program has been a huge blessing in my life. I am profoundly honored to be present with people during some of the most difficult times in their lives, offering peace and consolation. I am deeply grateful this ministry found me because I am healed as I offer healing to others. May I always be willing and able to take the harp and play so others would be relieved and feel better.