Sisters, affiliates, staff and friends paddle for breast cancer research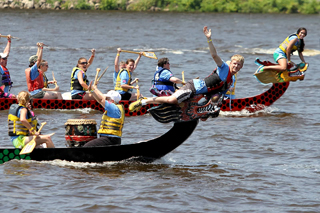 On July 6 FSPA and their partners in mission participated in Mayo Clinic Health System-Franciscan Healthcare's inaugural Big Blue Dragon Boat Race on the Mississippi River in La Crosse, Wis. The FSPA crews, Franciscan Fliers (front) and Clare Cruisers (back), raced up the river for a good cause, breast cancer research at Franciscan Healthcare.
Several FSPA joined the fun as spectators, offering a blessing during the event's opening ceremony. Both crews paddled hard and the Franciscan Fliers earned a trophy for placing first in the Pearl Dragon Bracket.
About dragon boat racing: "Equal parts sporting event and spectacle, dragon boating is a team sport that has its roots in ancient China. In the last 25 years, dragon boating has been revitalized, and is one of the fastest-growing water sports in the world."