Sister Thea sculpture carved, homegoing event plans taking shape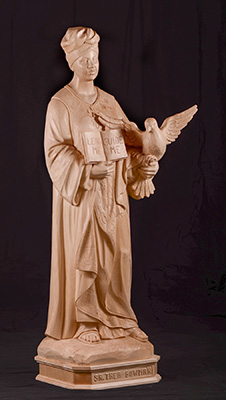 St. Norbert College, De Pere, Wisconsin, recently opened a new performance venue, Birder Hall, in an old church. In preparation for a mission and heritage permanent display, staff is getting ready to install four carved sculptures of individuals from Christianity who represent the arts: C.S. Lewis, St. Hildegard von Bingham, King David and Franciscan Sister of Perpetual Adoration Thea Bowman.
In addition to the sculpture, hand-carved from solid limewood by the Albl family of Oberammergau, Germany, a quote from Sister Thea and her biography will hang on the heritage wall. "If each one of us would light the candle, we've got a tremendous light."
Reminder to mark your calendars: FSPA, together with the Franciscan Spirituality Center, will honor the 25th anniversary of Sister Thea's homegoing during a series of events starting March 17 and culminating March 30, 2015, during Mass at 10:30 in Mary of the Angels Chapel. Visit www.fspa.org/theabowman for event details.