Sister Thea is 'A Brilliantly Clear Choice'
by Kysa Daniels
Anyone who knows Etta Herriott realizes just how deeply her adoration for Sister Thea Bowman runs. So, few were surprised, when Herriott proposed her Lithonia, Ga., parish name its existing fellowship hall to honor the late Franciscan nun.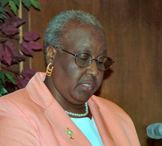 Etta Herriott
"I cannot think of anyone more deserving," Herriott says in her characteristic soft tone and perfect diction. "Sister Thea lived her life as if a light in darkness. She was an inspiration for so many people, not the least of all, for me."
In that spirit, a well-attended dedication ceremony for the Christ Our Hope Catholic Church fellowship hall took place on a crisp September Sunday last year. Herriott stood before the crowd and pointed to an oversized, framed, colorful portrait of Sister Thea as she explained why the church had chosen to honor her.
Atlanta's archbishop, The Most Reverend Wilton D. Gregory, participated in the celebration and offered his own reflections of Sister Thea, calling her a deserving namesake.
Christ our Hope Pastor Father Guyma Noel also praised the nun who died in 1990 following a lengthy battle with cancer. He recalled her fiery ministry and upbeat personality that endeared her to people across the world.
"Sister Thea's presence in this hall should remind us all to live a life that is pleasing to God," Father Noel said. "We should allow her light, still with us today, to help lead us in service to others.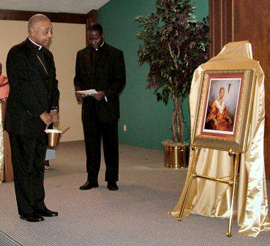 Atlanta's Archbishop, The Most Reverend Wilton D. Gregory, left, views a portrait of Sister Thea Bowman. Christ Our Hope Pastor Father Guyma Noel is in the background.
Photos courtesy of Christ Our Hope Parish
"Because, despite her illness and disappointments in life, Sister Thea never ceased to help others."
Herriott echoes that message. With tears in her eyes, she talks about losing her oldest son to gun violence and how she and her husband, John, were diagnosed with cancer, within months of each other, a couple of years ago.
Today, both Herriotts are cancer free. Etta Herriott credits Jesus for their healing, yet says she found considerable strength in the ministry of Sister Thea.
"I would listen to her sermons on tape," Herriott says. "And, through her words, I could feel myself growing stronger and stronger, both spiritually and physically.
"She lived such a courageous life and she wasn't afraid to confront the evils of this world; and she did it all in her own unique way."
Each time Herriott looks up and sees the name Sister Thea Bowman hanging on the exterior of her church fellowship hall, or the portrait inside, she is touched and says she can't help but reflect on the hope and strength the beloved nun still inspires today.
Kysa Daniels, president of Clarion Communications, mentioned that Christ Our Hope Parish also dedicated its existing choir in memory of Sister Thea. The Sunday 11 a.m. Mass choir now is officially called the Sister Thea Bowman Visionary Choir.