Sister in formation with FSPA shares ministry updates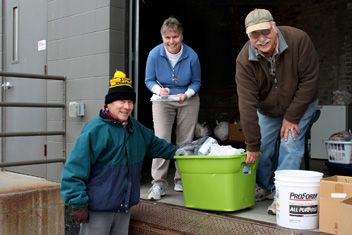 Sister Laurie Sullivan
My ministry is a ministry of presence. Following the initiative of Jesus to feed the poor, my ministry at Metro Catholic Outreach in Cedar Rapids, Iowa, calls multiple volunteers, whom I schedule and coordinate, to assist my supervisor and me in serving the needs of local families. Together, we distribute food and personal care items to more than four hundred households per month. My weekly correspondence with the sponsoring eleven parishes via weekly emails, as well as contact with the general public using Facebook and Metro's website, help keep food available to feed our neighbors in need.
We strive to encourage and empower those coming to the pantry by being a compassionate, life-giving presence. We provide a listening ear, connections to resources for housing or other needs they may have and encourage them as they seek employment. Today several of those receiving food have asked to volunteer so they can give back the blessings they have received.
I too feel blessed; blessed by those whom I minster to and with, for in each of them I see and encounter the face of God.