Revolutionary reflection: Sister Delmarie Gibney
Franciscan Sister of Perpetual Adoration, Delmarie Gibney, reflects on A Revolution of Goodness
Goodness, along with her two sisters, truth and beauty, are soul experiences which invite and challenge us to deep listening and often to an action or movement. We saw and witnessed that happening during our time together with sisters, affiliates, guests and staff members. The excitement, interest, openness and desire to connect with each other were palpable energies as we experienced time together. Mission has that power to attract others to join in connecting our human family to worthy works that enhance and move forward the evolution of consciousness toward the realization of the divinization of the planet.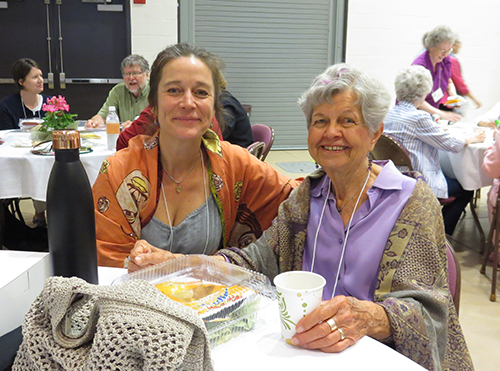 Honored guest and Sister Delmarie Gibney smile during a break at A Revolution of Goodness

During our three days we were encouraged to broaden our horizons beyond our normal way of perceiving the world, to move out of our comfort zone, to engage with people we did not know, to participate in activities that felt uncomfortable at times, to stay with the process when we did not feel confident or sure of the outcome. We were invited to enlarge our world view and to take our place at the table where all are welcome.

It seems we are slowly working our way into the deeper realization that we are not just a human community but rather an Earth community, which includes all beings on this beautiful planet we call home. The animals, plants, trees, elements — everything is our kin without whom we could not survive. In other words, everything is sacred and to be respected. Thus, we are growing in our awareness that we must care for Mother Earth as well as one another wherever we are.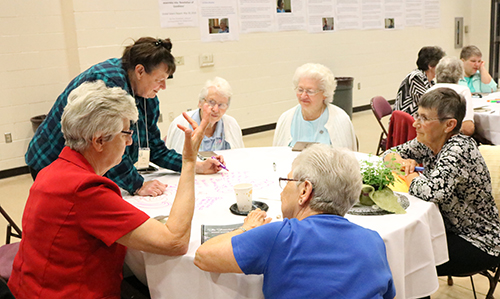 Revolutionaries gather around café tables during A Revolution of Goodness

A morphogenic field of goodness was created by our gatherings that did not stay in the room with us but rather went out into the spheres, distributing that goodness on the planet. This is the power we have when we come together with the intent of the common good. This is why making that intention each day is so important to continue A Revolution of Goodness!