Revolutionary reflection: Mary Ellen Dunford, affiliate
Affiliate of the Franciscan Sisters of Perpetual Adoration, Mary Ellen Dunford, reflects on A Revolution of Goodness
A Revolution of Goodness has been stirring in my thoughts and heart for 15 months. The personal and communal preparation challenged me to think and feel differently as the word goodness kept creeping into my consciousness. I found myself seeing, hearing, feeling, speaking and thinking about goodness. I started to reframe my thoughts as I looked and found goodness all around me in nature, people and the daily experiences of life.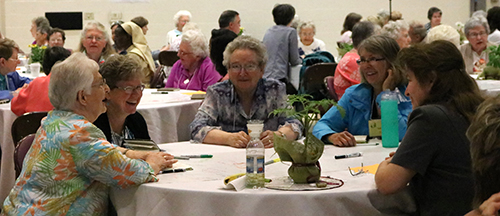 Revolutionaries share in goodness around world Café tables

The assembly experience was more than I could have hoped for. It was energizing, fun and inspiring. I was proud of the affiliation involvement. Affiliates were everywhere: volunteering as greeters, assisting the bus riders on and off the bus, setting up and cleaning up, running errands, hosting, speaking, singing and providing music. The sisters were incredibly gracious and created an atmosphere of family — a family with fun, laughter, silliness, games, companionship, music and joyful songs. They created a safe environment for risk, growth and change. The guests were spread out among affiliates and sisters. As I met some of the guests, I found they were curious and asked many questions. The two common questions I received were "Why are you part of this group?" and "What draws you to FSPA?" My answer focused around how life-giving and inspiring the FSPA values, vision and mission are for me and my family. The affiliates, sisters and guests all shared fabulous conversations and stories.

I felt fully present and in the moment. I learned to appreciate community at a deeper level. As I listened to others and shared in conversations and stories, I was moved by the diversity, vibrancy and creativity of the group. Everyone present had something significant to contribute.

After the assembly I had a clearer understanding of Appreciative Inquiry. It is a valuable tool for building relationships and creating positive energy around solutions. As affiliates, we can use this process moving into the future. Affiliation can continue to grow as we ask ourselves the questions: what gives us life? What do we collectively care deeply about? How do we bridge our best selves with the sisters and their vision and mission?

I proclaim that I will continue A Revolution of Goodness in prayer, community and mission.