Revolutionary reflection: Alice Holstein, honored guest
Honored guest of the Franciscan Sisters of Perpetual Adoration, Alice Holstein, reflects on A Revolution of Goodness
Count on the Franciscan Sisters of Perpetual Adoration to design and execute an innovative, daylong experience that focused 300 participants on the goodness possible in the world versus its problems and despair. Count on this forward-looking religious order to do it with a participative, reflective process that would eschew the need for a keynote speaker while highlighting the participants' collective wisdom and responsibility for defining what human goodness means and requires.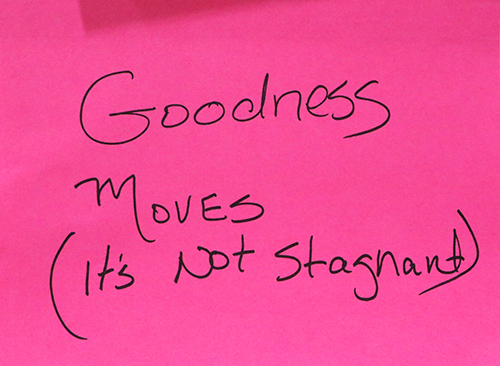 Count on this loving, gentle but powerful organization to transform a sterile, civic space into a place of welcome, hospitality and beauty. Count on the multi-dimensional FSPA to choose some of their talented musicians to provide foreground and background music. Count on the day's designers to choose a short video that emphasized the joy of essential teamwork.

Count on the FSPA, praying 24/7 for 140 years, to remind me on this special day that I have long thought that those prayers brought me home to La Crosse after a 40-year absence, carrying mental illness and the need to be healed, the latter of which they have been so instrumental in nurturing in me. Count on this order to continue to include me, a dedicated Unitarian, now one of their strongest advocates and conduits to the world. Count on this humble, loving congregation of God-inspired women and their cohorts, who seldom recognize their full impact, to bring me to tears as I write about becoming a healed and healing disciple so ready to do the work of an incomprehensible holy mystery.

Thank you, Sister Sarah Hennessy, my colleague from the Franciscan Spirituality Center's Spiritual Direction Planning program, for inviting me to be interviewed so that I could share in A Revolution of Goodness. As usual, it starts with one person reaching out for conversation with a stranger to your faith to find herself included, loved, becoming one of your strongest ambassadors, also dedicated to creating a world of untold goodness. Thank you all.