My Perspective: Acupuncture - a praxis of affordable care and education
by Eileen McKenzie, FSPA

Who would ever imagine that acupuncture could be the praxis for social justice?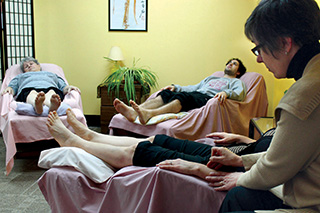 Sister Eileen McKenzie offers community acupuncture on a sliding fee scale for Integrative Therapies of La Crosse, located in La Crosse, Wisconsin. There, she commits herself to offering acupuncture in a peaceful, community-oriented setting.
It is an interesting crossroad, especially when we consider the emerging evidence that shows acupuncture is a cost-effective treatment for several chronic health conditions and is recommended as an early or additional intervention to Western biomedical care for chronic pain and depression. It has been established as a safe and effective treatment with essentially no side effects—although some of the more common ones include stress relief, relaxation and a sense of well-being. It can often help people get off of expensive pain medications and avoid more invasive surgical interventions.

Yet despite the recommendations for incorporating acupuncture in the treatment of various health conditions, the current business models operative in our U.S. health care industry make it difficult to offer it to the majority of people who could benefit from it the most, particularly the working and low-income classes, seniors on fixed incomes, the chronically mentally ill, immigrants and others who are marginalized in our communities.

Unfortunately acupuncture, a simple, low-cost intervention imported to this country from Asia where it was practiced for thousands of years (mostly by peasants) has become largely a boutique spa therapy for wealthy people in the United States.

That is, unless you go to a community acupuncture clinic.

Imagine a large, quiet room with several people reclining in chairs and receiving acupuncture. That's community acupuncture. It's the innovative response to offer treatment to people who want it but cannot afford it. Community acupuncture offers low-cost care in a group setting, easy access to affordable treatment, allows families and friends to be treated together, and facilitates the
comfort of healing with others rather than in isolation.

This seems to be appealing to people.

In fact, the community acupuncture movement, according to the People's Organization of Community Acupuncture, delivered over 1 million acupuncture treatments in 2014, offering acupuncture on a trust-based sliding fee scale of $15 to $35 per treatment, through 185 clinics nationally. FSPA Community Acupuncture in La Crosse, Wisconsin, is one of these clinics. It has been a member of POCA, a multi-stakeholder cooperative, since its inception. POCA's social business culture is grounded in healing, justice for the marginalized and building community. Its approach is coined Liberation Acupuncture, "a praxis that begins with the needs and the perspectives of the oppressed, the exploited and the excluded."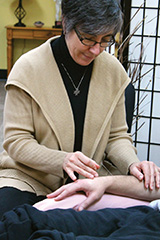 In addition to offering an innovative way to address clinical and business obstacles to accessible acupuncture care, POCA is working to make acupuncture education accessible and affordable as well. Most acupuncturists graduate with student loan debt of up to $100,000 and cannot afford to build their own clinics or work in clinics where they make a living wage, even when it's in line with their personal values. Acupuncture education is not unlike other areas of the higher education industry where graduates cannot find jobs in their field of study. In fact, it is estimated that 50 to 80 percent of acupuncturists no longer practice five years after graduation. POCA, in response, has started its own acupuncture school, the POCA Technical Institute, with a mission to recruit and train acupuncture students to provide services to underserved communities. The goals are to recruit students from local, racially diverse, economically challenged populations; train students in an affordable, supportive educational setting that emphasizes social justice in health care; and connect graduates with employment opportunities in POCA co-op clinics or to support them in creating new POCA clinics in underserved areas.

FSPA has been a strong supporter of POCA Technical Institute and I serve on its board of directors. Our collaboration is based upon shared social justice values and an innovative vision of healing.

Who would ever imagine that acupuncture could be the praxis for social justice?

We would.